Splinterlands - SPS Governance Proposals on PeakMonsters are getting hotter and hotter
It is amazing how Splinterlands space is extending through different integrations and platforms that are offering alternative or even main features for some functionalities from the Hive blockchain game. The latest development and integration in this regard is the Proposals system added to PeakMonster through which any Hive user can submit a proposal for SPS Governance funds usage. Pay a fee, submit a proposal with details describing it as a post on the Hive blockchain and let users upvote it, while the system counts behind the stage the voting power for each user based on his/her staked SPS and summarizes the results. And if this passes it is moved to the Splinterlands official SPS Proposals and let anyone spawn his or her final vote.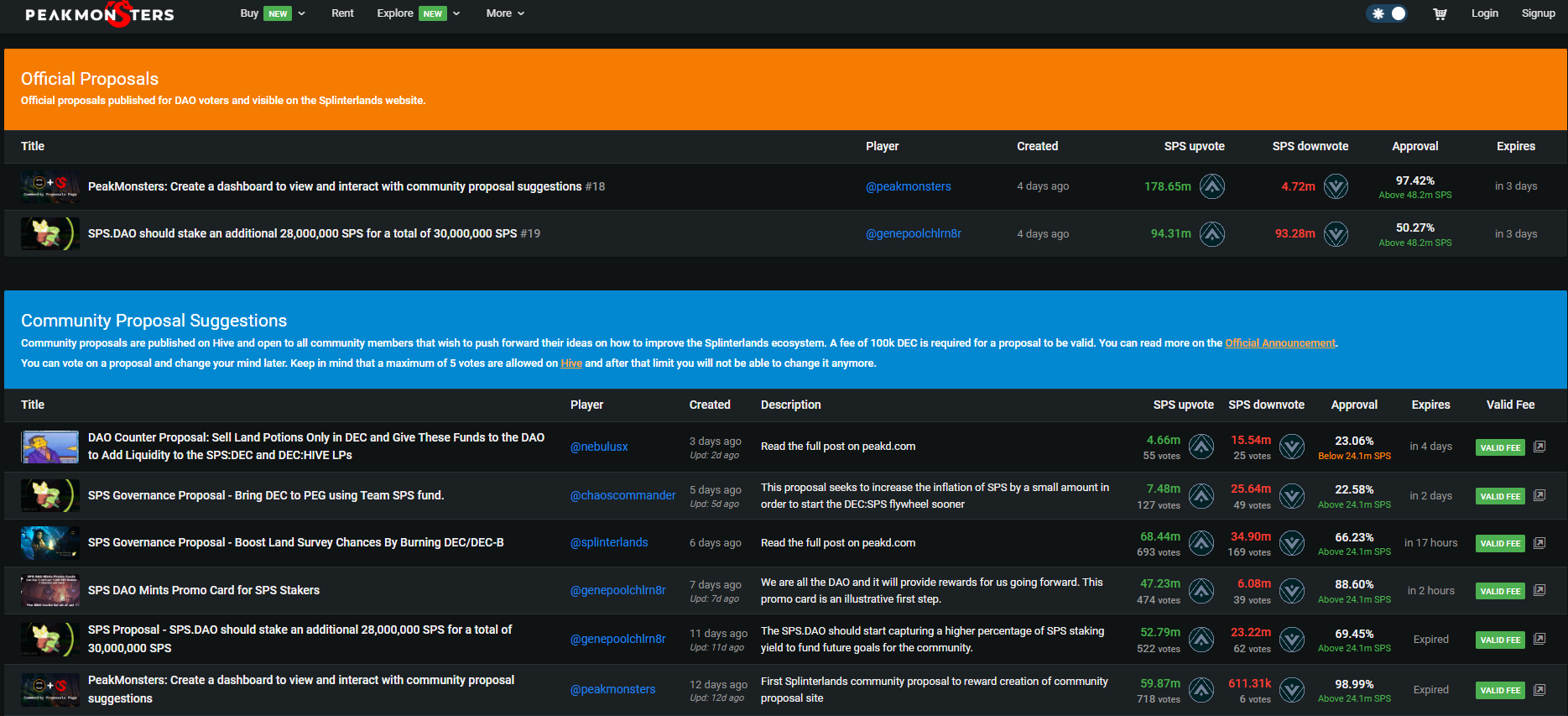 Source: Peak Monsters Proposals
Some great features that I love about the PeakMonsters SPS Governance proposals are:
Seamless integration within the PeakMonsters look and feel and platform functionalities
Segregation of Official Proposals and Community Proposal Suggestions
Clear list with the proposals and main information like Title, Initiator, Upvote, Downvote, Approval rate, and Expiring period
Link to corresponding Hive post for additional details
Simple and straightforward this surely lets SPS stakers spawn their ideas and proposals on how the SPS funds could be put to work and used. While not everybody participates in this initial phase and some proposals can Pass at this stage, but not once they become official and available within Splinterlands itself, I think that the system is pretty good and lets anyone express their vision on governance.

What else is missing from PeakMonsters SPS Governance Proposals page? Well, nothing comes to mind from my side but I invite you to say your piece if this can be improved. We all see things in a different ways and from our own perspectives, so if additional information would benefit it is good to put it out there.
Come join the amazing world from Splinterlands!
Posted Using LeoFinance Beta
---
---