100K GLX staking target reached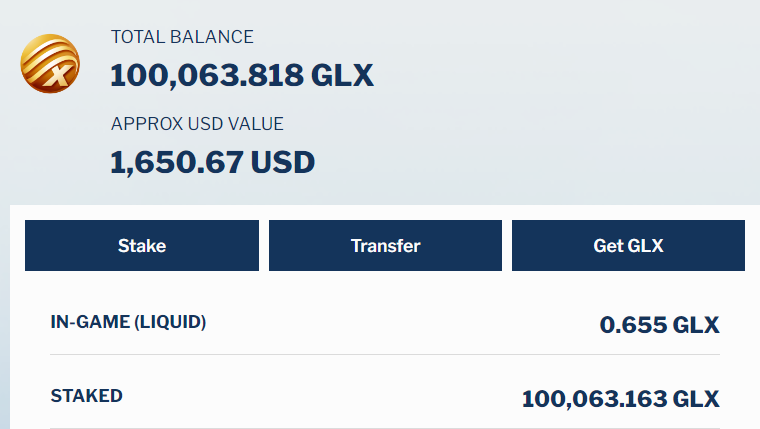 After what has felt like an eternity accumulating GLX tokens through conversion of my other assets, I am pleased to say that I have reached my updated target of 100k GLX token staked. It has been quite the journey, I must say and one that I am glad to have finally achieved.
One of the things that please me about reaching this 100K target is the fact that the GLX staking APR is still quite high and there's still a lot of time to earn staking reward.
I doubt the APR will always be this high but the most important thing for me is that I will be farming with a decent chunk of tokens and earning for the majority of the period.
To put things into context, my GLX stake currently represents 0.11% of the total GLX staked in the game. It is not a huge percentage and overall, I'm not even a dolphin, if we're going by raw numbers but I still feel it is a decent number.
Anyway, after reaching this level, I'll be slowing down my GLX purchases and redirect my interest into buying back most of the assets that I had to convert to buy GLX tokens to stake. I decided to take a gamble due to the unusually high APR and I feel like the assets I converted to GLX would not have offered me as much value.
Now that I've reached my 100K staking target, I'll be redirecting my attention to Leo and SPS token in particular. It will be a slow climb but I will be making daily purchases of these tokens with my GLX staking reward and with rewards from publications.
Counting on the market
I have a good feeling about GLX token in the coming weeks. The launch of the game is on the horizon and that could come with a monumental pump that will make my gamble to convert all these tokens make sense.
As much as Leo and SPS are part of solid projects on Hive, right now, at least, I think GLX token has the most potential to experience a major pump. This is basically why I decided to shift my attention to GLX temporarily.
The way I see it, the GLS project is relatively new and with the right execution, there could be a wave of smart money entering the game that will probably pump the value of GLX significantly. I reckon we will even see the price of packs and other related assets pump in the process.
I haven't been keeping up with the marketing of GLS platform outside of Hive ecosystem but I like to believe that there are definitely movements being made in the background. If we combine marketing and the typical hype that comes from the launch, we could see GLX pump all the way up to 10 cents and that's going to be a decent range to take profit and reinvest into the projects I had to dump for accumulating GLX.

Posted Using LeoFinance Beta
---
---