Are you satisfied with your season so far?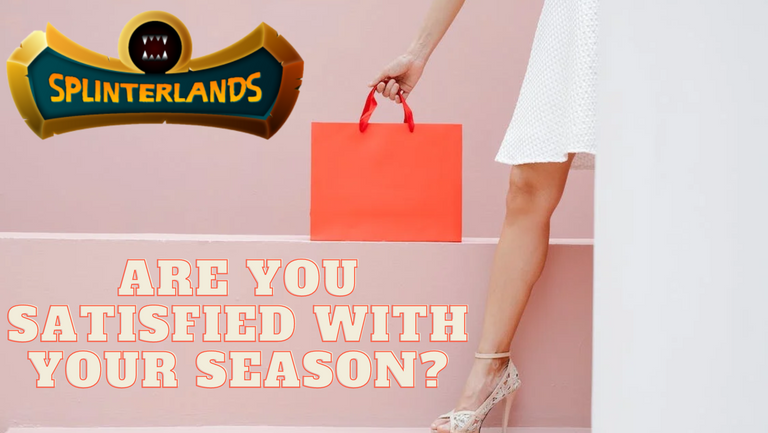 We're now in the final moments of yet another Splinterlands season that has featured the usual thrills and spills we've grown to expect. Overall, I'll say I have been satisfied with how much I've played this season but as always, I think it could have been better.
Every Splinterlands season comes with its own unique set of challenges but for me, the goal has always been to get into the top 25. I want to start earning the DEC reward at the end of the season but I just can't seem to make it up there.
At the time of writing, I'm 111th in the ranking and millions of miles away from my target. Breaking into the top 25 has once again proven to be a task too difficult to achieve this season and my dream will now roll over to the next season.
In any case, I'm still pleased with how this season went and particularly happy about my participation in guild brawls. It hasn't always been easy to participate, particularly because all the "nice" frays get filled up so fast but this season, I acted swiftly and feel like I did quite well.
More SPS for me
I'm not exactly happy with the total number of chests I've accumulated this season because it falls well under the 70 chests that I got last season. However, at the time of writing, I'm at 58 chests and could potentially get more.
Despite earning fewer chests than last season, I'm on course to earn a bit more SPS than the previous one because of my participation in guild brawls. Thanks to the approval of the proposal that enables players to earn from guild brawls, my active participation during the season has paid off nicely.
I mean, it's not like it is any crazy sum or anything but it's nice to have a bit more SPS getting staked for me from playing guild brawls that would have otherwise just paid merits instead. It's really refreshing to see my SPS stake growing and all I can hope for now is that we get a nice pump that will take me out of poverty.
I'm still pondering over whether to stay in the WIld league or move to modern league and have the ability to battle at much higher levels. How tough is the competition there and what level of summoners will I need to actually survive there?
Will I earn more SPS if I was in the Diamond league of modern or will it be better to stay in the gold league of the wild side? It just questions upon questions and the proof, as they say, is in the pudding.
So, I'm pleased with my season and looking forward to my rewards. I hope good things will come in my reward this time around, particularly as I continue to struggle with my floating decision to stay in Wild or move to modern.

Posted Using LeoFinance Beta
---
---