Bitcoin needs $64K, NFTs making waves and Altcoins ignore Bitcoin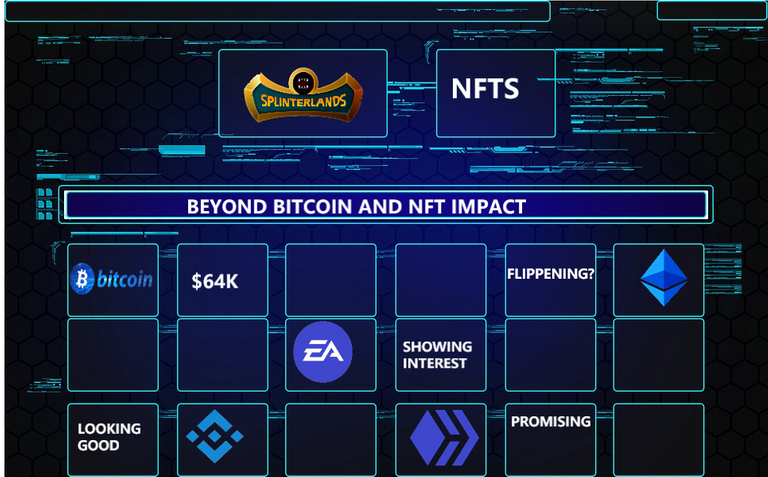 A recent publication by an analyst for Cointelegraph claimed that $64k per Bitcoin is a mental hurdle the coin must pass before it will set a new ATH.
In recent times, Bitcoin has traded sideways between 59-63k, which will be a joy for scalpers but for long-term holders, it has not been much to celebrate.
With that said, it's important to note that at the current price range, Bitcoin is still close to its previous ATH and it has been testing that mental $64k level as well.
Looking at the market now, it's pretty obvious that we're at the cusp of a mega bubble. This bull run is going to be like nothing we've ever seen before, not solely because of the astronomical pumps but because it'll be different.
Things are not the same
When I started my crypto journey in 2021, that was a bubble year. At the time, Steem was trading around $5-9 and Bitcoin was hovering around $20k. It's pretty wild how much things have changed since then.
Back then, alts didn't have a mind of their own, and their market activities basically mirrored whatever Bitcoin does.
In recent times, there has been a decoupling of sorts, with most alts now naturing into fully-fledged projects with their own backing to boot.
To give you an idea, take a look at BNB and how it has been pushing through, despite Bitcoin's current position. Say what you want about the Chain but they've been doing something right and the network effect is well, taking effect.
In the past week, BSC has processed more transactions than every other chain. Also, CZ and his cohorts are aggressively shilling it every time.
People have always shilled their projects but these days, it seems to mean a lot more than usual.
Take Hive for example and how it has been trading close to its ATH for a while. It has been showing bullish signs for a while, regardless of Bitcoin's dominance. A chunk of that value is due to marketing from projects like Splinterlands, and 3Speak that build on Hive.
For as long as I can tell, Bitcoin's market behaviour often influences the general market. What we're seeing now is the entire market maturing and decoupling from the apex coin.
A flippening is not on the cards any time soon but we might see Bitcoin dominance drop to an all-time low if this bull hits projects simply based on merit.
NFTS are no joke
If you scheme through Ethereum, BSC, Solana, Wax, Hive, and all the other NFT based projects in the land, you'll find that digital collectibles are becoming even more important.
Their trading data, whether in gaming, art, or otherwise have become a major driver for the market in their individual chains.
Other than Ethereum, the biggest beneficiary, relative to the size of the chain is Hive. If you look at the numbers Splinterlands is pushing, for example, it's easy to see why.
At the time of writing, the market cap of Splinterlands assets stands at around $250msource. Meanwhile, the total market cap of hive is about $320msource. This shows how much influence the game could potentially have on the entire network.
The number of daily players of Splinterlands alone rose to 500k per day. At some point, it will get to 1 million players per day, and with that comes the network effect. This will in turn drive value back into the system and again, this doesn't care about what Bitcoin does.
The interesting thing about NFTs and the influence they'll have on the market is that we've not even reached the peak of interest.
Other than Facebook rebranding to meta and plans to create a digital universe that'll be powered by NFTs and funded by wealth generated from stealing information, there's also EA sports and other big tech looking at NFTs potential in gaming.
I've always felt like the gaming industry will be the biggest beneficiary of NFTs. Games like Splinterlands are setting the pace and showing the potential of true ownership of assets.
When more institutions and big tech money begins to pour into the system, it will translate to a driving force for infrastructural development and financial growth for the host blockchains of NFT projects.
This will in turn lead to further decoupling from Bitcoin and even more autonomy for networks that host NFTs.
In summary
There's still so much to come from the market, so just stay frosty and watch the skies for moonshots.
NFTs will play a big role in the present and future of their host chains. They have the capacity to attract a lot of value to their parent chains.
NFT will be very important in the gaming industry and in the long run, they will attract the most value into host chains. This will invariably be a factor in many projects decoupling from Bitcoin's trading activities.
Contact & Support
Discord: belemo#9593
Twitter: https://twitter.com/belemo__
Telegram: uncleskipper
Email: [email protected]
ETH and BSC wallet: 0xC75E34E3ee9a343041B3322E1bD97b4940Ed721d
Bitcoin Address: bc1q635vre2jj9zhde9cyvflyz4h9c0p57gg3s3yre

Posted Using LeoFinance Beta
---
---