Bullish about Leo, Polycub, and excited about the future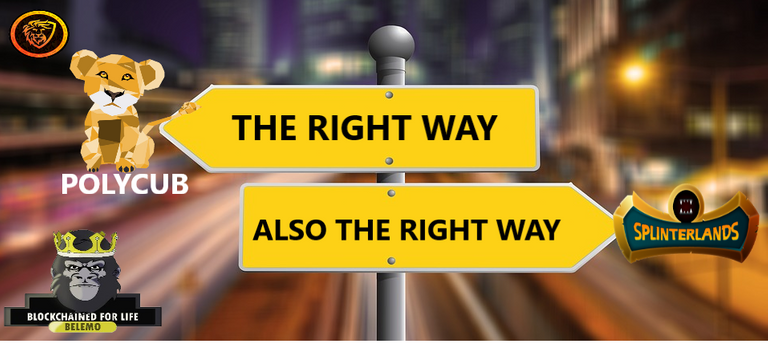 I've been a cub man ever since the beginning of the project and despite the fact that the token has been dropping in price, the community has remained solid.
Cubfinance is still evolving and as it does, it creates new streams of income and opportunities for investors. It's also on a mission to create bridges between multiple chains along the way.
The team behind the creation of Cubfinance are strategically poised to bridge various blockchains through the Leo token and generate wealth through a host of financial tools spread across different chains.
Right now, there's already established presence on Hive, Binance smart chain, and of course, Ethereum. A recent publication by the @leofinance team has shown that the next step is polygon blockchain that will herald Polycub.
For many people like me, this will be an opportunity to interact with a new blockchain and open up investment opportunities along the way.
For perspective, Cubfinance was my first interaction with Binance smart chain and then after that, I started exploring the platform. Cubfinance facilitated this transition through the Leo token that I earned from blogging on hive.
So, what it looks like to me is that a decent chunk of the value will flow through the Leo token in some way. The official @leofinance team put it quite nicely when they said;
LEO as a holding company is something we've discussed many times in the past. It's the umbrella that owns everything. All value is captured back to LEO in the long-run.
So grab as much Leo as possible now that it's cheap because, in the long run, it might in fact transform into a golden goose and a ticket to the next level of financial stability.
Stacking Tokens
I've been on a mission to become one of the top token holders on Leo for a while. At this moment, I'm somewhere in the top 100 but my goal has always been to be in the top 20.
My goal will require a decent chunk of investment and I've been pulling that out from Splinterlands.
Speaking of Splinterlands, I've also been on an accumulation journey of sorts, as I decided not to sell vouchers but roll the dice by investing in Chaos Legion packs. I don't want to miss out on the thrill of opening packs, so I'm going to mint packs with my vouchers.
Still on the topic of stacking tokens, I've been accumulating Cub from the farm on the Binance Smart chain. Yes, I plan to get involved with Polycub when it eventually rolls out.
Airdrop incoming
The incoming airdrop sounds very exciting and it takes a leaf from Splinterlands SPS airdrop schedule to slowly unroll the Polycub into the hands of investors.
Unlike SPS that takes one year, Polycub airdrop will take 60 days and will be given to people with Cub tokens staked or pooled on Cubdefi.
On its own, this airdrop will pretty much herald the bridge between the Binance Smart chain and the Polygon network. It will inevitably create a network of sorts between Cub on Binance and Polycub.
However, it needs to be said that based on my investigation, Polycub is not Cub, so I don't think their values will be in the 1:1 ratio. They'll be independent tokens bridged through the Leo network.
If the airdrop is successful, it will be a smooth transition to Polycub from Binance Cub. However, it's important to state that Polycub and Binance Cub are separate projects with their own unique selling points.
All that's left to do now is to continue stacking and staking Cub tokens towards the airdrop.
Taking profit
When specifics about the airdrop become clearer, including the Polycub contract and all that, I think the value of Cub on Binance will experience a pump of sorts.
I can't really estimate by how much Cub tokens will rise but I reckon it'll be substantial.
Assuming the token airdrop is successful and gets the right amount of coverage, it could be life-changing earning for the higher token holders.
For me, it's going to be an opportunity to take profit from a project that I've been invested in from the moment it was created until today.
Thanks to my financial situation, with regards to relocating from Nigeria, I have to think both short and long term in all my dealings.
This means that I don't hesitate to take profit whenever the opportunity presents itself. However, I always keep some back to stake in the platforms I believe in.
This has been the approach I used for the SPS airdrop, as I sold both monsters and DEC to hold stables but also currently stake 5K SPS tokens and have 12 chaos legion packs.
Seeing as the Leo team is taking a leaf from the Splinterlands team for the Polycub airdrop, I'll also just copy my strategy from Splinterlands and then water it down to accommodate the shorter airdrop period for Polycub.
If you're bullish about Cub tokens right now, you're not wrong because something big is in the works. The platform looks poised to create yet another investment opportunity for investors, and all that value will trickle down to the Leo token and I'm just grateful that I can be part of this journey.
Contact & Support
Discord: belemo#9593
Twitter: https://twitter.com/belemo__
Telegram: uncleskipper
Email: [email protected]
ETH and BSC wallet: 0xC75E34E3ee9a343041B3322E1bD97b4940Ed721d
Bitcoin Address: bc1q635vre2jj9zhde9cyvflyz4h9c0p57gg3s3yre

Posted Using LeoFinance Beta
---
---