Have you heard about Psyber X?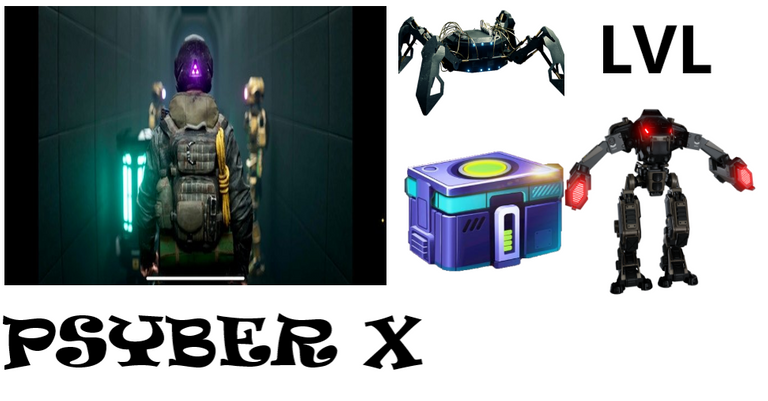 For a long time, many people have complained about the fact that Blockchain games aren't fun. A lot of people claimed that the technology and gameplay quality is somewhat outdated.
Based on my experience, particularly because I spend a decent amount of my time playing video games, there's some truth to the aforementioned point. Barring a few games like Splinterlands, Gods Unchained and very few others, blockchain games don't really excite me beyond the play to earn.
Perhaps the boringness of blockchain games is the reason why I was extremely excited when I heard of Psyber X. I only heard about it today, did some digging, and I'll be dropping a bit of information for anyone that's not aware of it.
Psyber X is a first-person shooter play to earn game that is being developed on hive blockchain. It is currently being developed by Royal Reptile Studios LLC and development has progressed somewhat.
Based on the information I got, alpha testing and some gameplay videos should be coming out really soon(6th of February). I'd say we'll be seeing content from the game soon.
Alpha testers are basically the early investors that put their weight behind the project. I'll not mention any names but I'd like to add that most of them are very familiar faces around here.
The developers
Royal Reptile Studios LLC is a project that focuses on game development. According to information from the landing page, the team behind the project have experience in game development across IOS, Windows/Xbox, PlayStation and Android.
Picking hive for this project is a very interesting move. However, I believe that the decision to pick hive has something to do with the success that Splinterlands has experienced.
About the game
So not too much has been revealed about the game but I know it will be a first-person shooter. Naturally, this will be in a 3d environment.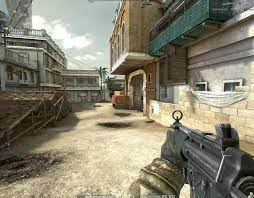 For anybody that's not gamically inclined, the above image is an example of first person shooter(FPS). You're the one controlling the person holding the gun, so it tends to be very immersive.
The game will be developed on Hive blockchain, so it will definitely use hive resources. However, it is left to be known how much it will stretch the network.
Early birds
I heard about this one late, so I wasn't an early bird investor. However those that supported the project from its infancy will have early access to the game.
On top of early access, there will also be incentives for holding the in-game token. Among the incentives are NFTs and crates.
Other than the early investors, there was also investment from an unnamed venture capitalist. If jack Dorsey sees this line, he'd be having a laugh but screw him lol.
In-game stuff
The in-game token for this project that will serve as DEC of Splinterlands, is the LVL token. Funny thing is that I saw this token on hive-engine when it was fresh but didn't do further research. Lesson learnt.
There is also a plan to extend the use of LVL across numerous other games that Royal reptile studious intend to create.
So the game also offered some benefits for early investors that will come in the form of crates. Here's an excerpt about the content of each crate.
Crates will contain many items/weapons that you will need in game. The most important is killstreak rewards. When killing enough users in game you will be able to activate a killstreak. Killstreaks are powerful skills that will help you take down even more users. For example, when you activate the Attack Drone killstreak you will have a Drone that will follow you and automatically shoot at any enemy nearby. source
Every account that holds at least 200K LVL tokens will be rewarded one crate a month. There will also be a limited number of crates, capped at 100K. You have to hold the LVL token for a period of 60 days before you start getting your monthly crates.
There are also some Psyber X NFTs on NFTshowroom. I haven't explored that too deeply but I suspect they will also be used in the game.
What is unknown?
Well, the general gameplay and other aspects of the game are completely unknown. However, we know that it will be an FPS game and that gives a general idea of what to expect.
I don't know what to expect in terms of system requirements. Considering it is going to be on hive, we'll definitely experience crossplay features.
Are we going to be playing against ourselves like the multiplayer mode on COD or will it be co-op missions? Will we be able to play it on Oculus at some point?
Will we be able to use controllers or must we use a mouse and keyboard?
Final thoughts
This is a very ambitious project that will revolutionise what we know as blockchain gaming. Introducing FPS fast-action Play to earn gaming into the scene will be extremely fun and rewarding.
I'm already addicted to one blockchain game, if this game pans out the way it is planned, I'm going to be addicted to another.
This is a really big deal that has been somewhat under the radar. Sometimes though, I think this is a good thing.
A lot of blockchain projects come out with a lot of hype and very little substance. They end up turning into huge money-spinning ventures without delivering any quality product.
Building away from the noise and craziness of the market is for the best. When the time comes, I expect a quality project that will give me the opportunity to shoot @daltono's ass(or shoot space zombies in co-op missions) and get paid from it.
Contact & Support

Posted Using LeoFinance Beta
---
---