Hive-engine tags you could use to increase your reach and earning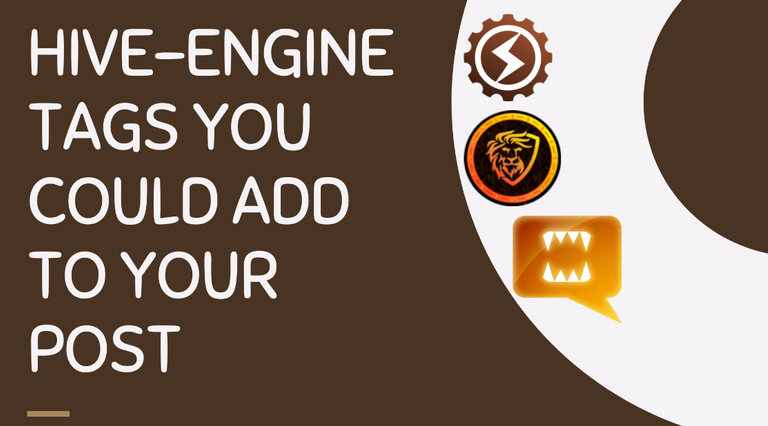 The second layer of hive has numerous tokens that offer differing value proposals. However, one consistent thing between virtually all of them is that you can earn socially.
I have consistently looked out for tags that I can add to my publications to increase the reach of my post. These tags also lead to more earning opportunities from my publications.
In this article, I'll be running down some tags and their platforms that you can use for various types of publications. Some tags are niche-based while others are general.
Leo(Leofinance)
The first tag you can add to your publications is the "leo" or "leofinance" tag to your post. This post enables your publication to show on leofinance front-end.
leofinance is a niche-based platform on hive. Publications on this platform all have to do with finance-related topics.
So whether it is about crypto, fintech, business, or generally anything that has to do with finance, including personal finance, then Leofinance is the platform for you.
Publishing on leofinance through the front-end or adding the tag also enables you to earn Leo tokens that are tradable on Hive-engine, Uniswap and Pancakeswap through Cubfinance.
Proof of Brain(POB)
To publish content on Proof of brain, you can either use front-end or add either of POB or "proofofbrain" as a tag to your post.
POB is a general-purpose platform where you can publish a variety of content. SO in essence, you can add POB tag to any publication you share on Hive blockchain.
Neoxian
Neoxian is yet another front-end on hive for general purpose content.
To publish on the front end, you can either do it directly through the previously mentioned link or just add the tag "neoxian" to your publication.
Splintertalk(SPT, Splinterlands)
The Splintertalk is a platform that has been on hive for a long time. Thanks to the SPS airdrop, the platform really came to life last year and the SPT token really took off.
SPlintertalk is a platform specifically created for SPlinterlands related content. So regardless of what type of content you're sharing, as long as it is about Splinterlands, you can share it there.
Other than using the previously mentioned link, you can also have your content displayed on SPlintertalk if you add either "spt" or "splinterlands" as a tag to your publication.
Your publication earns SPT tokens that are tradable on a variety of platforms including Hive-engine and Tribaldex.
Tribalblog(Hive-engine)
This is one of the recent additions to the second layer social club and it is also a general-purpose platform.
Publications here earn you Bee tokens. Alternatively, you can add "hive-engine" tag to your post.
Vybrainium(VYB)
VYB is a new project that kicked off through an airdrop to POB token holders. Just like POB, it also seems like a general-purpose website.
To publish on that front-end, you can either use the front-end link previously mentioned or just add "vyb" tag to your posts.
Oneup
This is a platform specifically created for gaming content. To have your content displayed there, you can add "oneup" as one of your tags or just use the link above.
Stem
STEM stands for Science, Technology, Engineering, and Maths. I guess that pretty much summarises what you can publish with that tag.
Basically, you publish all that school stuff on this front-end by using "stem" as one of your tags.
Other tags I haven't researched
Other than the aforementioned tags, there are also tags like Archon,Ash, Cent and a host of others that you can add to your publications.
Personally, when I don't know if my content is allowed on a front-end, I just scheme through other content I see on the platform to note if they are similar to my own content.
If the content is similar, I use the tag, if it isn't I don't. However, the most important thing to note is that there's something for everybody.
So look out for these tags and platforms. Using rightly will increase your reach and your earnings as well.
Contact & Support

Posted Using LeoFinance Beta
---
---