I sold my plot, staked more SPT and now I'm scared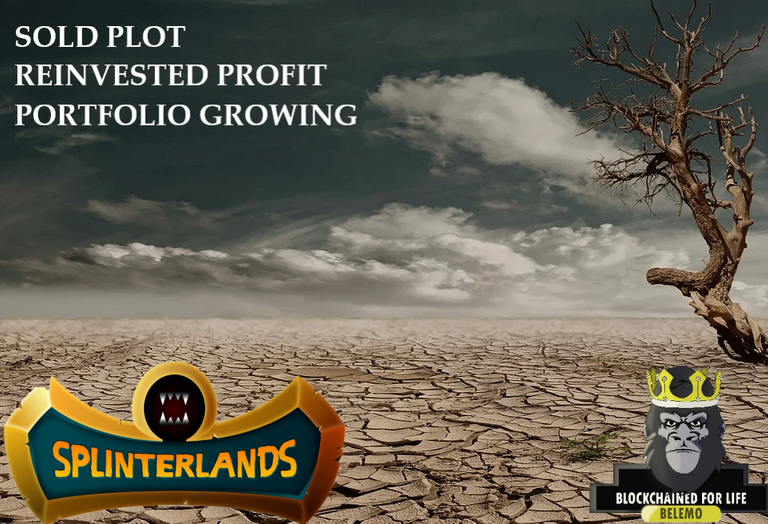 Splinterlands has been my mainstay for a while now and thanks to the revenue I generate from the game, I've been able to increase my investment in various platforms. One of such investments is my SPT stake and post rewards from talking about the game have been great.
During the SPS airdrop, the value of SPT and other tokens related to the game have risen. Thanks to that rise, I've also earned quite a lot from my hive content and I decided to stake every single SPT token I earned, bar the NFT I bought recently.
It has felt really good to be able to squeeze out and reinvest profit these days. Still on the topic, for the first time during the SPS airdrop, I actually bought SPT tokens from the market and staked them.
I made 48X profit, why am I scared?
Earlier, I sold my plot of land that I bought at $15 for about $720. It's the most profit I've ever made from a single entity and a part of me always feels pain that I didn't invest more in land.
Anyway, the proceeds from selling land were reinvested into my portfolio. I converted a decent chunk of the proceeds to HBD that was moved to saving for 10% APR and the rest was reinvested into LEO, SPT, and some DEC.
If we're going based on the airdrop points, a plot of land gives 10k airdrop points. That's equivalent to about 10k DEC, so after selling the land, I just added 10K DEC to my holding to ensure I don't miss out on my SPS.
After buying DEC, I bought some LEO and SPT tokens that I staked. I originally intended to buy only SPT tokens but I'm still fixated on my goal to rise up the Leo ranks, so I got some Leo tokens as well.
I made a long-term target of achieving 100K SPT before the end of the yea. Right now, I'm about halfway there with 43k SPT staked, so that's some good news.
The scary part
Pulling out $720 from Splinterlands felt good and as stated on multiple occasions, land is going to be very important in the game as we move forward.
I fear that my decision to sell land at this price might be a bit premature. Judging by how the value of assets has progressed over the last couple of weeks, it's very likely that the price of land plots could go as high as $2000 per plot.
It would suck to miss out on that amount of profit, but that's just how the crypto game goes and one has to live with their decision.
As much as I'm proud of my decision to sell at this amount of profit, which is quite a lot, to be fair, I'm still very wary about missing out on bigger profit.
Gratitude is important
At the end of the day, I have to be grateful and not greedy. Missing out on profit sucks but I have to be glass half full and just be happy I was able to make a profit.
Since the airdrop started and probably sometime before it even, the value of Splinterlands assets has been rising and that's been a very profitable venture for me.
I'm counting on it to facilitate my plans to relocate with my family in the coming months. It's not healthy to place all your bets on one part of your portfolio but right now, I'm just letting Splinterlands do the magic.
I really hope things work out in the long run. Splinterlands is already the most lucrative crypto investment in my life but if we succeed with relocating from our earnings from the game and other crypto ventures, it would be absolutely awesome.
Contact & Support
Discord: belemo#9593
Twitter: https://twitter.com/belemo__
Telegram: uncleskipper
Email: [email protected]
ETH and BSC wallet: 0xC75E34E3ee9a343041B3322E1bD97b4940Ed721d
Bitcoin Address: bc1q635vre2jj9zhde9cyvflyz4h9c0p57gg3s3yre

Posted Using LeoFinance Beta
---
---