Lily Shieldpaw is destined for a bright future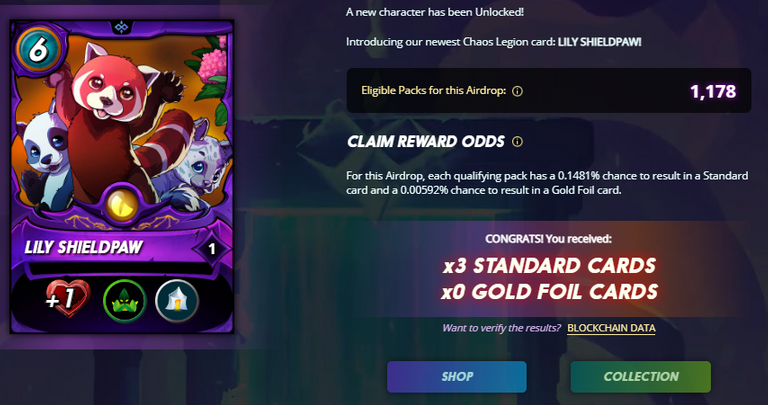 It is now official, the final legendary Chaos Legion monster has been airdropped into our collection and with that comes the end of the collection. We are now waiting for the next pack set in the game and as always, we hope for the best.
Lily Shieldpaw is such a cutie, so henceforth, this is what the summoner will be referred to. My initial predictions for the summoner was that it would be valued around $24 range but that doesn't seem to be the case right now.
The cutest summoner in the game started trading around $25 and then rose to $27, where it remained since. It is a fair price for summoner that I consider to be decent and quite capable ot tilting battles to your favour. It is also very cute.
I get the feeling that the story and cuteness behind this summoner will contribute to the market's perception of the asset. Also, considering it is a dragon summoner, it only makes sense that it will be valued highly.
The most expensive chaos legion summoner was Quick the Devious, another dragon summoner. Typically, Dragon summoners and assets in that splinter generally tend to be somewhat pricey.
Now, just like Byzantine cutie, we have cutie Shieldpaw that also has a healing ability in the dragon side of the equation.
Could be more
In terms of pricing, the newer assets pale in comparison to the wild assets. Well, Byzantine kitty is part of the modern collection but it still has the wild rating of collection power because it is from the untamed collection.
At the time of writing, Byzantine kitty is valued at $344 and that's a far cry from the $27 you can spend to buy Cutie Shieldpaw. I find that to be rather strange but that's just how the market is right now.
Actually, many of the chaos legion and rift watchers assets seem a bit cheaper than expected. My hunch is that they're suffering from recency bias or recency "unbias", if you may.
Splinterlands assets tend to age like fine wine, so as the time goes by, their perceived value tends to rise. This is the case with pretty much every single untamed asset that use to be worth cents but now worth dollars.
If given time, I believe that in the months to come, we'll start seeing the price if certain Chaos Legion summoners rising up. Perhaps not as rapid as untamed but enough to be noteworthy in your collection.
Assets like Cutie Shieldpaw will be among the first to rise in value because of its uniqueness and being so adorable. Burning all those Chaos Legion packs will also work in favour of the said assets because this reduces the potential number of CL monsters that will be in circulation.
Posted Using LeoFinance Beta
---
---