NFT buzz, Death of Memecoins and are we at the bottom yet?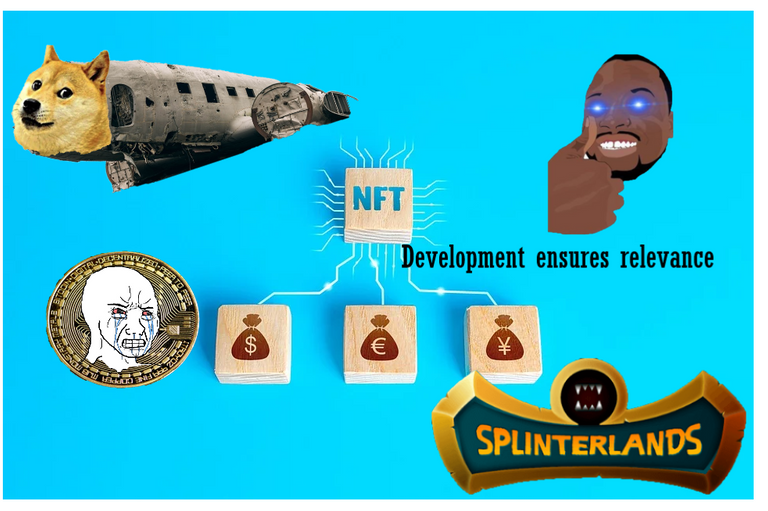 As the crypto market evolves, we will experience new concepts that will take center stage. In recent times, all the buzz has been around the NFT craze, particularly as the market continues to tumble.
NFTs influence in the scene has tokenised the idea of "owning stuff" and while it is still a growing industry, the amount of money involved is staggering.
Despite how you perceive NFTs, it is clear to see that the idea is here to stay and it is inevitably going to be part of your life at some point. I believe that in the next 2 years, virtually everyone involved with crypto will have interaction with NFTs.
Penetration power
Unlike cryptocurrencies and tokens that trade in a rather complicated market, NFTs have the unique advantage of being "easier to trade" this is because your NFT is valued at whatever price you choose to sell it and you don't have to sell it if you don't want to.
Also, I believe that their simplicity will be a big factor in the way they penetrate the mainstream market in the long run. This is because, Mr. X, a random guy from anywhere in the world just needs to understand that this digital item is worth an amount and he can own it by buying it.
Naturally, NFTs are hosted on blockchains, so he will have to use a blockchain wallet to hold it. However, projects like @splinterlands are creating a way to bridge the gap by providing channels that facilitate fiat onboarding.
In the near future, the NFT market looks likely to outgrow the traditional crypto market because it is easy to understand. I mean, you might not understand why a certain artwork sells for 1000ETH, but at least you understand that this artwork sold for that price because someone that appreciates it, paid for it.
Another interesting thing about NFTs is the fact that they have utility both within and outside the digital world. My favourite part of them is their utility in gaming, and as you've seen in Splinterlands, it can be very rewarding.
Outside the digital world, people will also tokenise real-life assets like real estate, cars and virtually everything else. This type of certification of ownership will be impervious to forgery and once everyone catches on, the NFT market will pretty much be absorbed into the mainstream as a normal way of life.
Death of memes
As the NFT market continues to bubble over, the meme coin market is trending towards the opposite end. I remember when the hype was at fever pitch and I couldn't go a minute without seeing some Safemoon, Shiba Inu or one other shitcoin on my Whatsapp timeline.
These types of coins are only alive because of the hype and since the people behind the project didn't actually have anything in mind before creating it, their lack of utility will drag them to zero.
Virtually all of them hinge their hope of survival on the same concept that keeps Dogecoin alive. However, the major difference is that Dogecoin has the Lindy Effect and other things backing it, while the other meme coins have a community that pumps and dumps.
Right now, the market is saturated with pointless meme coins and unlike DOgecoin that is the top dog in pointlessness but has SoV status based on Doge/BTC trading pattern, the rest of them are Degen coins with zero utility.
I don't think they'll drop to zero because their gains and losses are momentum-based, however, I don't think anybody will be playing with them anytime soon. In the midst of the red days, only development will attract money and if you don't have anything to offer, you'll keep dropping into the abyss.
Are we there yet?
Speaking of the abys, when are we getting to the bottom? I looked at the market and it still looks terrible.
The only bright spark is my Splinterlands deck that is constantly rising and it's getting harder to hold on to my assets. The options to cash out profit are too many to resist.
Anyway, all the analysts believe this is the darkest part of the night that comes before sunshine. Hang in there and keep on stacking, that's all you can do right now.
Please check out my Freelance gigs:
Contact me

Posted Using LeoFinance Beta
---
---