PR is more important than actual development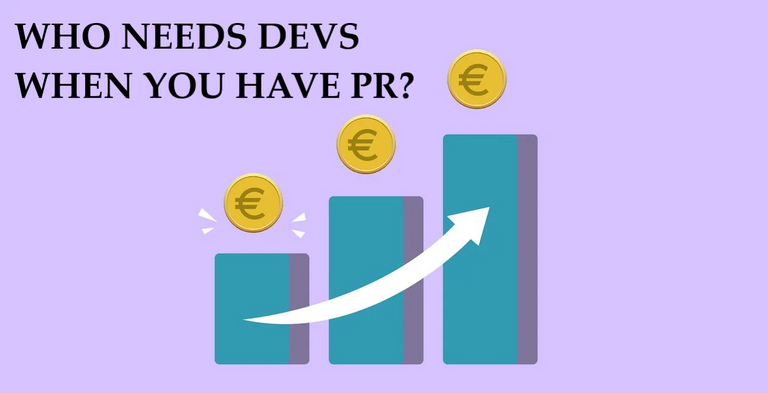 The title of the post is a statement I made on Twitter. It was due to my frustration that certain crypto assets do better than others.
For what it's worth, I know the statement "PR is more important than actual development" is not correct in isolation. However, in the crypto space, in particular, it's starting to seem like that's the case.
I've been observing the trends lately and seeing the assets that seem to get a lot of social media traffic. If you take Dogecoin, for example, considering how useless it currently is and then compare it to the level of hype it gets, you'll see that there's a real problem.
Is Crypto just a ponzi scheme?
Every now and then, I scroll through Twitter and after sieving through the wen lambos, and all the life-changing stories, I encounter that one guy that vehemently declares that crypto is just a scam.
As far as that guy is concerned, this industry is just filled with a bunch of opportunists that are dumping assets on others. The early dumper eats the fattest bone, he reckons.
When you see tweets and posts like the above on traditional social media, your first instinct is usually to clear the air, to help this uninformed human with knowledge, you want to fix this ignorance. However, when you look at it critically, you should understand where this person is coming from.
When you think of certain projects and their market cap, it sort of makes you wonder if the world has gone insane. If you look at the charts and you see a certain ADA that has no discernable infrastructure or project running on it but has a market cap of over $28 Billion, it kind of slaps you in the face.
Can you explain what ADA actually offers that makes it as valuable as it is? Is $1 Billion such a casual thing that Cardano, with no observable development has a total market cap of over $28 Billion.
Cardano is utter shit but at least they keep talking about smart contracts and stuff like that coming through. They're kind of like Tron foundation where nobody actually uses them but many people claim to use them.
The one that grinds my gears and something that looks like it will be a mainstay in the crypto industry is Dogecoin. I honestly can't wrap my head around it and it seems like whenever I rant about it, the coin seems to rise up the ranks.
After a round of mild shilling by the insanely huge community on Twitter, Dogecoin climbed up to 10th position in the crypto ranking. How can there be so many people with money just willing to throw at a coin with no intrinsic value?
I'll tell you the reason for free, it is 100% PR. If you're buying Dogecoin today, it is 100% because you know Elon Musk will shill it at some point and it will pump hard.
At the time of writing, there is a total of a bit over 132 Billion Dogecoin in circulation. At the current market cap of Ethereum, the price of Dogecoin has to be around $2-3 for it to flip it. It might sound ridiculous now but given time, you could see it become a reality.
Chasing the money
Sometimes I consider going into day trading because people in that department act with no emotions. They see a buy or sell opportunity, and they take it without hesitation.
To day-traders, it's all just numbers on the screen. So they make decisions with data and ensure they end the day on the greens.
I, on the other hand, have certain projects that I'm attached to because of the quality. I have hope that the project will come good in the long run. In this game of numbers, I'm at a disadvantage because I let my emotions cloud my judgement.
I wish I had the mental fortitude to actually just treat crypto like a bunch of numbers on the screen. Unfortunately for me, I'm a romantic and I don't think I'll ever change because I can't thrive without passion.
I'm invested in multiple projects on Hive, including Splinterlands, Leofinance, Psyber X, DCity, Rabona, and a coupe of others. I also have investment outside Hive, but they're all related to Leofinance.
If the projects I'm passionate about work in my favour, then I'll win. However, if they fail and disappear, so will my interest in crypto and sadly, it means I'm not going to make it.
The only way to save my skin is to diversify my passion, by seeking out solid opportunities in other communities. I'll keep searching as I've been doing for a while now and continue putting my money where my mouth is.

Posted Using LeoFinance Beta
---
---