Second thoughts about opening Genesis League Goals packs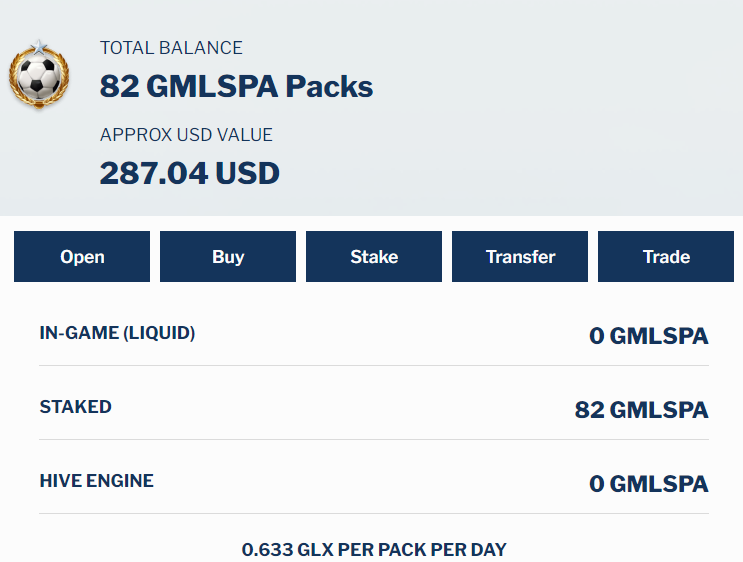 Yesterday, I talked about how opening Chaos Legion packs doesn't favour me, from a financial poojnt of view because most times, the content of the pack doesn't even match the value of the pack. I decided that the 9 packs I opened yesterday will be the last SPlinterlands packs I open in a long time but it also cgot me thinking about Genesis League Goals packs.
At the time of writing, each GLG pack costs a tiny bit more than $3 on Hive-engine but you could also buy them for $5 worth of GLUSD and one voucher. Most of the packs in my collection were actually bought in the game, so I effectively spent more than the current value of the pack to get them.
On the bright side, I have had the packs staked for a while and in that time, I have earned a decent amount of GLX token from this decision. However, with pack opening now available, I wonder if I should open or just leave the packs staked.
Right now, the pack staking APR is 0.633 GLX per pack per day, meaning I can earn around 51 GLX tokens every 24 hours. That's really not a lot of GLX tokens, to be honest but I wonder what if opening the packs is the way to go.
Unstaking to open
At the time of writing, there are still a few minutes until all the 82 packs I have staked are available to be opened and I'm starting to have cold feet. I keep wondering if opening is the best choice for me at this time.
On one hand, in favour of opening packs is the fact that there's a higher chance of finding a gold foil card in my collection. Gold foils will obviously have higher value and bring more value in the game as well.
So, the question is, do I risk it all for the chance of finding gold foils? It is still a mystery considering we don't have a P2P marketplace for in-game NFTs and so, we don't even have an idea of how these assets will be priced.
The launch of the game will determine how these assets are perceived by the general public and invariably influence the price mechanism of NFT assets in the game. If we end up with a really good game, the assets could end up being quite valuable in both the short and long term, when marketing moves take effect.
Just like with Splinterlands, it is safe to expect that these cards in this first edition of packs will most likely be quite valuable in the future. Going by this logic alone, we also know that as the said NFTs in the pack get valuable, so does the pack and one now has to wonder which will offer higher value n the long run.
On the other hand, I'm really worried about the chances of things going down like Chaos legion in the short term and having underwhelming assets in my collection. Again, this is all dependent on the level of hype and quality of the game when launched.
One thing that's certain now is that opening packs is a big risk, despite the higher chance of finding gold foils. I think I will tread carefully by opening a couple of more packs but will also hold on to some packs and not allow myself to be sucked into my @jongolson syndrome(opening pack addiction).

Posted Using LeoFinance Beta
---
---