So we're burning packs now?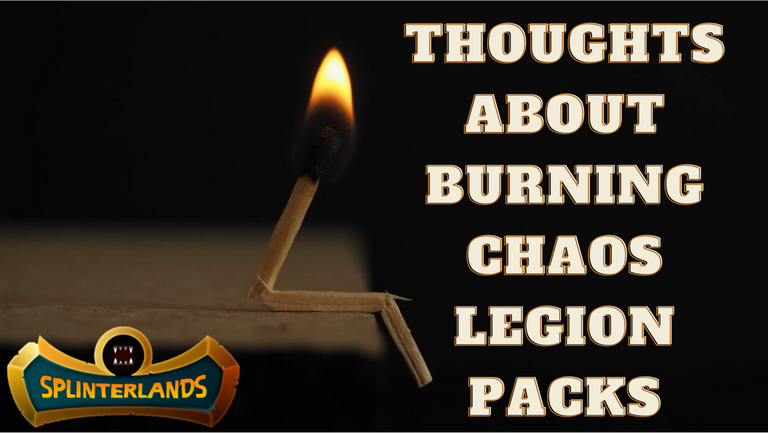 The latest proposal in Splinterlands will see Chaos Legion packs get burnt, with the process starting from the 31st of December. This proposal is coming due to the unforeseen slow pace of sale due to the horrible state of the general crypto market.
According to the latest proposal pushed forward, 25k Chaos Legion packs will be burnt daily until all the packs have been burnt. This process will go on from December to March when all the packs available for sale would have ideally been burnt or sold out.
Since there are airdrops at the end of every 1 million packs sold, all the burnt packs will be treated as if they were bought and added to the counter. So this way, airdrops will still come at every round of "sales".
Honestly, my only problem with this proposal is that it isn't starting yesterday. This is something that should have been done a long time ago as it would reduce the wreckage that Chaos Legion packs have done to the value of my collection.
I guess pushing it to December is meant to give people enough time to accumulate packs for flipping when it becomes scarce. I wonder if this will be enough to make @jongolson start holding packs for slipping purposes.
Burning Burning Burning
We must keep in mind that burning packs is not the same as them being bought out fast. Burning means that the said packs are completely taken out of circulation, which could translate to some level of scarcity that eventually boosts the demand/price of the pack.
Burning packs feel like uncharted territory for me because I'm not sure we have ever experienced something like this in Splinterlands. Overall, I think it is a pretty good idea and I doubled down on my opinion by staking a bit more SPS tokens to boost the weight of my vote.
I wonder if this proposal could translate to a flurry of sales that boosts both the price of packs and the value of monsters inside them. I reckon investors will start flirtatiously looking at the roughly 4.6 million packs available.
The Passing
Interestingly, this proposal hasn't exactly been passed yet as there seems to be some resistance. Well, at the time of writing, the total number of votes indicates that it is approved but with days of voting still ahead, things could change.
It is really cool that we're seeing the proposal system get into full gear with the community getting more involved in decision-making. This is going to encourage more investors to consider buying and staking more SPS tokens to boost the weight of their vote and be more influential in decision-making.
At the current price of SPS tokens, I figured that I might as well add more to my collection and also increase my earnings from staking. So, I decided to add 1758 SPS tokens to my collection and in the coming days, I'll be buying more.

Posted Using LeoFinance Beta
---
---