Splinterlands has an impressive GameFi ecosystem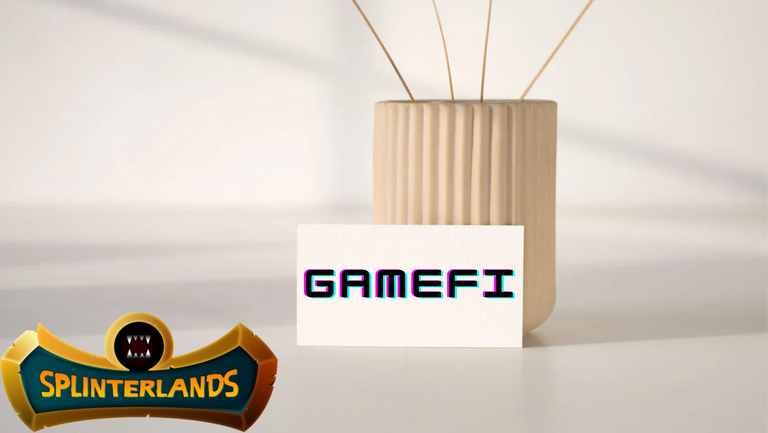 SPlinterlands is one of the most popular Blockchain games in the land, there's no doubt about it. The card battling and trading game have evolved into a constantly evolving ecosystem with a variety of products.
The constantly growing ecosystem that involves a metaverse in development is home to quite the entertaining game. Through NFT assets in the game, players participate in intense and competitive ranked battles for glory.
Each competitive battle offers players Dark Energy Crystal tokens, as well as special vchests that house a variety of assets. Thanks to the new changes, you earn more for participating in more battles.
With an eye on sustainability and development, Splinterlands constantly chops and changes bits of the game to ensure all players get the maximum benefit from their time. The rewards are largely randomised in most cases, however, in other situations, you can influence what you get through potions.
Pools
In recent times, Splinterlands has been able to surreptitiously throw liquidity pools into the game. Thanks to having a variety of tokens spread across numerous blockchains, Splinterlands has created farming opportunities for players.
In some way, we could say that SPlinterlands has transformed players into investors by giving the ordinary participant an opportunity to hold valuable assets that transcend the game. A variety of ingame tokens offer investors consistent value through staking in liquidity pools.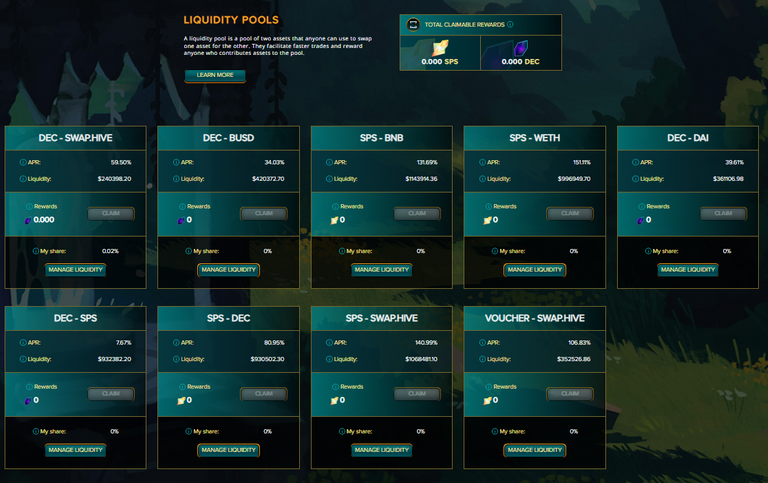 At the time of writing, Splinterlands tokens and assets can be found across a variety of platforms. Naturally, all you have to do is link an external wallet in cases where the liquidity staking is outside of Hive blockchain.
Staking on Hive
Out of the 9 Splinterlands-related farms, 6 are on the parent blockchain of the game. Through Tribaldex players can transform some of the assets they earn in the game into investment tools that offer consistent dividends through liquidity farming.
The pools generally offer decent APRs but as with most farms, this reduces as the pond gets more saturated. So, if you had any plans of getting involved, you should do so as soon as possible.
Staking outside Hive
Every Splinterlands account can have numerous external wallet links. In my previous publication, I explain the basic steps required to connect an external wallet.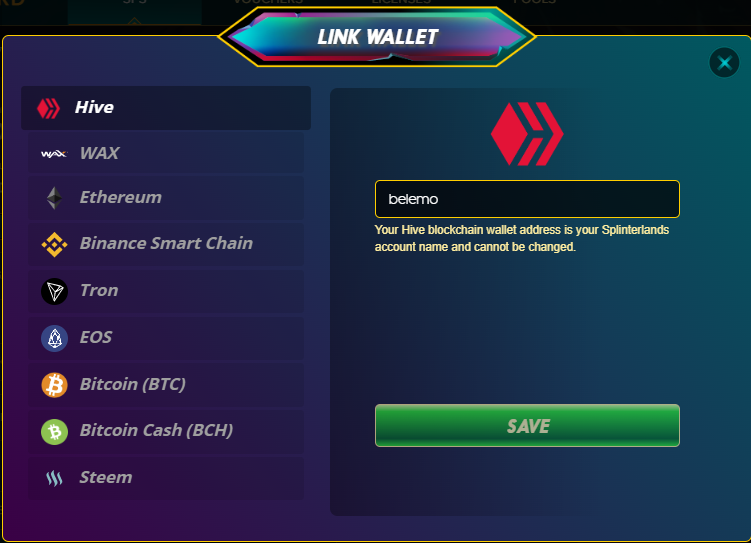 At the time of writing, the 3 other farms in the game are on either Ethereum or Binance Smart Chain. Once you connect your wallet, you can then pool your assets either on Pancakeswap, Sushiswap and Uniswap to earn dividends from your investment.
Organic GameFi
As mentioned earlier, Splinterlands is not just another blockchain game. There are so many moving parts and a vast community behind the success of this game.
The community translates into a thriving ecosystem and of course, an active market with decent liquidity available for players. In fact, right now, the demand for assets seems to be overshadowing their availability due to healthy internal competition in the game for rewards.
As interest in the game continues to rise due to its reverberating success across blockchain land, we will be seeing even more people troop in to get a feeling of what the game has to offer. Eventually, this sleeping giant will rise to the very top where it belongs and become a household name in both the crypto market and the legacy market.

Posted Using LeoFinance Beta
---
---