Stay wild or move to modern?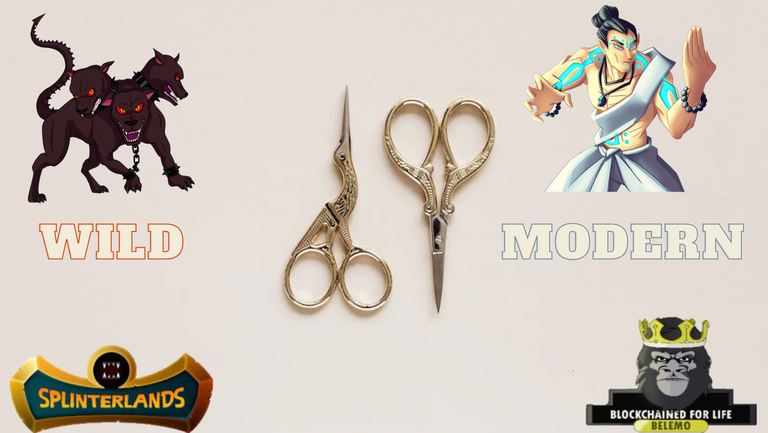 There are only a couple of hours left until the end of this Splinterlands season and with that comes the usual rush to see what the chests have to offer. The past couple of seasons have been rather underwhelming for me as I continue to brawl for Silver chests on the wild side and this is making me consider the modern leagues.
My curiosity continues to eat at the seams and I can't seem to get it out of my head. Will the reward in the modern league be better than the reward on the wild side?
Earlier today, I tried to play a ranked brawl in the modern league and I lost the battle. I'm unranked over there, so I have to fight my way up from scratch if I intend to get anything out of that neck of the woods.
At the time of writing, my collection power makes me eligible to brawl in Gold 2 in the wild side but I'm much higher in modern league. Since requirements in the modern side are much lower, my 213K collection power enables me to contest for as high as Diamon 1 on the modern side.
The issue is, while my collection power may be high, my deck itself is far from capable of brawling in gold league, talk less of the diamond league. However, it begs the question of why this is the case, considering how high my current collection power is.
Am I brawling beneath my potential? Do I need to make some changes to my deck? I started asking myself these and many more questions to determine what I could do to maximise my potential.
Tweaking steps
At the time of writing, I have a collection of SPlinterlands monsters that is largely modern monsters. I combine them with a couple of wild monsters to get the business done and while that's nice, I feel like I should be doing something else.
I feel like my efforts would be better rewarded if I find a way to sell off some of my wild assets and then reinvest the proceed into upgrading my modern summoners. I figured this much since the only way to brawl properly in diamond truly is to have maxed-out summoners and then try to max out the available monsters in my deck.
Alternatively, I can "double" my reward by brawling in both the modern and wild sides. However, the obvious issue with this is that my energy cature rate will be drained much faster and I might end up losing on both sides.
The most important thing, at the end of the day, is figuring out how I can maximise my rewards and earn even more with my splinterlands deck. I have a decent collection power that I believe I can do more with but the question is, will modern diamond pay better than Wild silver and is it wise to make such a drastic change right now?

Posted Using LeoFinance Beta
---
---