What have you been doing with your Splinterlands profit?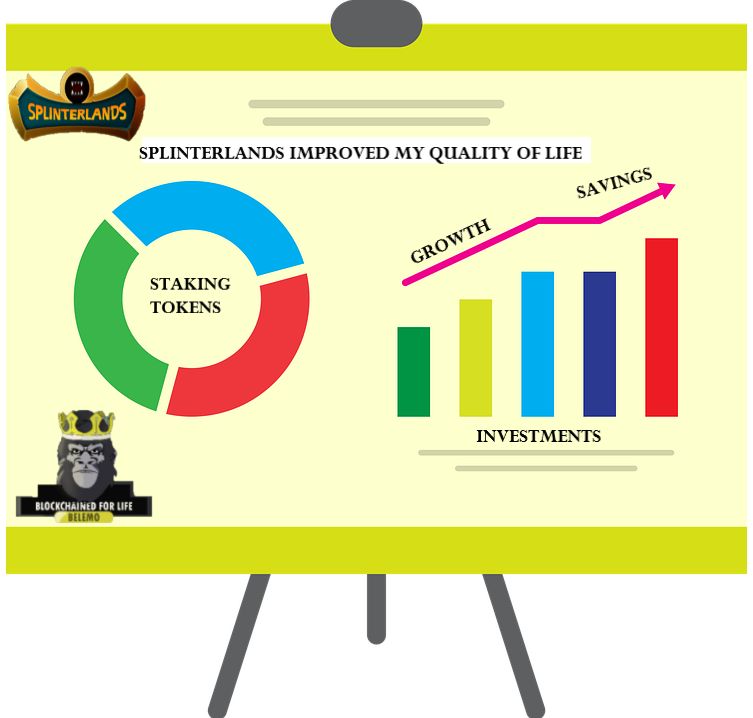 If you've been in and around Splinterlands in the last couple of months, then it's safe to say that you're experiencing some level of financial improvement in your life. Virtually everything about the game has experienced some level of upheaval in market value, and it has been an amazing experience.
This morning, I saw a tweet from one user who bought his mother-in-law a car with the profit he made from Splinterlands. According to the tweet, he mentioned SPS staking and stacking DEC in particular, as the main catalysts behind his expenditure.
I didn't pry to know how much the car costs or anything because that's not necessary. For me, it's just incredible how a simple game could morph into something this huge and it also makes me wonder how much more growth is in the works.
I'm living in the moment and taking it all in my stride as the platform continues to grow from strength to strength, and I can't help but be in awe of everything that's going on.
A game is funding my life
It's wild to say it but it's totally true. This game has been a revelation and has taken my financial status to another level.
The surge in the value of assets has dramatically improved my quality of life and has also enabled me to concentrate on other investment opportunities.
For example, I've been staking pretty much all the Hive-engine tokens I earn from posts because I no longer have to sell them to fund my life.
Also, thanks to the fact that I'm printing DEC every day from battles, as well as SPS tokens, I no longer have to sell my HBD from post rewards. In fact, I've been accumulating a lot of HBD in recent times.
Right now, I have 394 HBD in savings and I'll be sending even more to savings. If I can accumulate a decent amount of HBD into savings, that 10% APR could actually turn into legitimate income.
Taking profit is healthy
As I said earlier, taking profit from SPlinterlands has literally funded my life. The earnings have improved the way I live and has also enabled me to get certain things that make my life less miserable in Nigeria.
For example, I was able to buy a 55-inch Television to replace the one I had before. I sent the older one, which was only a couple of months old to my brother and it was a nice surprise for him. I originally wanted to sell it but then I just figured it would be better to gift it to someone.
I also made a bunch of other "smaller" purchases like Ghost of Tsushima, my Playstation headset, a high-end phone with awesome features a router, and a mega internet bundle that covers for one year.
On top of all of that, Splinterlands has also been the only place that I've been pulling out funds for our day-to-day life. We try to live within our budget because although these are times of plenty, we still have bigger targets ahead of us.
One of such bigger targets is our escape from Nigeria. That's still not within my price range at the moment and the only way to get there will be to sell off all my Splinterlands assets. That's obviously a bad idea, so for now, I'm also just accumulating stables, one day at a time, towards achieving the target.
In summary
So what have I been doing with my Splinterlands profit? I've been doing everything humanly possible to maximise the benefit in my life.
I've been staking/reinvesting chunks of it back to the game. I've been investing in improving the quality of life my family lives.
I've been mixing up our short and long-term targets into the plans and just trying to live a quality lifestyle. All my eggs aren't in one basket but this is my golden goose that laid the eggs, so I'm going to be camping with the goose for a while.
I hope things continue to get better and the game continues to grow as well. If we can 8x DEC and SPS rises to around $5, I think I'll be able to sort out the long-term target in one big swoop. Dreaming is free you know?
Contact & Support
Discord: belemo#9593
Twitter: https://twitter.com/belemo__
Telegram: uncleskipper
Email: [email protected]
ETH and BSC wallet: 0xC75E34E3ee9a343041B3322E1bD97b4940Ed721d
Bitcoin Address: bc1q635vre2jj9zhde9cyvflyz4h9c0p57gg3s3yre

Posted Using LeoFinance Beta
---
---