Will blockchain porn ever take off like blockchain gaming?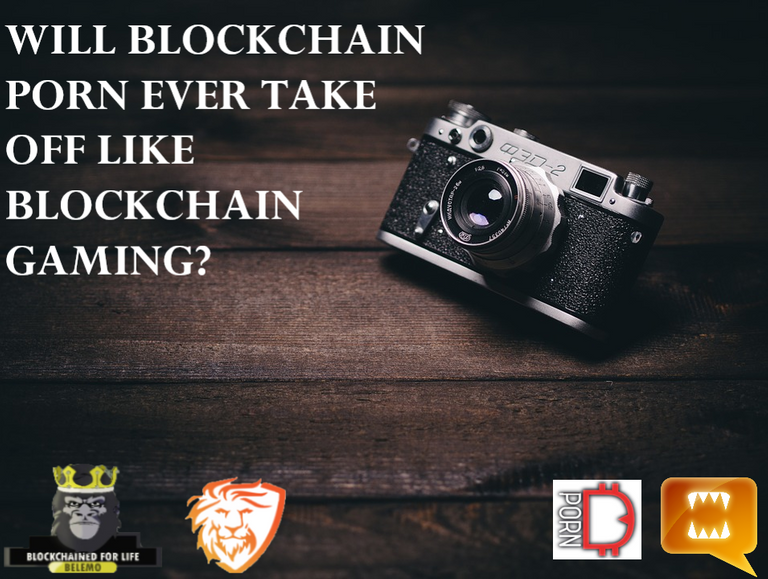 Porn is something that often divides opinion. However, whether you like it or not, it takes nothing away from the fact that it's a multi-billion dollar industry.
The founder of Dfinity recently talked about the potential of replicating Onlyfans on a blockchain and it really does sound like a great idea.
Naturally, I think Hive is the best place for these sort of media-based developments because we already have the framework and foundation to host the content.
In my opinion, the only thing holding back the development is a concerted push to improve Dporn.
When 3speak porn?
I can't remember exactly when it was but I enquired when porn would be allowed on 3speak and there was no specific date set.
The conversations about it have been sent to the back burner but I think it's something that we really should be exploring.
As COVID hit the entire planet, many people realized how much they liked staying at home. In that period, cam girls and similar content creators became super important.
It was also in that same period that Onlyfans experienced a huge pump in viewers and traffic.
I don't see myself ever paying for porn or sexual content but there are millions of people willing to pay for it, so I think it's a viable business opportunity for Hive blockchain as a whole.
DPORN needs a push
On hive, we have a porn outlet but it's the least talked about front end on the platform. The content there hardly gets any traction and because it's porn, most frontends like to keep it on the down low.
Thanks to projects like Leofinance and Splinterlands, we know that it's possible for second-layer projects to be successful on hive.
Right now, the combined value of Leofinance and Splinterlands actually eclipses the market capitalization of Hive and HBD.
For me, this just proves that Hive still has some growth to do, and secondly that hive is a nice place to build.
The question is, how can we build DPORN to get to a higher status. How do we make people more interested in porn?
Finding good content
Unlike Leofinance and Splinterlands where people produce a lot of original quality content, the porn site hasn't really been exciting.
Perhaps it is due to the low rewards on that end but the content I see isn't really exciting.
If we're going to grow that end of the woods then we have to be looking into creating a proper reward system and we also need to fix the visuals.
The Dporn website still looks bare minimum. It has the structure of generic hive front-ends.
For a project to be successful, it has to carve out a niche for itself and also has to look the part. Right now, Dporn doesn't look like a porn site, it looks like a basic hive social media.
Also, why is it that Dporn content still gives that NSFW warning before viewing it. The content there should be smacking you in the face, right from the get-go.
I mean, once you open the site, there should be a sexy woman with huge tits in your face with one generic welcome message and an 18+ warning that nobody actually gives a shit about.
A lot of work
There's so much work to be done but it can be done. We can tap into the porn market and give people the opportunity to monetize their time.
So in just the same way we earn from playing games, people could actually earn while wanking. So you jerk off with one hand and curate with the other hand. In my book, that's a win-win.
Dporn shouldn't operate like every hive front end because it's unique. It needs to do something akin to YouTube and reward authors based on views.
So that means to introduce the token buyback from Google ad sense and then see where that goes.
The porn industry is huge and we're sitting on an untapped gold mine. Porn on hive could be the next big thing but it'll never happen if we keep ignoring that front end.
The question is, where, how, and when do we start the push to grow the porn sector in the same we pushed gaming on Splinterlands?
Contact & Support
Discord: belemo#9593
Twitter: https://twitter.com/belemo__
Telegram: uncleskipper
Email: [email protected]
ETH and BSC wallet: 0xC75E34E3ee9a343041B3322E1bD97b4940Ed721d
Bitcoin Address: bc1q635vre2jj9zhde9cyvflyz4h9c0p57gg3s3yre

Posted Using LeoFinance Beta
---
---