Will you like to join the Splinterlands scholarship program?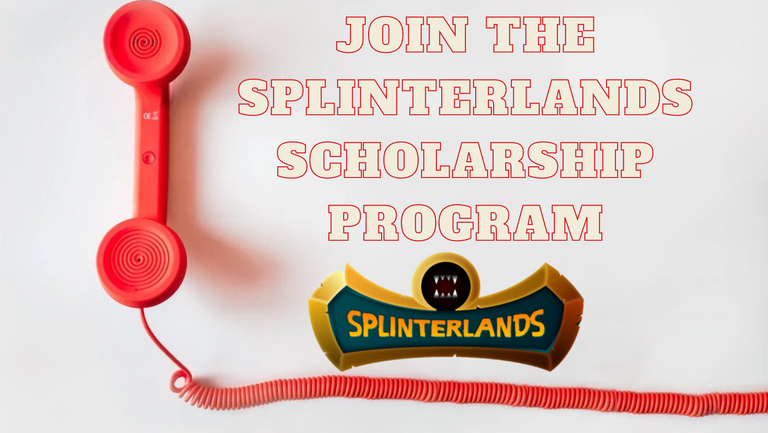 I understand that getting started in Splinterlands can be quite expensive and climbing up the ladder is often a very rigorous process. Other than the gameplay, growing often requires a serious financial commitment and that is not something that everyone has at their disposal.
To make life easier for individuals that are interested in being a part of the Splinterlands ecosystem, a sponsor has come forth with a lucrative Scholarship program that will simplify the onboarding process.
About the Scholarship
So we haven't actually given this scholarship program a specific name because it is still in the testing phase. My contact hit me up on Discord to tell me about the opportunity he's creating for potential Splinterlands players and I thought I'd share it with the general public.
The scholarship is looking for individuals that are interested in growing in Splinterlands through ranked battles and are willing to put in the work to rise up the ranks. Below is all you need to know about the Scholarship program;
Interested participants will be given access to a preset deck of cards
In this testing phase, the deck of cards will be maxed out for Bronze league to test the waters
In the future, there will be numerous decks provided for a variety of scholars that can brawl at higher leagues(Silver, Gold, Diamond)
The current deck of cards provided comprises a variety of monsters spread across rarities and editions.
The deck of cards can brawl in both modern and wild categories. All that will be discussed further.
Rewards from participation will be split 50/50 between the sponsor and the scholar.
Who needs to apply?
Are you interested in playing Splinterlands and do you want to earn risk-free dividend from playing Splinterlands? Well, this opportunity is for you
This scholarship is for Splinterlands players or impending players that will aggressively participate in Ranked battles. We're looking for energy capture rate drainers, aggressive brawlers and generally, people who will attempt to max out their daily and seasonal loot chests.
If you're interested in being a part of this scholarship program, all you have to do is drop your Discord username in the comment section and we'll contact you privately to interview you to know if you fit the bill.

Posted Using LeoFinance Beta
---
---