My Objective: to stake 10000 SPS

Hello Summoners,
I am currently staking 8872 SPS in my splinterlands account. With my current SPS earnings I still need more than 12 days to stake 10000 SPS. I still have 4 or 5 days before the presale ends so I can still collect SPS to buy CL packs with 10% bonus.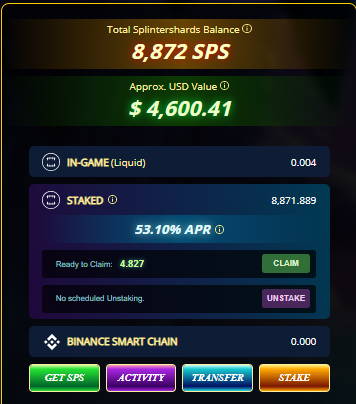 But I still want to buy 100 packs so I will wait until the last days of presale. I decided to give up 10% discount if needed because SPS will be key token for future.
I hope I will get up to 55 bouchers when bouchers airdrop ends. Current bouchers price is every high so I can not afford to buy it. If this continue until the last day I will sell it to by CL packs. If the price drops I will buy it.
Bouchers will be still useful in the future but without promo cards its price will be drop. I think my 5 bouchers can not gurantee one promo card from 13 air drops. So it will be better to sell them.
How do you think my friends?
https://images.ecency.com/p/4PYjjVwJ1UdtKm1ixfRE6SfgaSiANQC1qU1d2n4M1jSxDaMN285CKUxRh36S3oSuw9PUaNHdf9YF2KXYLW9F4zGe7wW7utmkqFej2inEBwC.webp?format=webp&mode=fit
---
If you want to play Splinterlands. Please use following link:
---
---