Today I have got a Gold Foil Uraeus as a quest rewards
Today is a lucky day so I have got a Gold Foil Uraeus when I opened quest rewards chests.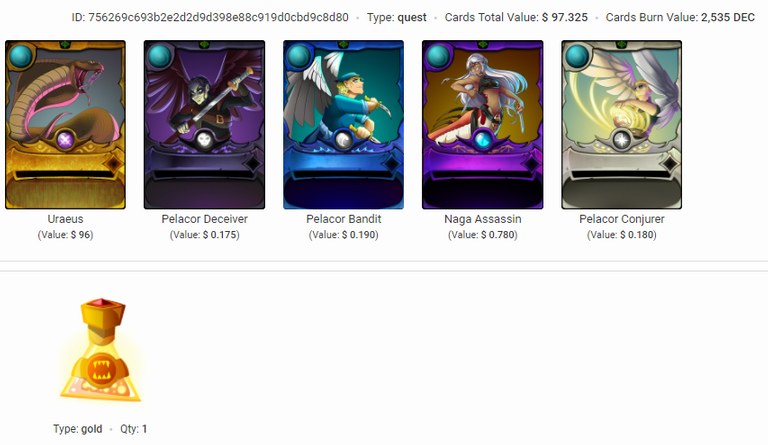 Today's quest is Neutral Quest so It is very hard for me. I moved back to SIlver I again. Back I keep trying and finally I reached back to Gold III and quest is also completed.

Neutral Quest is difficult because it prohibited from using Neutral monsters. Bit I hope it can give me better rewards chests. When I started opening the rewards chests it give me a Gold Foil Uraeus that worths 96$ in current price. I also got a Naga Assassin it also worths around 0.78$. So today I hit the jack pot. In absence of GFL, GFE is the best outcome I can get. Apart from Gold Foil Djinn Chwala and Gold Foil Lava Launcher, Gold Foil Uraeus is the most expensive card in the CL rewards cards. So I want to share my lucky opening to my friends. I hope you will get one Gold Foil card soon.
https://images.ecency.com/p/cyxkEVqiiLy4DPBjkBUpHLa5BveiwwCF68r6dwnuwyJ83irrm9vifuZPPsZ9rHCspcaYAFAiH1YKWVBfu9Uex3fnxYLhEmBVAvuE3vXLDQeR6kBVMErzTMadvxnaymfwFRo.webp?format=webp&mode=fit
https://images.ecency.com/p/4PYjjVwJ1UdtKm1ixfRE6SfgaSiANQC1qU1d2n4M1jSxDaMN285CKUxRh36S3oSuw9PUaNHdf9YF2KXYLW9F4zGe7wW7utmkqFej2inEBwC.webp?format=webp&mode=fit
---
If you want to play Splinterlands. Please use following link:
---
---