It is fun only when you are winning 😅...
When we win we do love to play that time a lot, to get the exact ruleset gameplay I had to play many extra games. Sometimes it is really hard to get the desired ruleset match on splinterlands, but it is fun (only if you are winning :p). I am loving to play with different cards daily, I mean different costume decks Sometimes that did go well, and sometimes that didn't go well. It is fun as long as you are enjoying the game if you are not enjoying the game then that can be a drag for you 😇.
In terms of playing splinterlands is a good game but in terms of investment is really hard to determine these days so many new things are coming day by day :p. I am really bad at that I do what I love to do, I only play nothing more than that.
---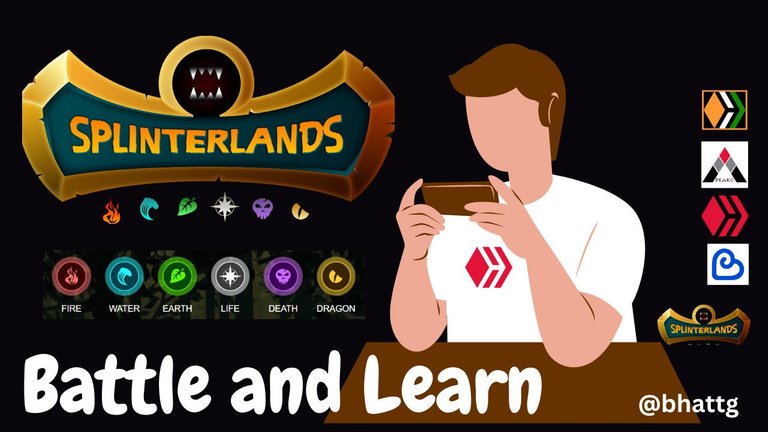 ---

Made Via Canva

Explosive Weaponry- All units gain the Blast ability.
Additional damage is equivalent to main damage divided by 2, rounded up.
Include a unit with Reflection Shield in your lineup to absorb blast damage and protect your back line.
Born Again - All units receive the Rebirth ability which allows them to self-resurrect once.
I have played a few matches with the Explosive Weaponry rules set but the Born Again was new to me so it was really hard to predict which card is gonna play well at that time and the thing is I can only use Earth and Death monsters only. I used the summoner LOBB LOWLAND, this was my first time with this summoner too I was not sure if it is gonna work or not. I did gamble at that time but I was surprised when I see the result of the match.
Whenever I did see the Explosive Weaponry rule set I do try to use a tank(mostly )in the first place and use an amazing card in the second position which is Venator Kinjo. This card is really great if you wanna protect your back card from the bast acttck, it is of no use if the opponent is using sneak or snip ability cards.

---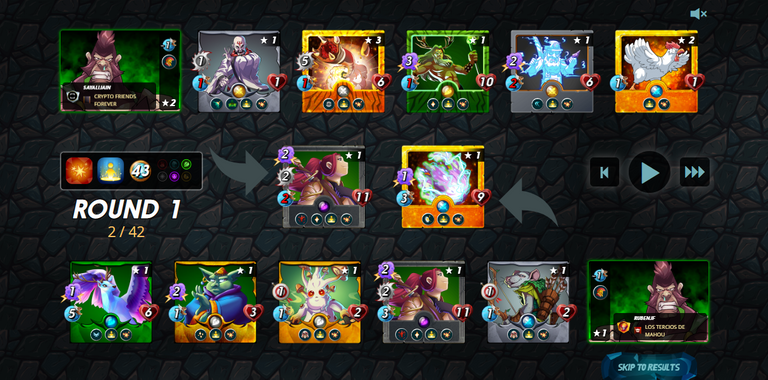 ---

So, the lineup was pretty simple and a few cards were the same on the opposite side, I was lucky that the opponents don't have all the cards the same.
Quora Towershead
Venator Kinjo
Sand Worm
Kron the Undying
Spirit Miner
Furious Chicken
I have used Quora Towershead a few times and I have seen how power full the card is. The Bloodlust and healing ability make that card more powerful as the game continues, at the end of the battle the speed, magic, and Melle are all at 9 you can see how powerful that has become. As you can see the opponent did have two cards that have the Martyr ability which made the game more interesting but thanks to my good decision and the position of the card made the game more interesting for both of us.
It was an interesting match indeed, you can watch the full battle from here,Battle link. I am sure you will enjoy that as I did enjoy that. I was surprised to see that I didn't lose any card, I did once thanks to the rebit ability it was alive again. If I haven't used Venator Kinjo card then the game would have ended differently no doubt about that. Some battles are worth sharing I do have a few more to share I am gonna share them some other time, then keep battling and have fun while playing don't take the pressure.

see you in the next post, till then keep learning and keep exploring...
---
If you are not playing the splinterlands and Golem Overlord games then feel free to join my referral 😁
My splinterlands referral
My Golem Overlord referral
few posts from my past that might be helpful for you.

10 daily comments ✅
Ecency Boost ✅
Help others ✅
wish me luck 😅
Thanks a lot for staying till the end 😃🙏, let me know what you think.
Never forget one thing you should be grateful for because what you have someone has a dream of that. So learn to be grateful. Be Thankful.🙏😀
Thanks a lot for being here, let me know what you think.


Thanks & Regards
@bhattg
-----Together we will make this a better place-----
---
---