It was an ok ok end of the season
Wow, this season was really great for me not as per rewards but as per the wins I did make this season. I have reached the highest 72 or 73 chests this far this time I did manage to reach 64 chests by the end of the season that is was really a surprising thing for me too. I did enjoy it a lot this time no pressure at all, I did win a few battles against really good opponents, and at the start of the battle, the thought was I am gonna lose but they did manage to win even if the opponent did have some really good cards. It was really surprising for me and I am sure the opponent did get surprised by that too 😉. what about you do you play splinterlands if not you should check this out, it is fun again. play for only fun don't get too much serious about that.
---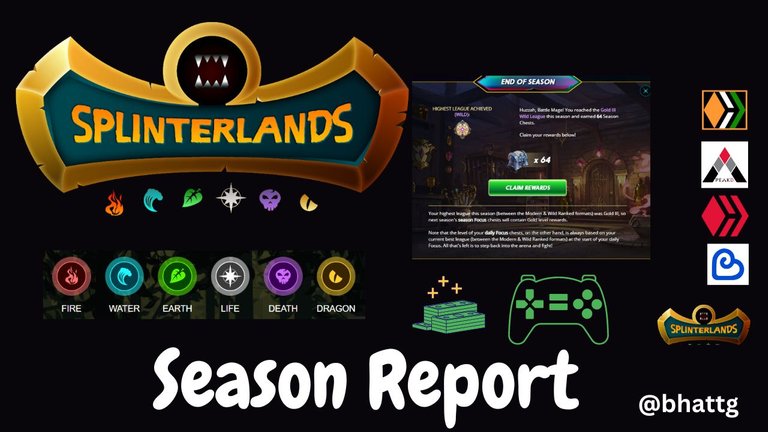 ---
Made Via Canva
This season was more like a learning experience for me, I did learn so many things, so overall this season was good although the rewards are not that much good but still, something is better than nothing. I did encounter so many new cards this time, and that is the case in every season but this time I really enjoyed it a lot not sure why but I did that. The earnings were not that much good but still were never new which card is going to cost how much in the future so collecting cards is a good thing I guess what you think?
There are so many peoples who are using bots to play there their games it is a good way to earn a passive income too. You just have to buy/rent cards and have to just relax and chill the bot will do the rest for you. If you don't have enough time to play then this is a good idea for sure. If you do have time to play them it is a good thing for you. if you are using you are training the bot you will remain the same and you do have to learn new things if you will try to play the game after a long time (I think you are getting my point). If you are a regular player then this will be easier for you I guess, even if you are not a good player like me 😉
---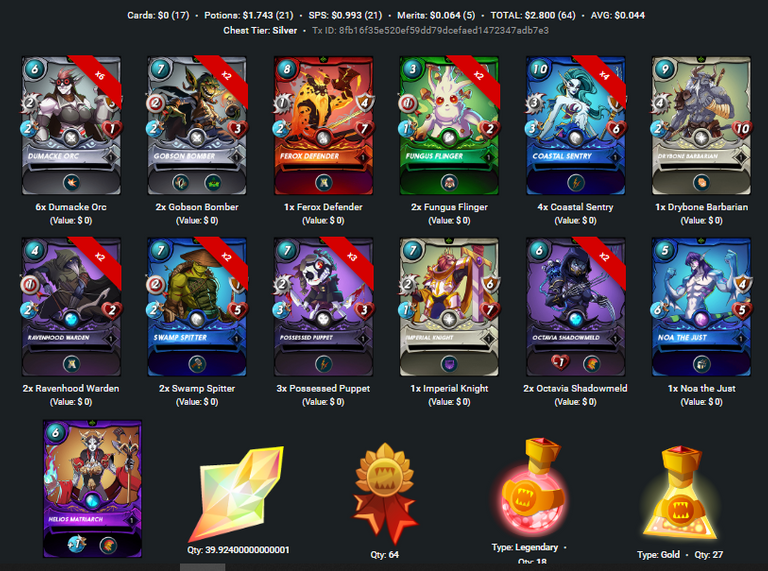 ---
There are so many new things are keep coming daily you have to be active even if you are renting your cards which is not that profitable now (that depends upon your holding too). I do play for max 1 hour a day I did manage to collect around 7 to 15 chests in my daily quest. you never knew what you can get there maybe a pack or legendary cards and many more things that can be earned maybe a good amount of sps. Soon (not sure when 😁) the market is gonna pump you that time you can earn a good profit by selling your assets you can use them in the game to play or can delegate that to another good player who is regular on the games. There are so many use cases of that and I am sure those who do play are pretty well aware of that too. Everyone who is here they are really smart no doubt about that but still some of them are smarter than others 😜 . What about you how was your season ended?
see you in the next post, till then keep learning and keep exploring...
---
If you are not playing the splinterlands and Golem Overlord games then feel free to join my referral 😁
My splinterlands referral
My Golem Overlord referral
few posts from my past that might be helpful for you.

10 daily comments ✅
Ecency Boost ✅
Help others✅
wish me luck 😅
Thanks a lot for staying till the end 😃🙏, let me know what you think.
Never forget one thing you should be grateful for because what you have someone has a dream of that. So learn to be grateful. Be Thankful.🙏😀
Thanks a lot for being here, let me know what you think.


Thanks & Regards
@bhattg
-----Together we will make this a better place-----
---
---