My Plans for SPS, GLX and DEC
At the start of the year, I was clearly not to plan any goals for the year, but now I see I am making goals every week. Now I am kind of confused about what I have decided and what I am doing. Now I am planning to start/do a lot of new things on the hive and that includes splinterlands too. When I saw the goals of other users here that is kind of forcing me to set up goals so I shared my splinterlands strategy in my last splinterlands post, you can read more about that from there.
---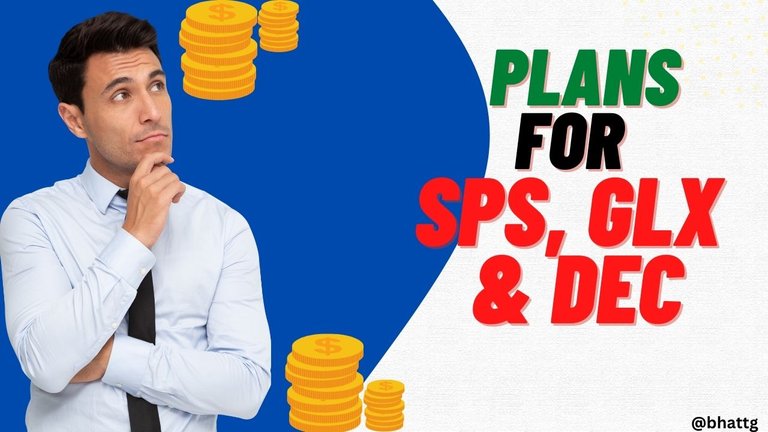 ---
If you are planning gaols on splinterlands there are hundreds of things there, but I am not sure if all can have all of the stuff that is available, week or month we do see a new thing pop up in the game, it is not easy to catch with all the things at the same time. So I don't even want to grab all the things but still, I do have some certain goals about SPS and GLX tokens.
right now I do have around 1700 SPS and mostly all are stacked a few of them I have deposited in the sps and dec pool and that is really a good way to earn a passive income for sure. What do you think?
So, at present, I am earning sps from staking, from the pool and I am also earning from another way. Yes of course by playing but not my account yes you heard that right. Although I am not much of a good player still I do play. Thanks to my mentor for showing his trust in me.
That sure did boost me up, some seasons are great some are really hard for me. If you talk about chests I did earn a max of 90+ chests in a seasonal rewards chest. That is the longest I have ever made with that account.
But now it is really hard for me to cross 50 chests seasonally. The players are getting more smart day by day. I think I don't have enough time to send on the game these days, but still, I do try my best to get at least 7 + chests daily but not all days are the same.
So, back to my goals, staked sps is giving us GLX tokens if you know how to set up the GLX thing don't worry I am here you can read my old post about that. So for every 1700 staked sps, you will get 1 GLX Token daily and if you stake the GLX token then you will earn more GLX and one more token for that.
Currently, I do have around 83.362 GLX tokens and mostly all of that is staked. I think I will achieve at least 500 GLX by the end of the year by the staking option sure I will reach there faster. I do have around 1,688.732 staked SPS, in a few days that will be 1700 sps after that I will start earning 1GLX from that without including the staked GLX token.
I do have around 6280 liquid DEC I do think I will manage to make at least 15k by the end of the year just by renting.
what are your plans with your SPS, GLX, and DEC?

I hope this post was informative for you. let me know what you think.
Img made via canva.
If you are new to the splinterlands game then feel free to join my referral 😁
few posts from my past that might be helpful for you.

10 daily comments ✔️
5 k Hive Power to vote (3,496 HP)❌
Eceny Boost ✔️
Help others ✔️
wish me luck 😅
Thanks a lot for staying till the end 😃🙏, let me know what you think.
Never forget one thing you should be grateful for because what you have someone has a dream of that. So learn to be grateful. Be Thankful.🙏😀
Thanks a lot for being here, let me know what you think.


Thanks & Regards
@bhattg
-----Together we will make this a better place-----
---
---