Unveiling the Thrill: Splinterlands - Where Strategy Meets Fun
The game is getting more interesting day by day, although I am not winning all the battles still it is fun to play the game. what about you are you having fun with the game? It really feels great if your strategy works this didn't happen all the time though but it is really fun for sure don't you think this is true? do you feel the same? I do want to make two posts per week splinterlands but I am unable to do that sometimes I get busy with other things sometimes I get to battle with the exact ruleset battles, and life is not easy for sure. This week is kind of lucky for me, I did get the exact ruleset and I won.
---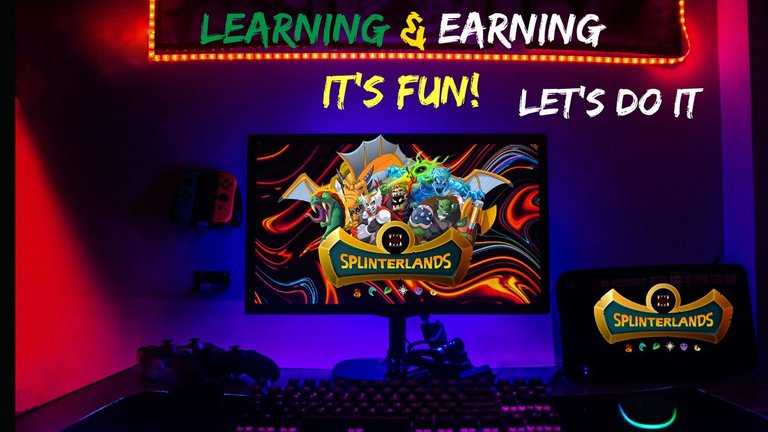 ---
Made Via Canva
If we do try to change things then sometimes it gets really hard to achieve it easily, don't you think this is true? Being serious doesn't work all the time we have to be chill and relax sometimes for sure it does help a lot whether it's a battle or a life problem. sometimes overthinking makes things worse. let's stick to the topic 😅what I am typing this doesn't look like a battle post at all.

RULESET: Rise of the Commons
Description:
Only common and rare units may be used in battles.
Summoners are unaffected by this rule.
I am sure most of us are used to a few legendary cards without them the battle sucks not all the time though. I do love to use legendary cards a lot whenever I get a chance but we all should know how to play all kinds of cards that are gonna make a difference.
I did get another ruleset in the battle it was Heavy Hitters (All units gain the Knock Out ability.). Sometimes two is better than one, but not all the time though. 😅


I was lucky that the mana cap was 32, a midum mana battle are easy win for me mostly. I get confused in low and high mana cap battles what about you? I did use almost all the magic cards that was the game-changer I think. That is why I love to use magic cards almost all the time without magic cards it is really hard for me to play.
the opponent was not using any magic cards he was totally dependent upon the first cards of the lineup but when the first card was down the battel was most likely one-sided as per my understanding. The other cards were of low health which was a disadvantage for him/her but a big advantage for me.
So, my lineup was: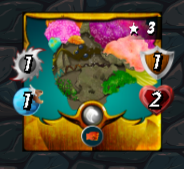 The first card of my lineup was Hardy Stonefish, The card is not a tank and did have that many good stats still it is a good strategy to lose some cards to win the battle, but not all the time this trick works for sure. sometimes it is a good strategy to use the tank in the first place. I did have one place left which is why I used this card in the first place to take at least a few attacks and it did work pretty well. It was able to handle two attacks which was a good thing.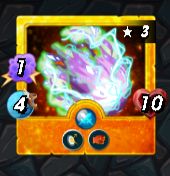 The second card on my line was Prismatic Energy, which is really a good card with the amazing ability of Magic Reflect(When hit with a Magic attack, does reduced Magic damage back to the attacker), although the opponent was not using any magic cards still it really helped in the battle. The 4 speed, 10 health, and 1 magic attack is a good combination for sure don't you think? This card did work as a tank for me in the battle which was kind of great maybe that is the reason I won the battle. we will find out that by the end of the post.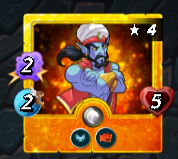 The third card on my line was Sea Genie, the stats are decent 2 speed, 2 magic attacks, and 5 health with a flying ability ("Has an increased chance of evading Melee or Ranged attacks from Monsters who do not have the Flying ability). It was a good thing that the Prismatic Energy card was thereby the end of the battle which was a good thing for me, if somehow that card were gone then I would have lost the battle, or maybe not what do you think? Having some decent cards for backup is really a good strategy indeed, as I said not all the time same strategy did work though.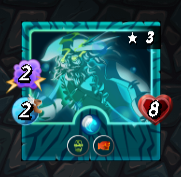 The fourth card on my line was Captain's Ghost, it did some decent health I have used it in the middle in case my other cards didn't perform well. it was a backup card. But I was lucky without losing that many cards I managed to win the battle with no sweat. The 2 speed, 2 magic, and 8 health card did have some decent stats don't you think? The Affliction ability (When a unit with Affliction hits a target, it has a chance of applying Affliction on the target causing it to be unable to be healed). maybe this is the reason why the first card opponent wiped up so easily. 😅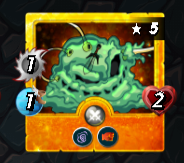 The fifth card on my line was Creeping Ooze, speed did play a really big role in the battle those who had higher speed had the chances of winning the battles mostly all the time but not always though. The cards didn't have that many good stats but due to their special Slow ability (Reduces the Speed of All Enemy Monster) if the opponent is using cards with a Cleanse ability (Removes all negative effects on the Monster in the first position on the friendly team) then things might change a bit for sure. But luckily the opponent was not using any card of that ability.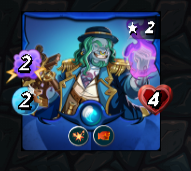 The last card on my line was Riverboat Captain, I was lucky the opponent didn't have any sneak cards. If there were any then that can be a trouble for me honestly. This card does have decent stats and the blast ability (Does additional damage to Monsters adjacent to the target monster.) does make this card a good card to use in the battle. this is really a handy card to use to clear up the line

It is really hard to guess who is the man of the match but I think RiverBoat Captain, did a great job for sure. what do you think?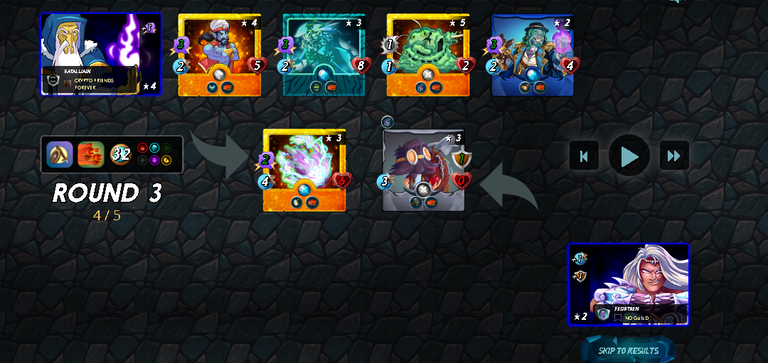 see you in the next post, till then Keep learning and keep exploring...
---
If you are not playing the Splinterlands and Golem Overlord games then feel free to join my referral 😁
My splinterlands referral
My Golem Overlord referral
A few posts from my past that might be helpful for you.

10 daily comments ✅
Ecency Boost ✅
Help others ✅
wish me luck 😅
Thanks a lot for staying till the end 😃🙏, let me know what you think.
Never forget one thing you should be grateful for because what you have someone has a dream of that. So learn to be grateful. Be Thankful.🙏😀
Thanks a lot for being here, let me know what you think.


Thanks & Regards
@bhattg
-----Together we will make this a better place-----
</center
---
---