Cub DeFi My Long Term Investment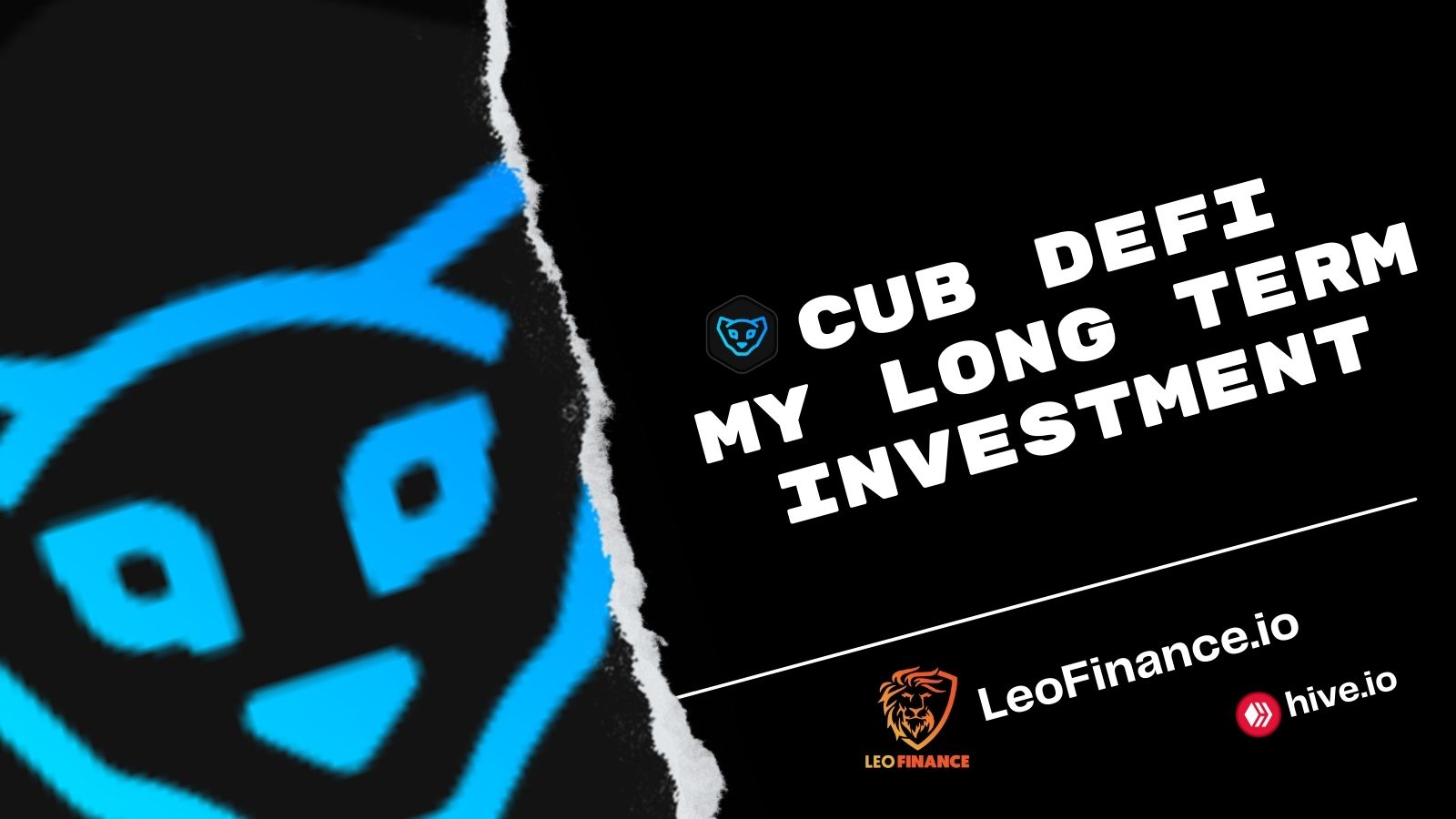 Cub DeFi My Long Term Investment
CubDeFi has been around for a little over a year now and has gone from one of the largest defi platforms to one that now has a token value of $0.04. While that might sound crazy low and many feel it as having invested far more than that over the year perhaps I think there's a few important notes and things to come that still make it a very attractive platform now more than ever!
The Start
When Cub launched on the Binance block chain last year DeFi was starting to get into it's prime. The air drop to LEO token holders also made it attractive to have LEO as well. In fact it shot LEO's layer 2 token on the hive blockchain to over $1. It was the perfect spot for timing and to be launched on of the the bigger of the DeFi blockchains.
At the time of launch CUB launch on Binance which was the next largest and most looked at DeFi platform. There were only a few DeFi platforms and a majority sat on Ethereum with at the time had over $40+ transaction fees which made DeFi moving to Binance attractive.
This ended up shooting the price up of Cub to record high levels. The issue however. It was a cookie cutter of every other launched DeFi platform.
The Last Year
It was quickly realized after a few months that the printing of CUB and the competition it had started a cycle of people jumping from DeFi platform to DeFi platform to chase after those quick high APRs that would last for about a week and cash out. What that came to was rug pulls and later hacks. It was clear that CUB needed to make some changes in order to try and restore some value to the token.
Since then CUB has gone through some changes which did add value but even those things change. Kingdoms offered a way to automate investing which was nice but not so much ground breaking. A more of a set and forget and the fees slowly chomped away at the massive printing of Cub. However as prices fell and later Pancake swap (CAKE) token switched their systems a lot of that chomping stopped and the high emissions became a issue again.
The Future
With the launch of PolyCub also with a very fast and high emission rate it quickly drove down the price. Just when the airdrop has halting and the print was cut to 0.5 which is half the emissions rate of CUB we had one of the largest melt downs in crypto which sent shockwaves around every industry including prices.
To me this makes Polycub look like it's under performing when in reality it most likely is performing very well. It took a falling price token and was actully started to see value go back into it. Once that hard hit sell off happened though the price sank a good bit 25% in fact.
Polycub also offers up a number of unique features to it which are being tested and used and updated. These new systems when figured out should be applied to CUB. One of the biggest I'm looking forward to is governance. Personally I feel the print rate is too high and needs to be reduce a bit at least until volume is restored to it. That would be the direction I would vote for Cub. That means right now...
I'm stacking the heck out of cub for $0.05 or less which will not only increase my vote weight but also I feel prime me for next launches of DeFi platforms such as AvaCub as it's been said CUB would be used again for the airdrop on future defi platforms.
Another big reason I support this and will be invested in it heavily at these low price levels is that these systems are also building bridges to HIVE and HBD which is actully huge. One of the things I've always had issues with for hive was trying to get liquidity of it. All my rewards for the most part are locked up. 50/50 split and from that 50/50 payout which takes my maybe $10 post and gives me about $2.50 worth of liquidity while the rest gets locked up. This gives us a major liquidity issue on hive and a large portion of it being locked up in exchanges. This is why I feel building these platforms up is critical not only to LEO's success but also to the success of Hive and expanding it to invite more into using and building on top of hive.
I also feel it's going to play a important part in play2earn and gaming being that it's incorporating SPS and even DEC into it's systems providing Splinterlands one of the largest play2earn games that continues to honestly hold it's ground during this massive sell off.(My NFT assets on this game only lost a fraction of value compared to the overall market which was a real eye opener for me)
What are you thoughts on CUB?
*This article is for entertainment purposes only and is not financial advise. Do your own research before investing and understand the risks.
Posted Using LeoFinance Beta
---
---