Early Morning Hive Goals Edition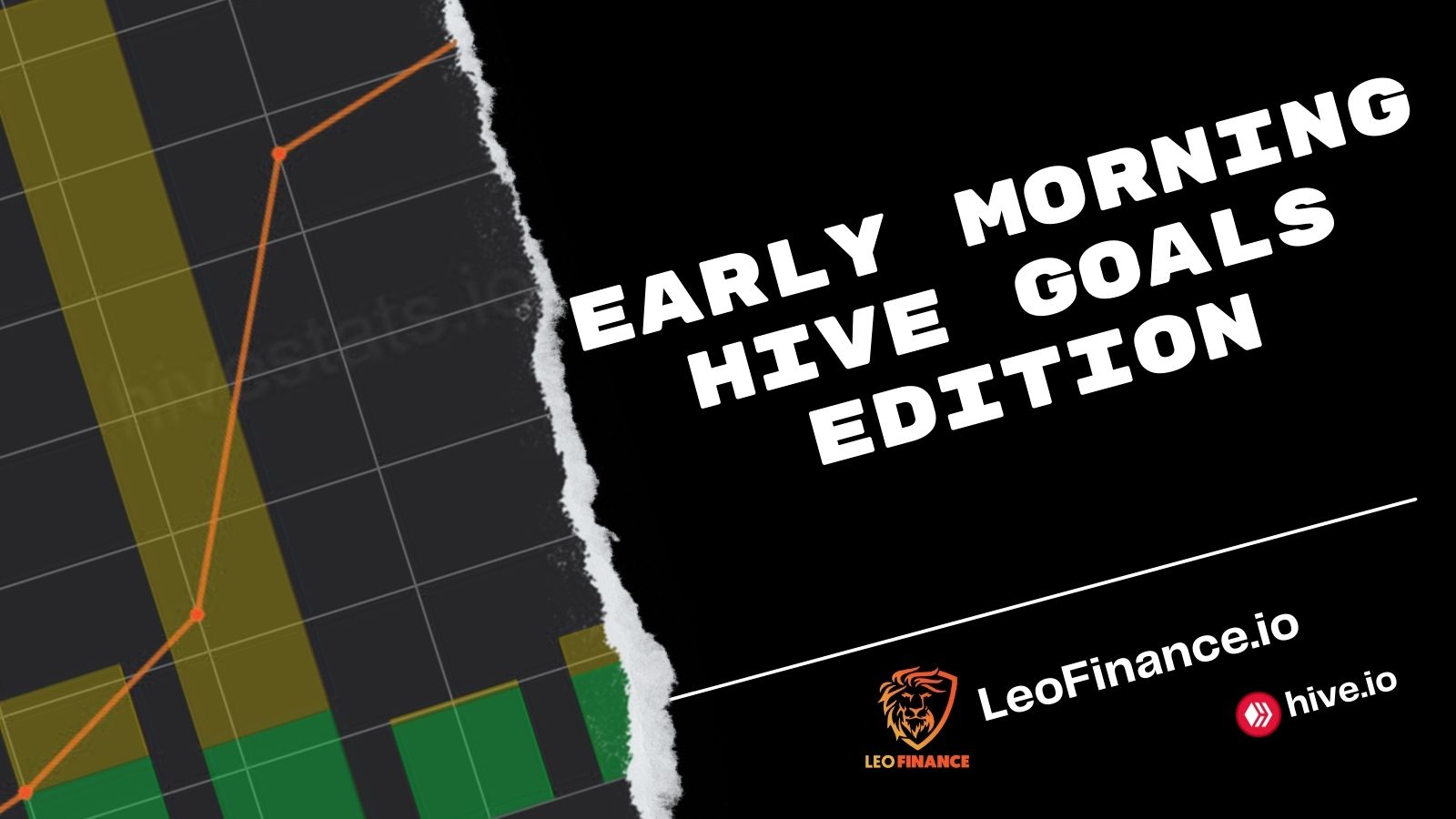 Early Morning Hive Goals Edition
As many of you already know I do this weekly goals check not only to hold myself accountable but to also show others what is possible with continued work here on the leo blockchain. It's also now a way to recap any changes on the hive blockchain and it's applications.
What's New At Hive
Not all to much has been going on this week in terms of the hive blockchain itself but Hivefest did take place and it seems like it went pretty decently. For myself I didn't attend it is way too far away lol
Splinterlands Continues to have major launches Chaos packs are now under 5 million which means a new air dropped card, gems released and has been a great prelaunch success moving in on 700k packs sold, a new tower defense game sold out and will have new packs going on sale in about 48 hours again, RUIN sold out fast for the whitelist on Ethereum and Licenses sold into the next Tracne. It's been a hot selling ride there as of late.
There's also been some updates in hash kings with the release of factories and gears and a number of other games continue to build and start expanding on hive. I don't expect a big release on many of them however till some time next year.
The Goals
Days left in the year 98
Hive
| Goal: 100,000 | Current: 80,533.258 | Needed: 198.64/daily |
| --- | --- | --- |
I really pushed on a lot of fronts this week on hive. In fact I powered up a good amount of it in total 471.949 over the last 7 days which is 67.42 hive daily. Still far off of my goal I still have hopes that if some of these assets grow at the end of the year I'm talking Nov. Dec. we might hit it.
I've also continued to stake some of the HBD I've been earning but for the most part I'm converting that into hive right now as the HBD payouts have been so low due the token values being way down. My thoughts are the more hive I can stack now the better off I'll be in the future. Payouts however has just been a disaster for some reason still around the $15 a day mark which often makes it not worth it. However I made a promise to myself to continue at it however some of my time needs to be put on other projects now.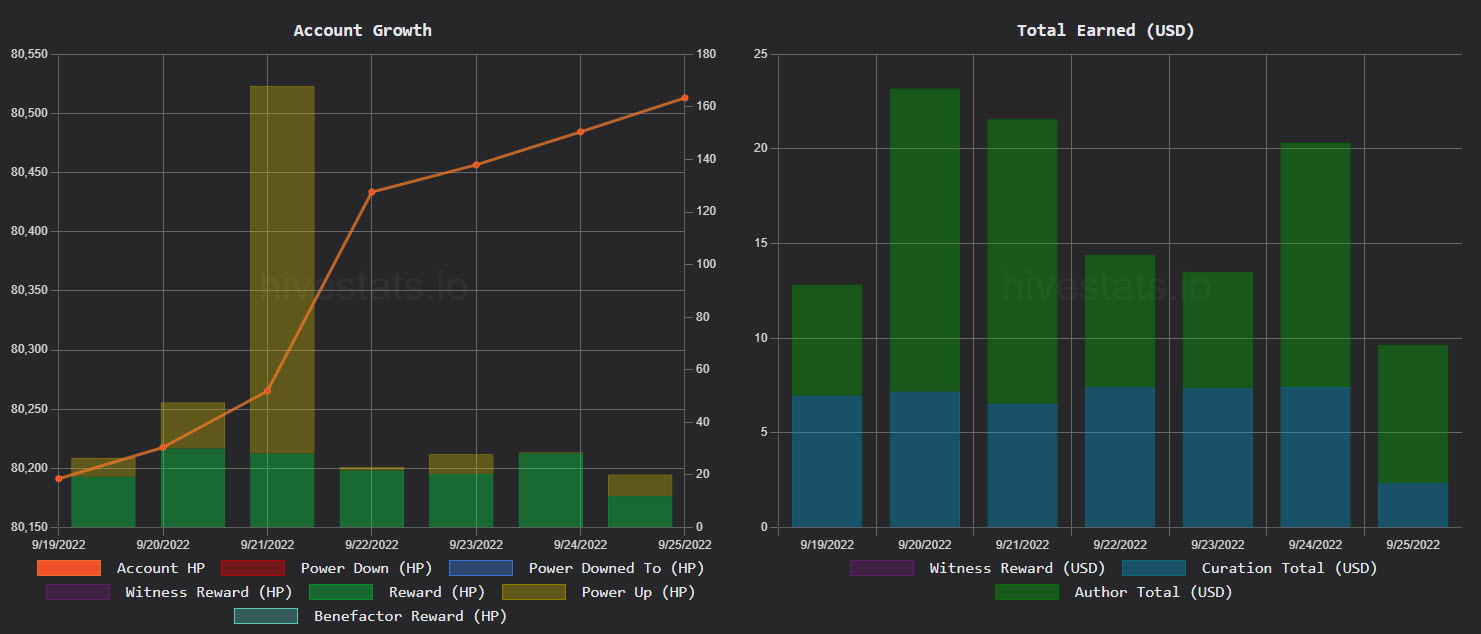 *Stats image pulled from HiveStats.io
As you can see I had one rather large power up and outside of that continued to power up. However the payouts in hive for posts has been extremely low so I'm forced to buy hive and power it up for the most part to try and reach these goals right now. It's not a place I want to be in but it's where I've found myself.
LEO
| Goal: 75,000 | Current: 71,631.837 | Needed: 34.36/daily |
| --- | --- | --- |
I ended up buying up some LEO as well to kick things off faster and try and hit that goal threshold sooner of 75k. At the moment though 75k LEO even sounds low compared to where it was before so the goal now for myself it to hit it asap before years end and continue to build on top of that. I'll most likely buy more LEO here this week and maybe even hit that goal. However I'm iffy at the moment of dumping too much in it. I've dumped a lot into DEFI and LEO in the past and so far that's not worked out the best. My hopes are it starts to pick up here soon.
I had some rather large moves in Splinterlands this week. While not the biggest as there are plenty of other much larger accounts than mine I have to say it's doing well. That 1 million SPS goal is massive but I know I can do it. It might not be till next year though. I'm trying to play it as smart as possible with the assets I'm getting.
Rental income from cards is only about $8 daily in DEC but that does allow me to buy 2 packs a day if I want. Vouchers and SPS daily is around $25 a day at current prices so not that great there either. My hopes are to hit 1 million SPS as soon as possible and depending on the price of things at that time make a decision about selling some out or work towards passive income.
This year for sure is all about building as many assets as possible without taking too much out of pocket. I remember when the bull run was kicking in hot and splinterlands was just starting to touch on rentals I had a rental income of well over $100+ daily. I think we could see that again in the next bull run. We could also see some decent income once land launches through crafting and harvesting of resources on lands. If land prices spike to what they once were about $1,400 per plot I might sell out this time. Otherwise I'm going to hold on to them to either mine them myself or rent them out. The idea is to start building as many passive income streams as possible and the awesome thing about splinterlands is it has a ton!
I wont be attending splinterfest this year however if there is one next year I'm seriously considering it. My plans are also to move out that way anyways and buy a large plot of land to start building on so not being too far from it makes that a possible. Big goals for next year but lots of work to be done till we get there.
All in all there's been good progress however it's been slowed down a bit by unexpected lower post payouts which is fine I understand those things come and go. My plans now are to get even more active in LEOThreads and Splinterlands primary and start flushing out the DeFi platforms to start getting them making some ok income again. Right now they make a few bucks because of the low price point but when you think about it at a few cents each you could pull a massive amount of them quickly. I'm reluctant to push numbers and screenshots of splinterlands for security reasons but I'll leave you with this goodie I remembered from way back.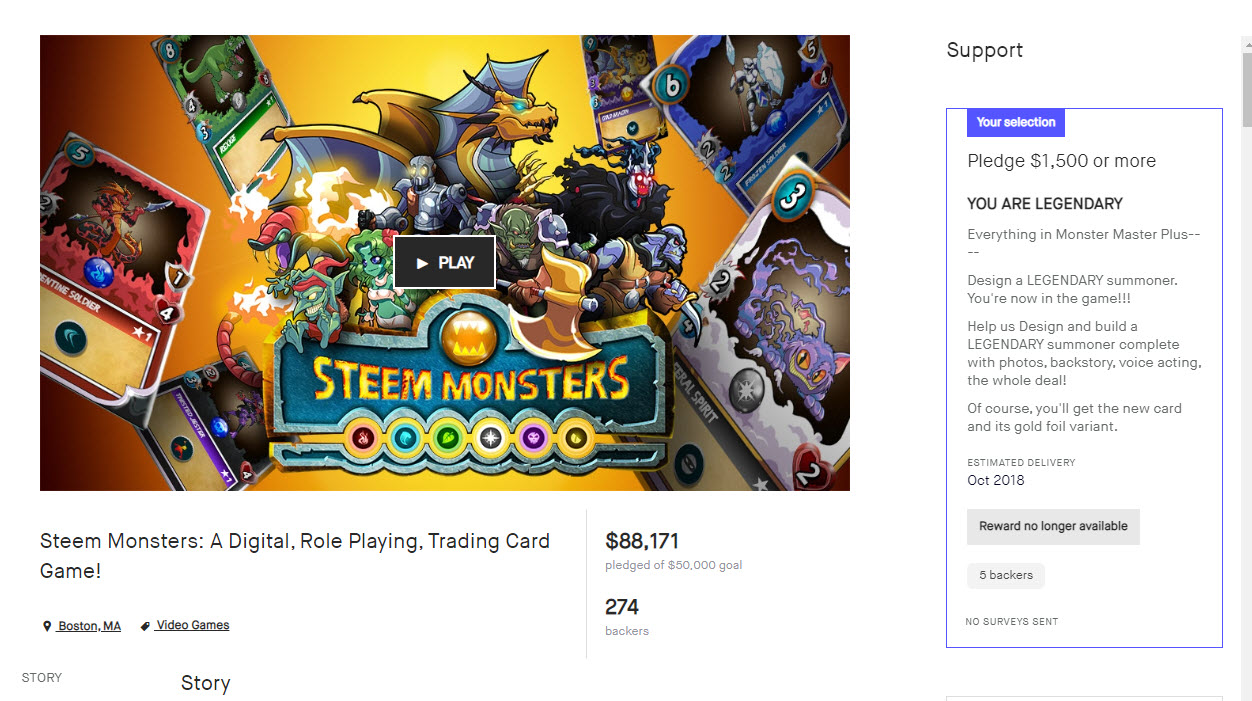 This screenshot is from kickstarter when Splinterlands was in Beta. I ended up pledging $1,500 at the time which allowed me to design my own legendary summoner along with a host of other big benefits. This was back in 2018! Yup nearly 4 years ago I made this buy and went on to max out my Beta deck. In fact I'm sitting on almost 3 maxed out beta decks and I have to say it's one of the best and smartest buys I've made in my life. Thanks Splinterlands!
Posted Using LeoFinance Beta
---
---