Early Morning Hive Updates and Goals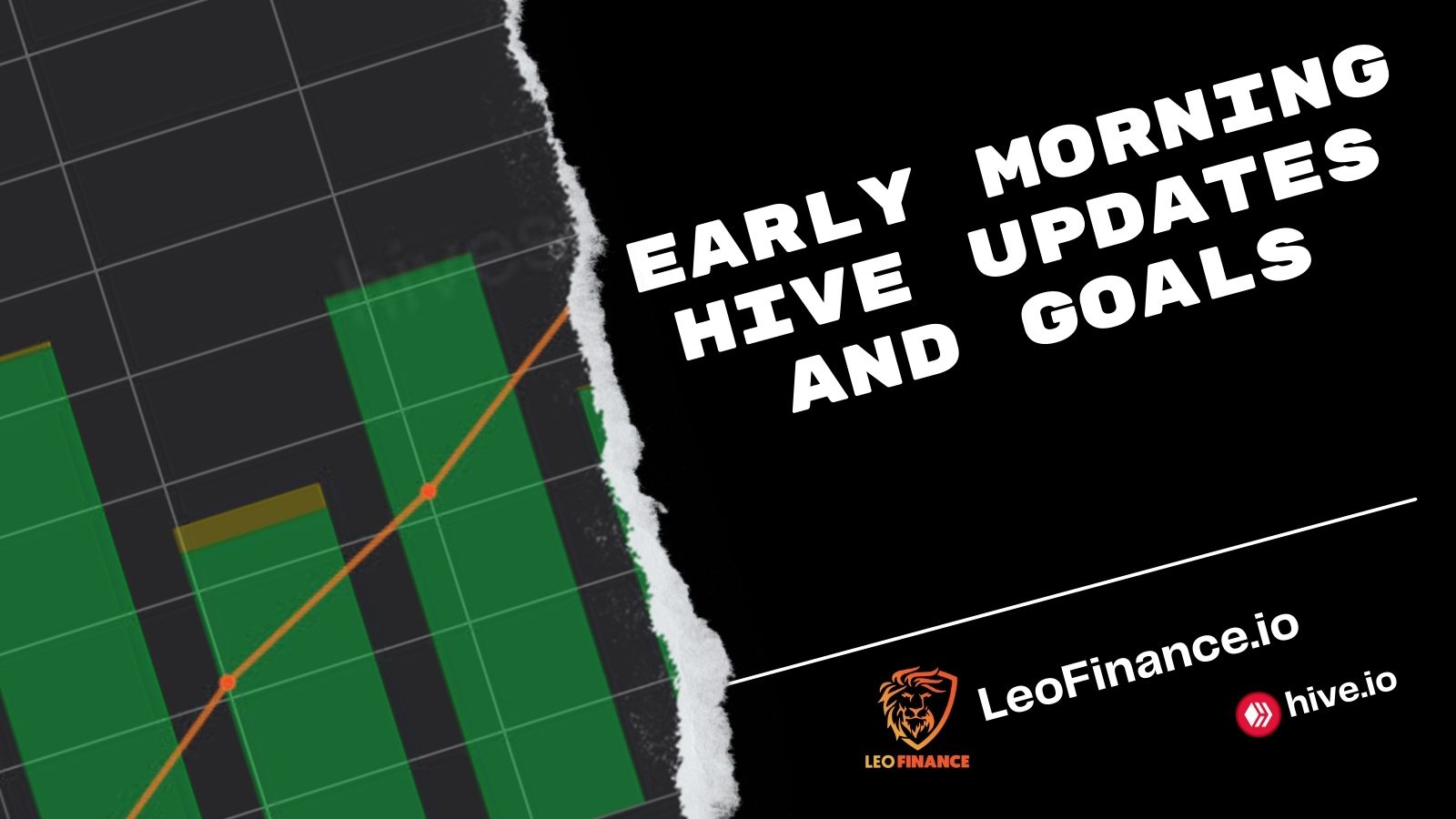 Early Morning Hive Updates and Goals
It always seems like the week goes by so fast. Lots of projects being developed and updated on the blockchain and with that comes a never ending amount of data, new stakes and changes in goals. This report is to help keep me on track but to also show others what is possible with continue work, investment and building connections. This is the result of 5 years of investment, work and 100% staking everything into compounded earnings.
What's New At Hive?
This week we saw some more updates to LeoThreads the speed has increased the ability for comments to load faster has also improved which is starting to improve the end user experience. It still has some serious work to get to twitter type standards but it's improved and improvement is good. Please remember that LEOThreads is not the end product it is currently in beta or you could even say Alpha. Once the kinks get worked out here we most likely will see "Project Blank" launch shortly after so we could see it towards the end of this year or early next year is where I'm putting my mark with the pace of development at the moment.
I also decided to jump into a new Hive based game last night and check it out called BANG Defense. It's a pretty decent little game and I only got involved with it because of the upcoming additions coming to HashKings. Besides that gaming wise I'm building all other assets as well such as rising stars, Splinterlands and dcrops all of which has been pretty popular and decent games I can see them developing and with that I can see more people getting involved.
The Goals
Days Left In The Year: 125
Hive
| Goal: 100,000 | Current: 79,331.05 | Needed: 165.35/daily |
| --- | --- | --- |
Still climbing and it's most likely going to slow more as I pushed some delegations out in order to build a few other assets. Those assets however should pay off in a few months as new games release, tokens and the APR on some of these is just crazy. We are talking 100%+ so even if I sold it back into hive we should see some profits. Overall though much of these are hodl gang pickups kind of like what I did back in Alpha Splinterlands days. A few thousand invested into Splinterlands has turned into some serious profits and also passive income. I'm betting on one of these to also do the same.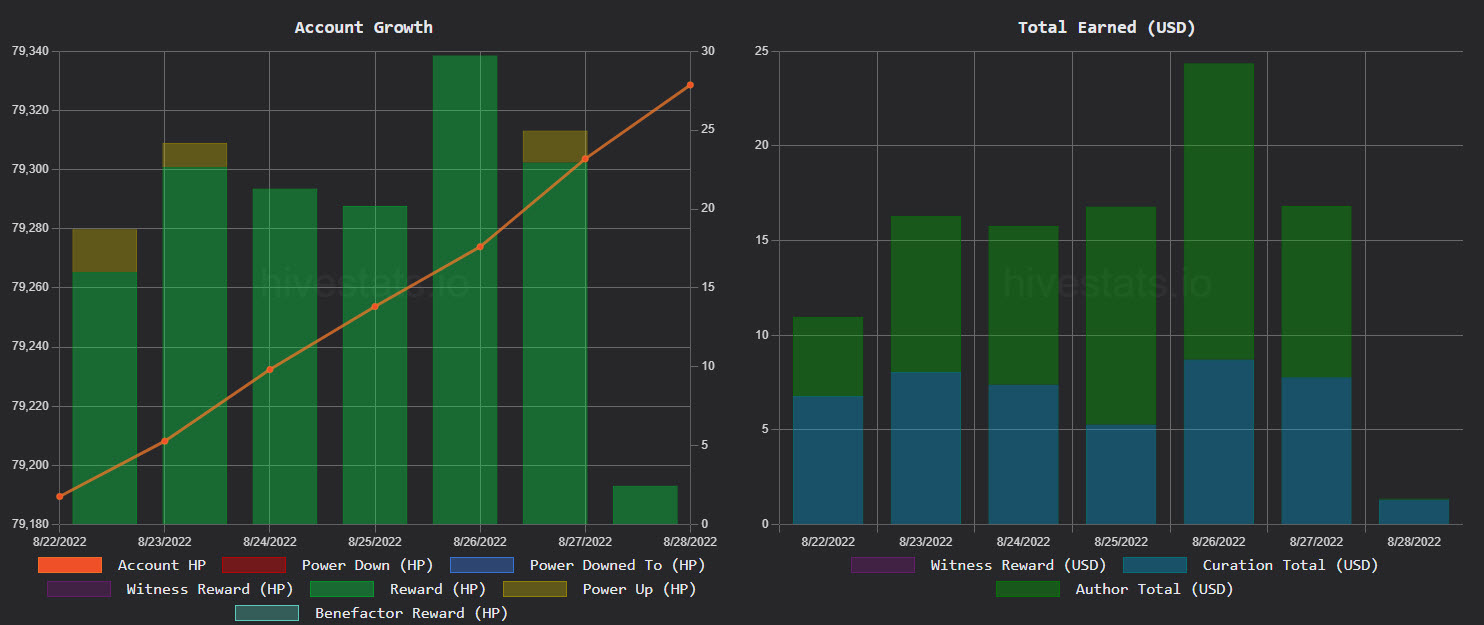 *Image taken from HiveStats.io
We are currently only pushing around 25 hive a day or around $17 in value each day which is a decline. It's pretty hit or miss with hive really as some articles get upvoted heavily and others don't. That's totally ok its the nature of the game so no complaints there I just have to give it my best each day. The only things I can really count on are the 2.8% APR of hive the 20% APR of HBD and curation rewards which put me at about 7 hive a day. All of those add up to a decent amount of hive earned but there is always room for growth and improvement.
LEO
| Goal: 75,000 | Current: 68,982.59 | Needed: 48.13/daily |
| --- | --- | --- |
LEOThreads continues to do ok. The user facing side of things is slowly getting better but there's still much room for improvement. I constantly remind myself it's still alpha/beta but the QA history side of me get triggered lol
Besides that LEO holdings continue to grow. Now at just 48 needed per day we have reduced it by another 2 LEO daily. I'll most likely be kicking that into high gear this week and trying to knock it out in the month of September instead of waiting till end of year. That will put me at one huge goal accomplished.
One of the big moves this week was buying up 575 more chaos packs. This now puts me near 2,000 packs and enough to get at least 3 airdropped cards for the next few airdrops. What's really cool is that rentals seemed to have kicked up a bit. I was a bit worried being that DEC wasn't being printed as much that we would see a pull back on DEC rentals but that doesn't seem to be the case so far. This rental income currently is pushing me towards 2+ packs daily that can be bought up including some extra added into liquidity pools.
Overall I'm seeing some major growth taking place on Splinterlands again and we should soon see rift watchers which will kick things up a notch then shortly after some land news and after that Splinterfest. Those are some big bullish things for Q3 of this year.
I'm also throwing in a little unknown milestone to reach soon this year and that would be 2 Million NEOXAG tokens which I'm not far from getting. Once I hit that milestone I might very well setup a neo sub hive account to do curation with it more as I feel it doesn't get proper used currently.
All in all hive is growing, my value is growing and I couldn't be happier. It's why I literally spend hours every day on hive. About 1-3 hours writing a daily article, 1 hour of curation and about another hour of leothreads. That almost makes hive a full time job 7 days a week the next trick is making it profitable enough income wise and that's a major push of mine this year.
Posted Using LeoFinance Beta
---
---