Ethereum Get Yet Another Win The Start Of A Boom Cycle?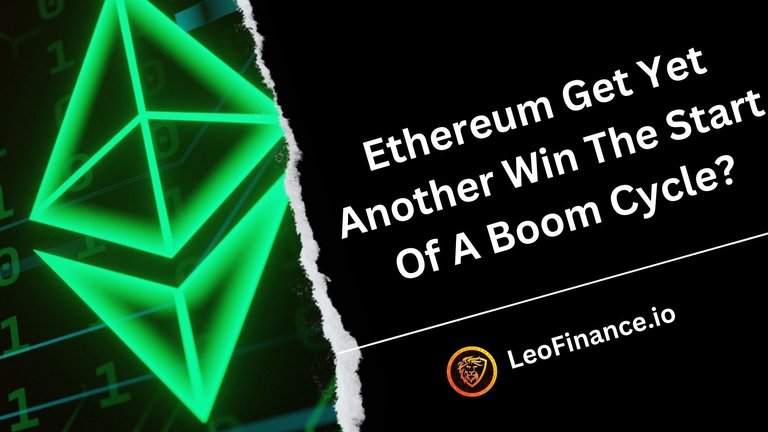 Ethereum has always been on the forefront of new and innovative things that seem to spark massive rallies in the crypto markets. 2017 was the layer 2 boom where countless new products where launched on the Ethereum network including many scams and rug pulls. It's a tend we see happen time and time again just like with DeFi and the NFT market space for the 2020 bull run.
Could we now be just a few months away from the next bull market?
From the looks of it we might be getting there. In this article I'm going to go over some news and updates from the Ethereum side and how it could be starting to pave the way for the next bull run and when we might end up seeing it take hold.
*This article is not investment advice and is for entertainment purposes only. Do your own research before investing.
ETF and VanEck
With all the drama over the SEC and Bitcoins Spot ETF which keeps getting as much push back as possible from the SEC it seems like some attention has been focused over on the Ethereum side of things. Asset manager VanEck which currently control about 80 billion dollars has confirmed the launch of a EFUT which is a managed fund that will invest in futures contracts for Ethereum.
This seems to be sparking some major positive vibes for the crypto markets but it's important to understand that futures contracts don't actully buy ETH or really effect the price of it much at all. Instead it just follows the values and pretty much bets and holds the funds for a period of time to be sold off. We see this all the time with the massive amounts of Bitcoin ETFs which are also futures contracts.
Still it's a positive move and shows more and more adoption of crypto into investors and the demand for it seems to be growing.
Holesky Relaunch?
Just under two weeks ago I wrote about a new test-net that Ethereum was rolling out. Well apparently the first version didn't go so hot lol. You earn read the article I wrote about Holesky a few weeks ago here What Is Ethereums Holesky
Now that version two is out of the gate it's showing promise. With one developer saying live on stream well I'm not building it for a 3rd time lol With this new system in place it's going to allow for a lot more development and to also make sure that development will do well on the real Ethereum blockchain which seemed to be a struggle for a long time.
Major New Liquidity
With Staking liquidity can quickly become an issue was 50% or more of the liquid tokens get locked up for a period of days or months causing havoc is systems and times when liquidity is important such as we are in now.
With the launch of LST liquid staking tokens we have seen Liquidity start to return to Ethereum and some of the biggest investments ever.
In a recent post here on the #hive blockchain @dalz Ranking The Top DeFi Protocols shows just how much Lido has in LST liquidity funds.
What we are seeing are huge shifts in crypto and in particular once again Ethereum. This makes sense since Ethereum holds the largest market cap where development really can happen. Development on Bitcoin side of things is pretty much non existent.
Posted Using LeoFinance Alpha
---
---