Hive / Crypto Goals Huge Changes This Week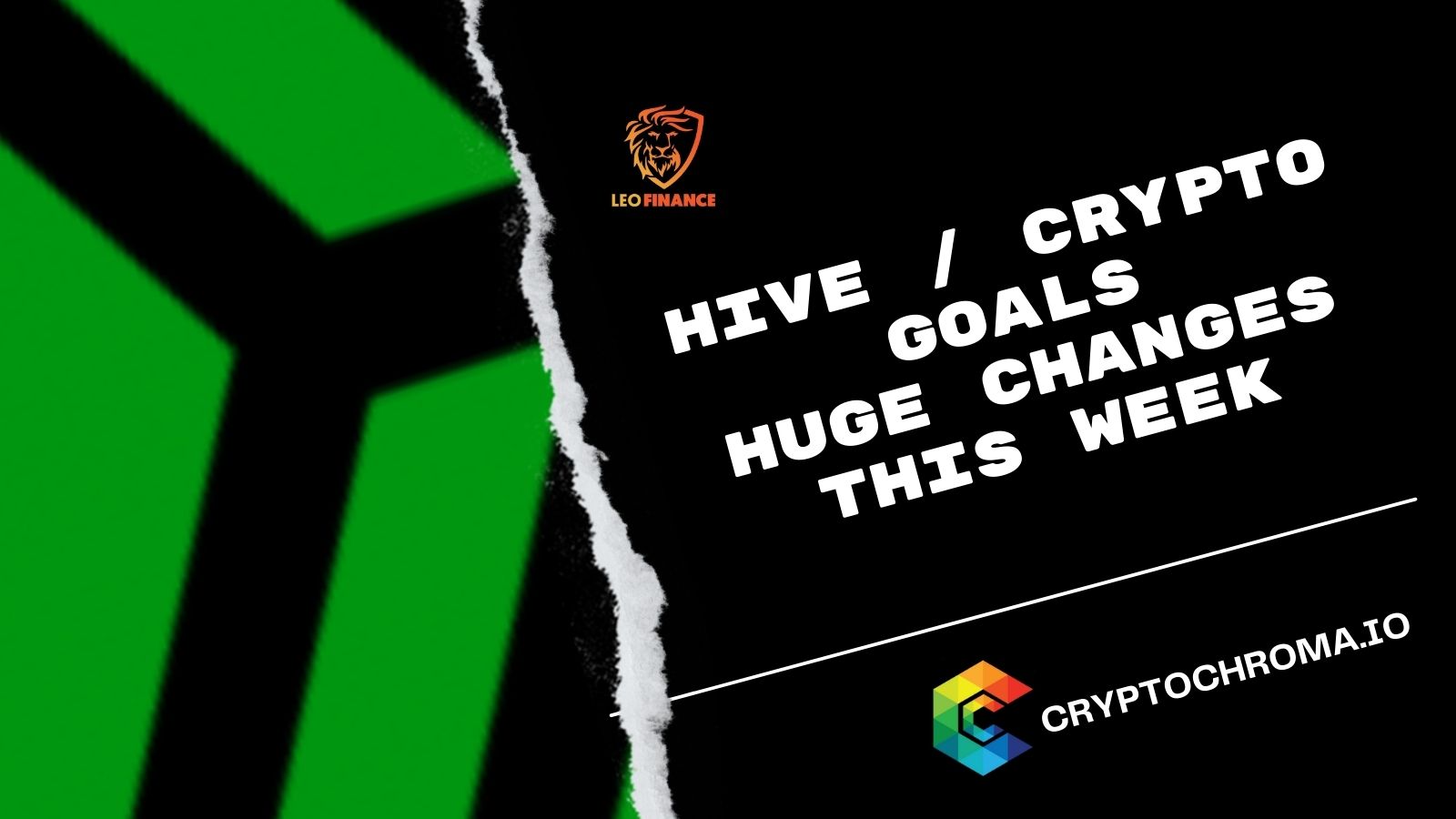 Hive / Crypto Goals Huge Changes This Week
I always disclose this post with a disclosure that I do these posts not to rub it in anyone's face but instead show what is possible with time commitment. Mine to LEO has grow significantly this week and I'll highlight those changes below. I also don't disclose everything there are some projects where my wallets are not public that I simply don't add to the pile and instead only disclose the ones you can see publicly on hive.
Highlights From This Week
Dramatic shift away from Hive into LEO
Hive slips below $1 and is holding these steady
The Goals
Days left in the year - 265
Hive
| Goal: 100,000 | Current 74,196.782 | Needed 97.37 daily |
| --- | --- | --- |
This number jumped on me a bit but not as bad as I would have thought. The increase in articles including better backlinking to other posts and more focus on SEO and writing on popular and trending type articles for social promotion has started to show some rather nice initial thoughts. I'll explain this move more in detail under the LEO section.
Within the next month or two I'll also be converting my WAX earned into Hive (depending on prices etc at the moment) as right now those are strictly locked up to be focused on buying Splinterlands cards and packs while the prices are low and maximize the decks. I'll also go over some Splinterlands strat changes below under that section.
I've also started stacking my HBD again as the interest on it feels on par with low risk at the new 15%APR and the possibility to 20% in the near future. While I believe Hive is priced low at the moment and most likely will jump 10%+ during the next rally this year it's still a riskier move so I'm going to try HBD for a little bit here.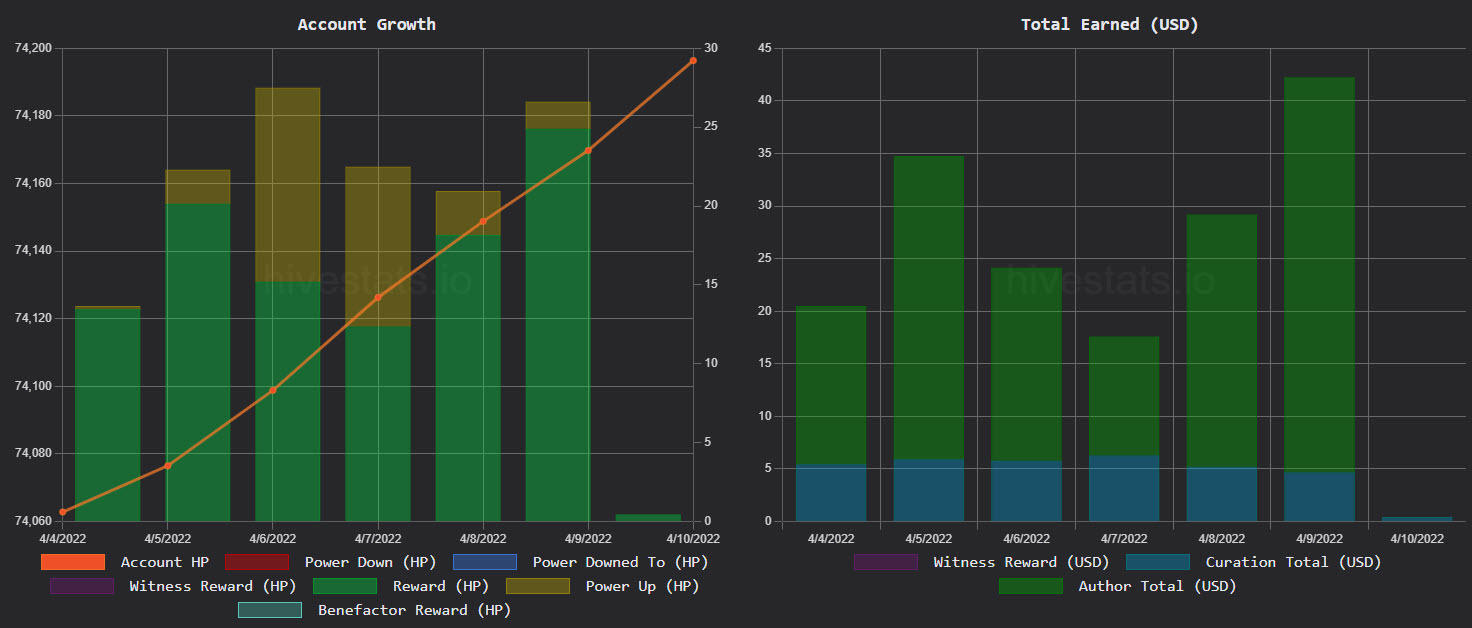 *Image taken from HiveStats.io
LEO
| Goal: 75,000 | Current 45,882.812 | Needed 109.87 daily |
| --- | --- | --- |
My daily has fallen by about one which isn't huge but it's moving in the right directly. I made some big moves last week by delegating a lot more HIVE to the leo.voter which will buy LEO off the market and provide it to my account. This drastically helped to get me back on my LEO goal.
My initial goal was to start taking profits from CUB and Polycub (soon not yet) and convert it back into LEO to quickly build those stacks. However with both of those prices falling dramatically I've decided to just play the Hodl game for now and continue to build those stacks.
LEO will also be getting a new upgrade. Ad revenue will soon be given back to LEO holders and the rate seems to be 4% or better. Which means my current stack of 45k+ would net me around 5 LEO per day passivly at least. Might not sound like a lot but that's $1+ a day in passive income.
Since last year Splinterlands has continue to be one of my largest passive income streams and while I should have taken some early profits I have a feeling we are simply in a low point right now in terms of the hype value. That will change Q4 and the start of next year when land starts to be activated and more aspects are added to the game. There are also two new packs going to happen in that time frame including one that is SPS only to buy much like we had DICE packs in the past.
My goals are to simply stack and buy SPS at these low prices until I hit 1,000,000 SPS. The vouchers generated from that is a huge asset value and I believe it will only increase when the voucher store, new promo cards release and more!
We also got a roadmap for Splinterlands. However take note this roadmap can change at any point but at least we get a feeling for what is coming and when.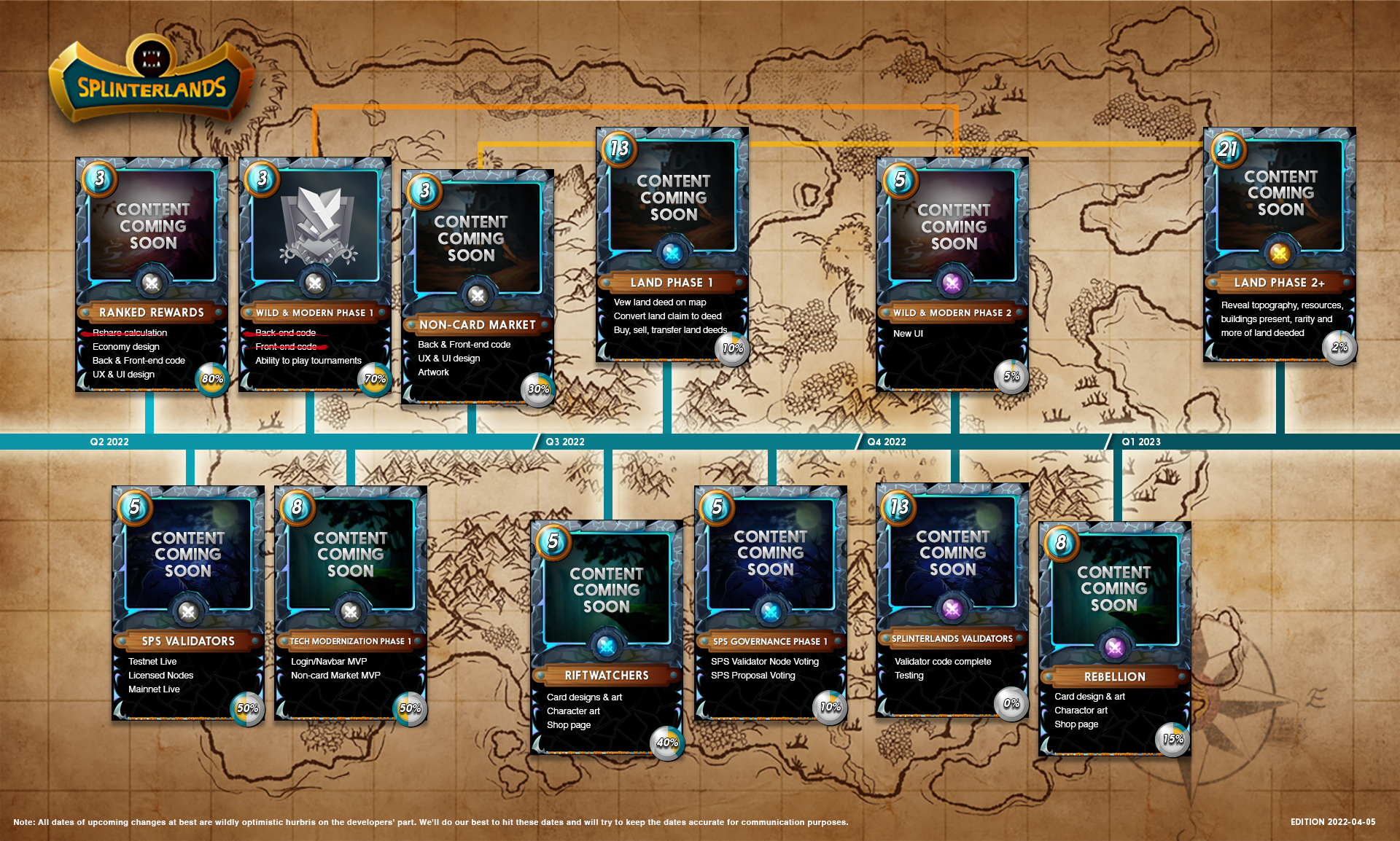 Goals Moving Forward
Increase push in all things LEO/CUB/PolyCub I believe all of these are currently undervalued and I want to hit those goals I had asap and focus in this area. I often find myself spread out to thin and not really making fast moves in any one area. That changes moving forward and LEO/LEO projects are my core focus for now.
Increased focus on internal backlinking and increasing the social exposure for my articles. One spot I stopped pushing on was reddit I'm adding that back into the mix.
As of writing this article HBD interest just kicked up from 15% to 20% so granted I'll be stacking all of the HBD I earn. These levels also make me feel I will simply stack it all moving forward and only take out the monthly interest (if) I need it and when the stacks get large enough. I also want to have a sizeable amount for if it gets added to PolyCub.
Posted Using LeoFinance Beta
---
---