Lazy Sunday Stacking [ Hive Goals ]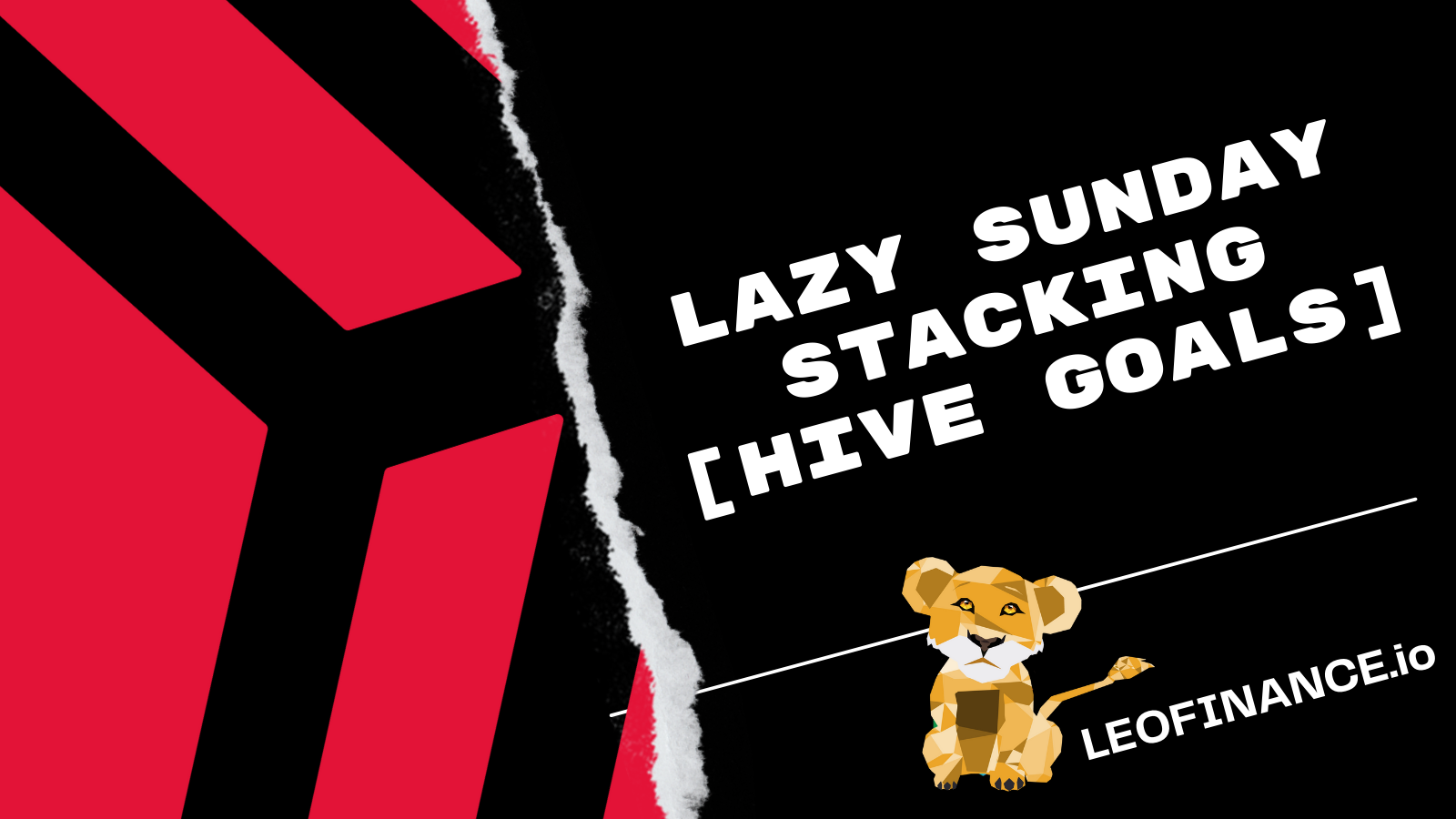 Lazy Sunday But Still Stacking
Some times you just get those days where you want to chill out and relax. I have to admit I've been going pretty hard for the last few weeks and caught myself a few times before I totally burned myself out. Today feels like one of those recharge days instead of slamming out content.
It seems fitting to recap my goals for the week and how far we have come. Now with Hive prices down and most markets down but Splinterlands raging it offers up another opportunity. Here's the thing with markets. Rarely does everything go down which is why having assets in many places is so beneficial.
For example if you have liquid Hive back dollars right now you could get a better 1:1 transaction as long as Hive stays under $1. If you feel hive will go above $1 in the next two weeks to say $1.20 or even $1.10 you could swap it now sit on it and earn 10% / 20% back in HBD. It's actully pretty wild the things you can do with some half decent timing.
Anyways back on track to the stacking. The other big thing is now with hive prices down you'll be earning more hive on your posts as crazy as that might sound it's just how this stuff works lol

HIVE
First up we have to start with hive as it's the core asset that makes all of this possible and run. You honestly can never have too much hive! This daily amount increased on me which is one of my primary things to watch to see if I'm on track or not. If I'm keeping pace the number should remain the same if it increases I'm falling behind and decreasing is better as I'm faster on the track to hitting my goal by end of year.
| Goal: 100,000 | Current 72,863.85 | Needed 86.14 daily for end of year |
| --- | --- | --- |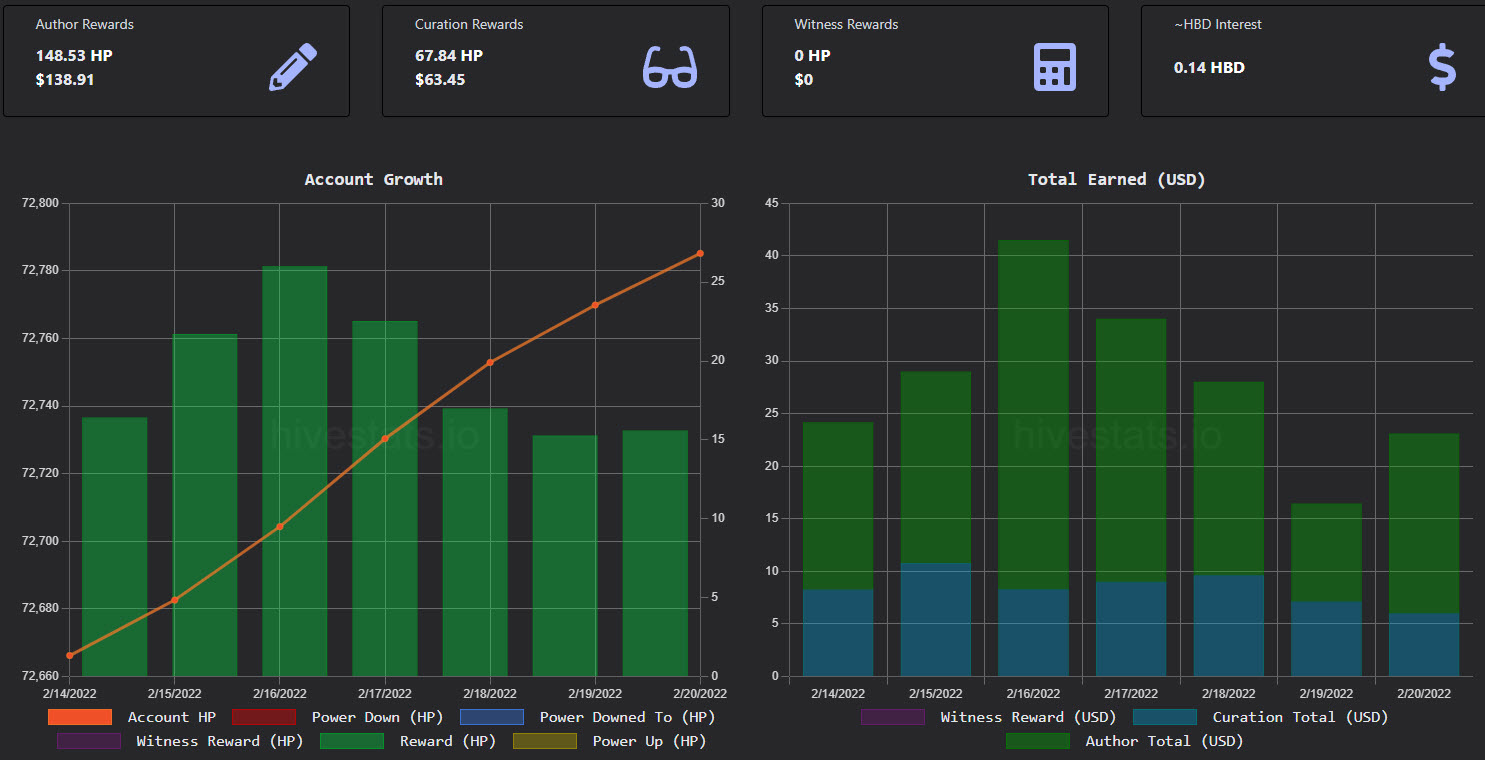 *Image taken from HiveStats.io
Earnings where not as great as I would have liked last week. I was shifting a lot of things and investing in some new projects which ate up a bunch in terms of time for researching. However that pretty much sets me up for this week now to have a bunch of fresh researched content for the week that should perform well I feel.
LEO and CUB
I combined Leo and Cub together as soon Polycub as I feel they really are all part of the same and work with each other.
LEO
| Goal: 75,000 | Current 41,511 | Needed 106.31 per day |
| --- | --- | --- |
That 106 might sound high but I'm surpassing it at the moment and I plan on doubling it here soon. This means I'll hit this goal by end of Q2 at the moment. One of those largest assets comes from LEOMM miners which value at over $23,000! I could in theory sell them all and buy in for about 110,000 LEO tokens crushing my goal and then some.
CUB
| Goal: $100,000 | Current $10,897 | Needed NA |
| --- | --- | --- |
My Idea with CUB is to always have at least $100,000 in assets within kingdoms. The APR from that itself should be a good enough amount to honestly live off of and more importantly invest. At the peak time of some of these assets during the rally we would have been valued at $30,000+ by now however markets took a big hit. However for me these are assets that will most likely sit here for years! There's no needed amount because this $ value is for sure going to wildly swing with the assets I have in there. So I think what I'll be targeting is to average $100,000 in assets by the end of the year in CUB as APYs etc will continue to evolve I'll need to make changes but not all that often.
Last week was a HEAVY push into CUB to get ready for the polycub airdrop that we should be seeing soon for the love of god I hope soon lol
SPS / SPT
SPS
| Goal: 1,000,000 | Current NA | Needed NA |
| --- | --- | --- |
This one I'm still iffy about putting numbers out on. IDK why It just feels like for security reasons I shouldn't. In any case this is quickly stacking as it's my core focus. Last week I had to decide if I was going to voucher and SPS in for the Waka Splinterblade card set to release in just a little over 3 days. I've decided not to and a smart investment move would be to sell vouchers and buy SPS while it's low to quickly start boosting me towards that 1 million goal. This in theory should set me up better for future card drops such as this. I'm sure there will be more.
SPT
| Goal: NA | Current 113,000 | Needed NA |
| --- | --- | --- |
SPT for me is simply a way to stack on the SPS airdrop at the moment. Besides that this token I only use for curation and I'm curious what's going to hold it's value if any after the airdrop is over. I'm still debating if I should just fully sell out of this token once it pops again or if the team has plans for it. I'll most likely hold on to it for that just in case factor.
Other
I'm currently working on a number of other assets to stack up and earn passivly on. So far I have to say I hit a few bumps but they are minor compared to the escalation of how fast the accumulation has been on some of the other tokens. I most likely wont start tracking some of these however till March or maybe even April.
I also started up two all new business ventures which are on the ground floor right now. I don't have much to report on those yet however I'm pretty excited for what it could become and the amount of passive income it generates not only in FIAT but also in hive as that industry starts to move more and more into NFTs and Crypto.
Posted Using LeoFinance Beta
---
---