The Next Evolution Of Blockchain and How It's Currently Used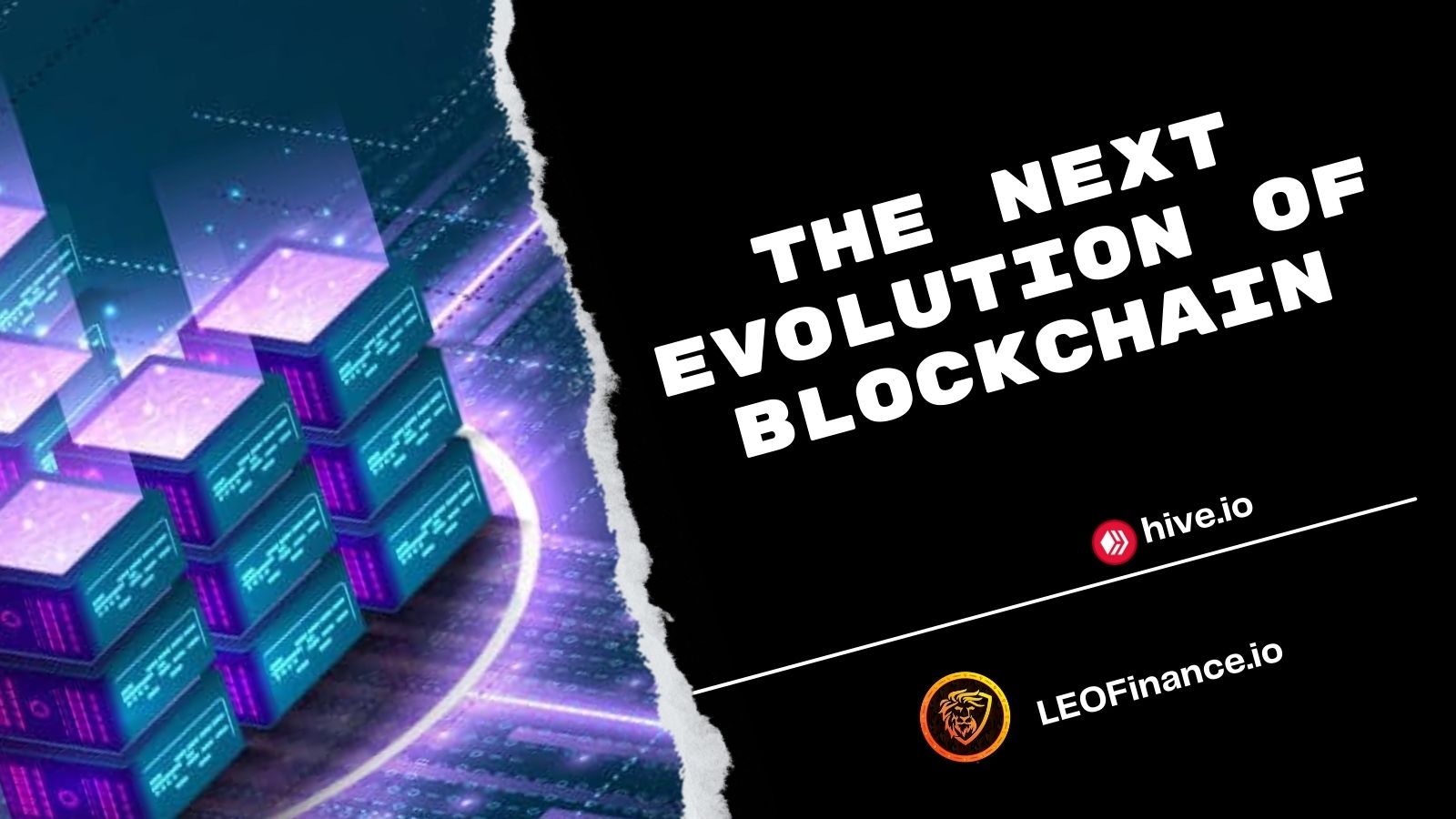 The evolution of the blockchain or the lack thereof. Blockchain has been around for nearly 15 years now and not much has changed in terms of the core fundamentals of it. There's been countless tokens created but far fewer core blockchains of which many have gone belly up or under-delivered.
From Bitcoin the start of it all there were flaws but in those flaws was core fundamentals which keep it strong and resilient compared to every other blockchain that came after it.
What Is Blockchain ?
Blockchain, at least in the senses of crypto, is a decentralized and transparent ledger system that enables its users to use it in a secure method of transactions and data storage. This data storage is often small of which blocks only take up a small amount of hard drive space. This is why you won't see large scale systems have video on them as everyone who hosts that blockchain for whatever reason would have to download the entire ledger including all of the videos.
This is where sharding or creating mini networks where that application would have to control those resources and then only broadcast to the blockchain when needed.
The blockchain is a series of blocks that range in size and how frequently they are processed from the long standing 10 minutes of Bitcoin to the shortest I know of is Cosmos (ATOM) at 10,000 transactions per second over a 2-3 second block. This should go to show you though just having a fast blockchain doesn't mean you're going to have success there are a number of factors that go into a successful blockchain and finding the right mix and luck has a lot to do with what comes next.
These blocks are then processed by miners or nodes which are people/computers setup to review the transactions, make sure everything looks good and then process it. The positives of this are once it's on the blockchain it can all be viewed by anyone on an open ledger. So while it might be anonymous now if you fill out any KYC and then transaction to yourself or make transactions from it all of those wallets now in a way become a way to track you (AKA why I don't like KYC and won't touch anything that uses it)
The big positives of a blockchain are it allows for low cost transactions to happen everywhere there's internet and the biggest benefit is it removes the middle man (aka banks) essentially it puts power back into peoples hands and out of the hands of mega corps or at least that was originally the goal.
AI In Blockchain
I touched base on this a bit the other day in my article [Ethereum and The Next Bull Run]*https://ecency.com/hive-167922/@bitcoinflood/ethereum-and-the-next-bull-run) article on LeoFinance.io which I'll cover more here in this article now.
The biggest advancement ever might be coming to blockchain and while we don't know the exact details of it yet we do have some core information about what's going on. Let's take a moment and look into what we know so far and then speculate what it could mean for AI and Blockchain together.
Microsoft and Goldman Sachs that are working on AI in preparation for the next bull run. In fact they might even be building their own blockchain or some sort of hub for transfers and transactions.
It's suspected that this new blockchain should be decentralized, interconnect with all other blockchains and provide an extremely fast and scalable solution. However we have heard that plenty of times before in the past and it's clear that simply having a fast and scalable solution doesn't bring value in itself there has to be more.
The kicker will be the AI aspect of it which is currently tightly under wraps. How might AI play into this?
This is pure speculation but on the lower end of AI it would simply track, log and figure out what adjustments it needs to make on the fly to keep the system optimized. It could also could be that blockchain would keep the AI in check. There's a lot of trial and error that happened with blockchain and when you think about it it's almost like AI in terms of being self governance and decentralized. Certain aspects would have to be learned already from blockchain which can be applied to AI to keep it in check. One such thing is having other AIs or other systems in place which regulate and control so when it starts to step outside of its parameters it can be put back into check by these systems.
Other Use Cases
Blockchain has also found many other use cases. The core of it all blockchain does not mean crypto. Instead much of the innovation has now been applied to other systems such as the FEDNOW which allows bank to bank transfers happen in seconds instead of days. We also see it in other core fundamentals of business for logistics support and I'm sure to some extent it's already in military.
The Future
Right now we are in a pretty wild time for crypto and blockchain. For this article however we need to remove ourselves from thinking Blockchain and Crypto are the same thing because they are not. Blockchain is the underground core fundamental of how crypto works but it's also applied to many other sectors.
It's expected that by 2030 in general it will be worth over 3.1 trillion, again that's blockchain not crypto values. That means the tech itself is a 3.1 trillion dollar industry.
Cyber Security - We are already seeing this take hold a bit with passwords and anonymity for securing things such as passwords and other sensitive information. It's clear that hacks and other attacks have riddled the entire world of lose data that is all over the dark web. Blockchain has the ability to help secure these critical assets and keep people safe online.
Government - Mainly it would be an increase of information transfer from agency to agency via smart contracts and permissions. This would help reduce security issues and access to files by unwanted people or simply just leaving paper trails around.
Random side note: Do you realize how much paper was saved once we went to PDFs and other forms of digital invoicing? Yet for some reason no one celebrates that for some reason.
Finances - We are already starting to see this play out in the form of the FEDNOW with bank to bank transfers. Instead of one bank sending another, an IOU which takes dates for the money to move blockchain via FEDNOW allows for almost instant verification that the money exists and can be transferred. Taking a process that took days if not weeks to move from one bank to another to seconds.
Medical - Think of it as a medical record that goes with you anywhere but is secure and can't be tampered with. Blockchain opens these new possibilities. It could take an over-bloated, expensive current system and streamline it to greatly reduce cost, corruption and other aspects that haunt the medical world today.
Marketing - This one is highly underutilized at the moment. With the combination of blockchain tech and AI massive amounts of data points can be scanned and pinned in an anonymous way without collecting key user data information (again a massive security issue as we have seen) and give you powerful analytics to optimize your campaigns like never before.
There are just a few ways in which Blockchain already exists and can be used in our everyday life. Something so simple and easy to understand today wasn't a think until bitcoin was released by bitcoin in 2008 as the first decentralized blockchain.
Posted Using LeoFinance Alpha
---
---