This Week In Hive Nov 13th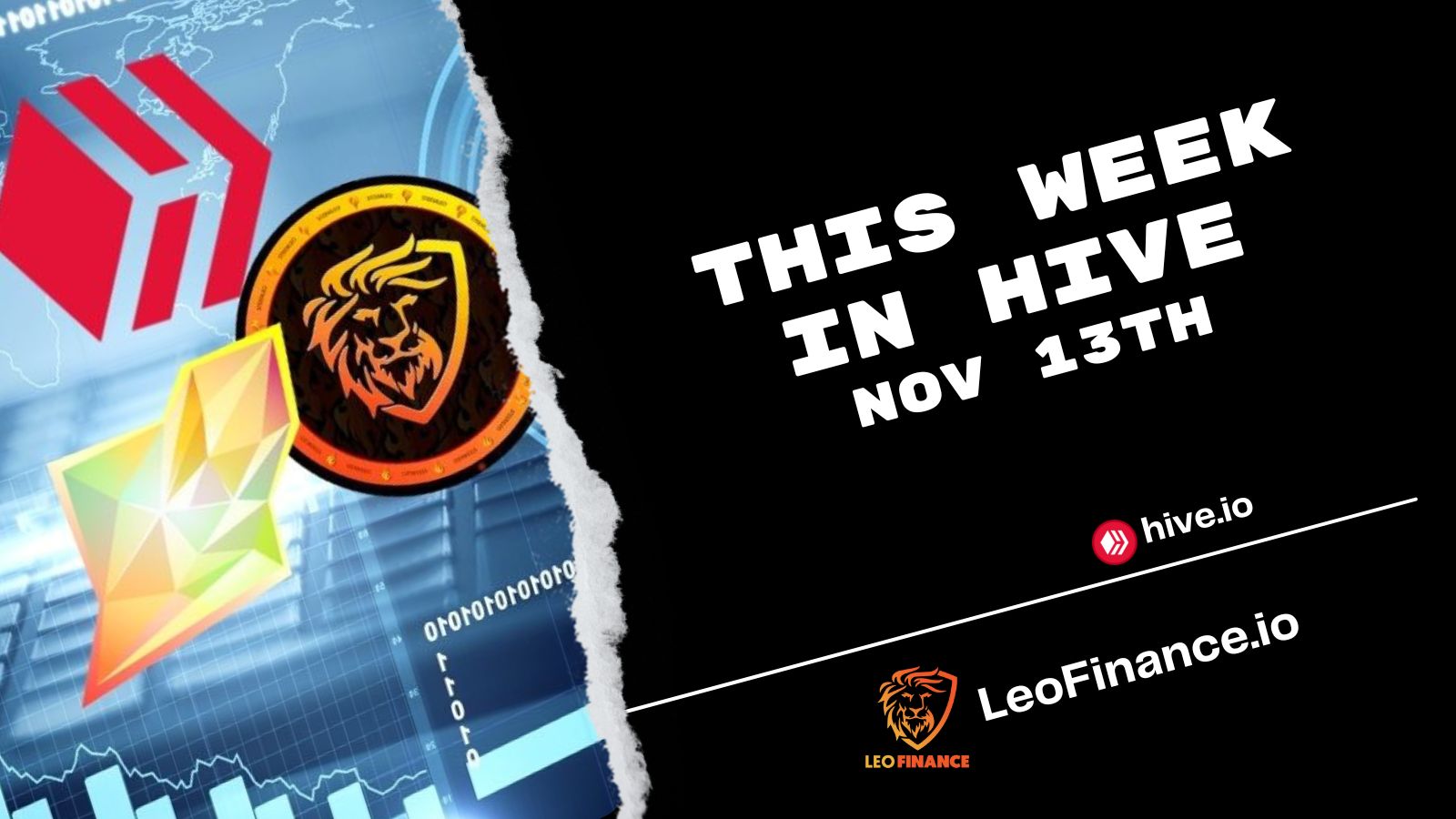 This Week In Hive Nov 13th
Each week I write a report on Sunday that goes over everything I know about that's new on the Hive blockchain. Hive has grown by leaps and bounds over the years and it's to the point where it's often hard to keep up with it all. I also include some of my own goals in this weekly report not to rub it in but to show others what is possible with time, work, building connections and some investing. It's to motivate others.
What's New At Hive This Week
GLX Staking
GLX is hitting headlines as the staking rewards for it have just released as of a few days ago. GLX is holding a decent price point of around $0.25 - $0.30 per token and the APR on staking rewards has been reported to be near 4,000% I'm sure that number has fallen and will continue to fall so don't expect it for long.
GLX is the governance token of all games that should be released on the Genesis game platform. The first of which is goals Genesis league goals is focused around soccer or in other parts of the world football.
GLX currently earns more GLX from staking but also another token called GLGT which has no market cap at the moment. They are thought to be like Vouchers in splinterlands which will offer up a discount on pack buys in the future when the public sale is released.
Odds and Ends
There's been minor updates across other Play2earn games on hive but nothing major that's super news worthy yet. These small increases however are building a stronger ecosystem of games on the Hive blockchain.
Outside of that LeoThreads continues to be a hot spot but one thing I do fear is that housing it directly on LeoFinance is still a negative and will actully hurt adoption of the platform. That's because much less voting/rewards are going to happen on threads now compared to if it was it's own token and standalone platform. Also all of the ad revenue gets blended across the entire ecosystem instead of one token. I guess in time we will see though. In any case it's a great project and platform that I recommend you check out.
GOALS
Days Left In The Year: 48
Hive
| Goal: 100,000 | Current: 82,830.432 | Needed: 318.06/daily |
| --- | --- | --- |
Currently under 50 hive a day again and that's even with buying some hive and powering it up. The curation rewards and author rewards are pretty hard to come by at the moment. I'm thinking next I might back off so many articles and instead focus on some other things to build hive and create on it. Primarily my goal is still to build passive income streams but the business side of me really wants to develop and create. The first projects will most likely be small in nature as I get a feel for the development process of blockchain.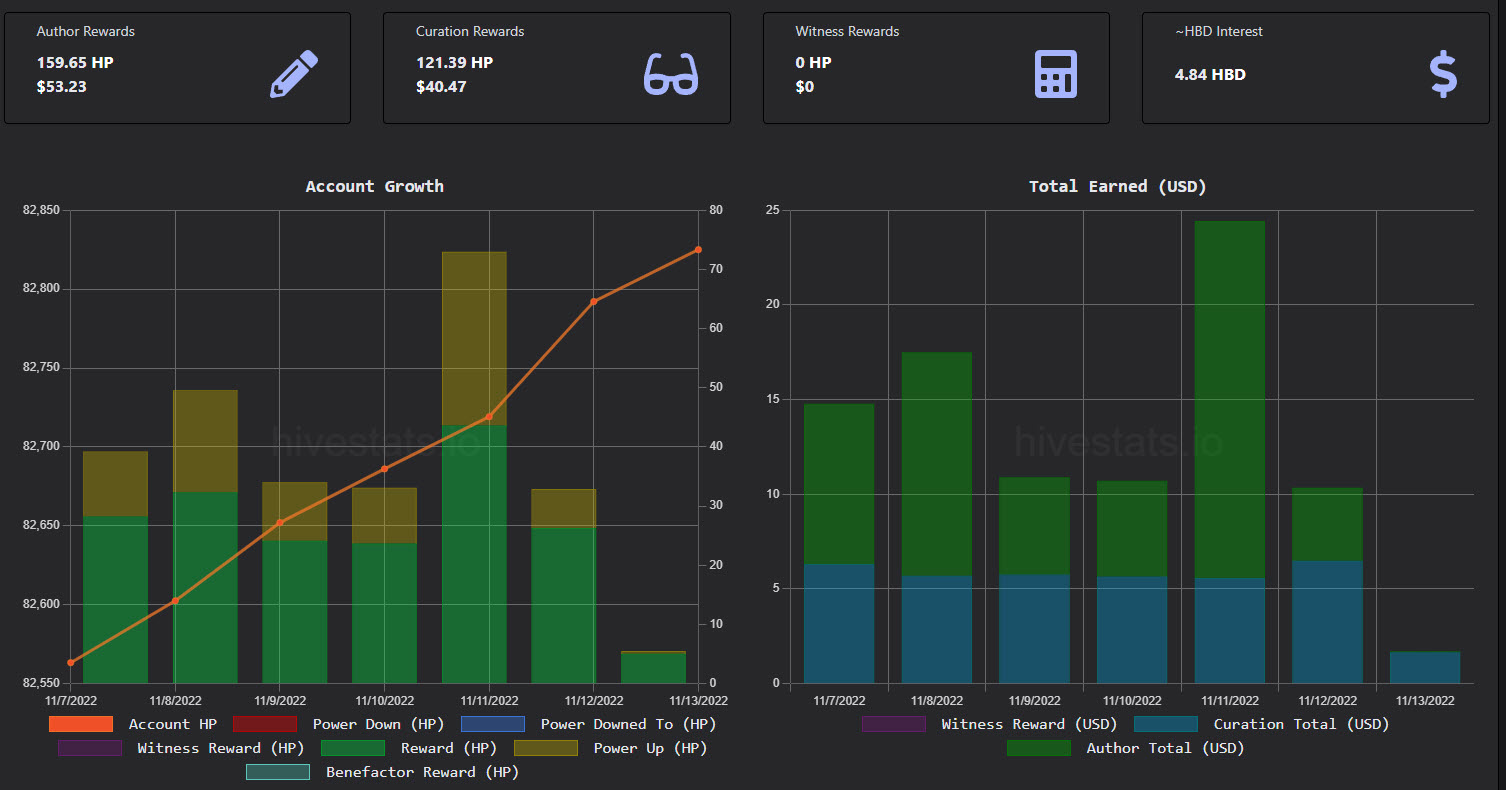 *Stats pulled from HiveStats.io
Overall crypto is struggling in price right now and people conflicted about self governance and how FTX along with other major firms have all but destroyed most of crypto. These issues are currently hurting all of crypto and I feel it's going to take till the new year for people to really start moving on from it. It feels like one punch to the face after another and each time crypto tries to get up again and take a even bigger hit. My hopes are that the FTX mess is the last of it but who knows.
LEO
| Goal: 75,000 | Current: 76,543 | Needed: 0/daily |
| --- | --- | --- |
Goal was reached some time ago but the value of LEO has also fallen to some rather disappointing levels in terms of dollar value. I know that can be discouraging to many people and I feel like Leo and Hive are going to start getting a lot less engagement and action because of it. What I can tell you is those that stick around and tough it out during these hard down swings will most likely benefit from it years later.
All in all LEO should have one big push towards the end of the year if they hit the release of their new UI but more importantly the smart contracts of ad revenue.
I also posted up my first ever request on LEOFi but I'm unsure if it will ever get filled lol. Still I see some big potential there on that platform for people that want to be even more passive with their LEO power and pass it off to people like me who are highly active on the platform.
What can I say during a bear market and huge punches to the face Splinterlands yet again continues to be one of the strongest assets. In card value the values have actully increased and in terms of earned SPS and now GLX those continue to produce. I firmly believe these assets will increase even more come next month as the burn of packs starts to happen. Of course time will tell.
*This article is for entertainment purposes only and is not financial advice.
Posted Using LeoFinance Beta
---
---