Why Gamification In Crypto Is Important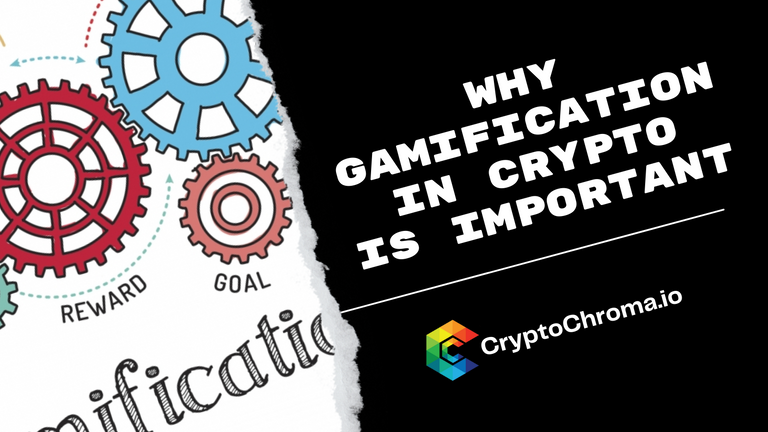 Why Gamification In Crypto Is Important
Gamification is the process of rewarding someone for doing certain actions. We see this in our every day lives when it comes to using our credits cards to get cash back, reward points etc. Perks for being a loyal customer and user.
We see this in DeFi such as CUBDeFi in which by providing liquidity and other assets to the defi platform you are rewarded with CUB.
Go one step further and we now have gamification within games. The act of holding a governance token such as SPS (Splinter Shards) for the game Splinterlands and we can see how gamification is quickly evolving into crypto and why it's so important.
In business this is important however I'm going to focus this article directly on gamification within the Crypto Gaming power, how it works and the powerful impact it has.

In general tokenomics are the key of what makes a successful project. How many tokens will be printed, inflation rate and so on. But the other aspect is utility.
Why should I hold on to this token?
What will it do for me for doing so?
Are questions everyone has and for good reason. Why do people buy Pokemon cards? For some it's simply the collector but they believe it's going to hold value and increase in value so that one day they can sell it and maybe become rich. While that's not the case for everyone it is the case of what's in the back of nearly everyones mind when you invest into something.
Splinterlands has a few assets within the game now and we will get into some other games here soon.
The tokens that make up splinterlands are as follows
DEC Dark Energy Crystals
SPS Splintershards
Credits Stablecoin
At the moment large value comes from DEC in the form of a few ways. It acts as a 1:1 point airdrop value for SPS. It doubles if invested into a diesel pool at 2:1. It can also be used as in game currency to buy some packs (might be expanded into chaos packs as well) It also has DeFi capabilities in platforms such as CubDeFi
SPS value comes from staking rewards within the game but also many other aspects and many which we don't know about. There is a limited supply of these tokens that will be created over the next few years. The first and biggest reward right now is vouchers and how they will play a huge part in the roll out of new packs. It also has a 10% reduction when paying for packs instantly making the value of the token $0.40 in itself just because of that transfer.
Axie Infinity
Big news out of Axie in the last day or two as they have hit a number of new milestones. Axie is an expensive game to get into including fees on the Ethereum blockchain unlike Splinterlands (which personally is why I feel Splinterlands given time will out perform Axie) Axie just pushed their 2 million user mark and raised 152 million in a Series B funding. But that's not all AXS the governance token for Axie hit another 2 billion invested into it within the last two days totaling now nearly 8 billion invested into the governance token.
This comes as an update of the AXS token getting an airdrop. This provides demand and utility to it's token. You can look at aspects of Axie and start applying them to Splinterlands and start building a picture of how much more potential this thing still has. Axie caught mainstream way before Splinterlands and in just 2 months Splinterlands has rapidly started to catch up to Axie.
Comparing the two in terms of Market caps and value
SPS market cap is currently 136 million compared to 8 billion on Axie and you see that even if it did 1/4 what axie is doing right now the massive amount of value that's still there.
The other things is DEC price is now holding above $0.01 making some battles worth about $0.50 or a little more depending on how you're ranking. This goes the same for Axie as the better you play the more you earn.
*This article is for entertainment purposes only and is not finical advise.
Posted Using LeoFinance Beta
---
---