Will SPS and Chaos Packs Rebound?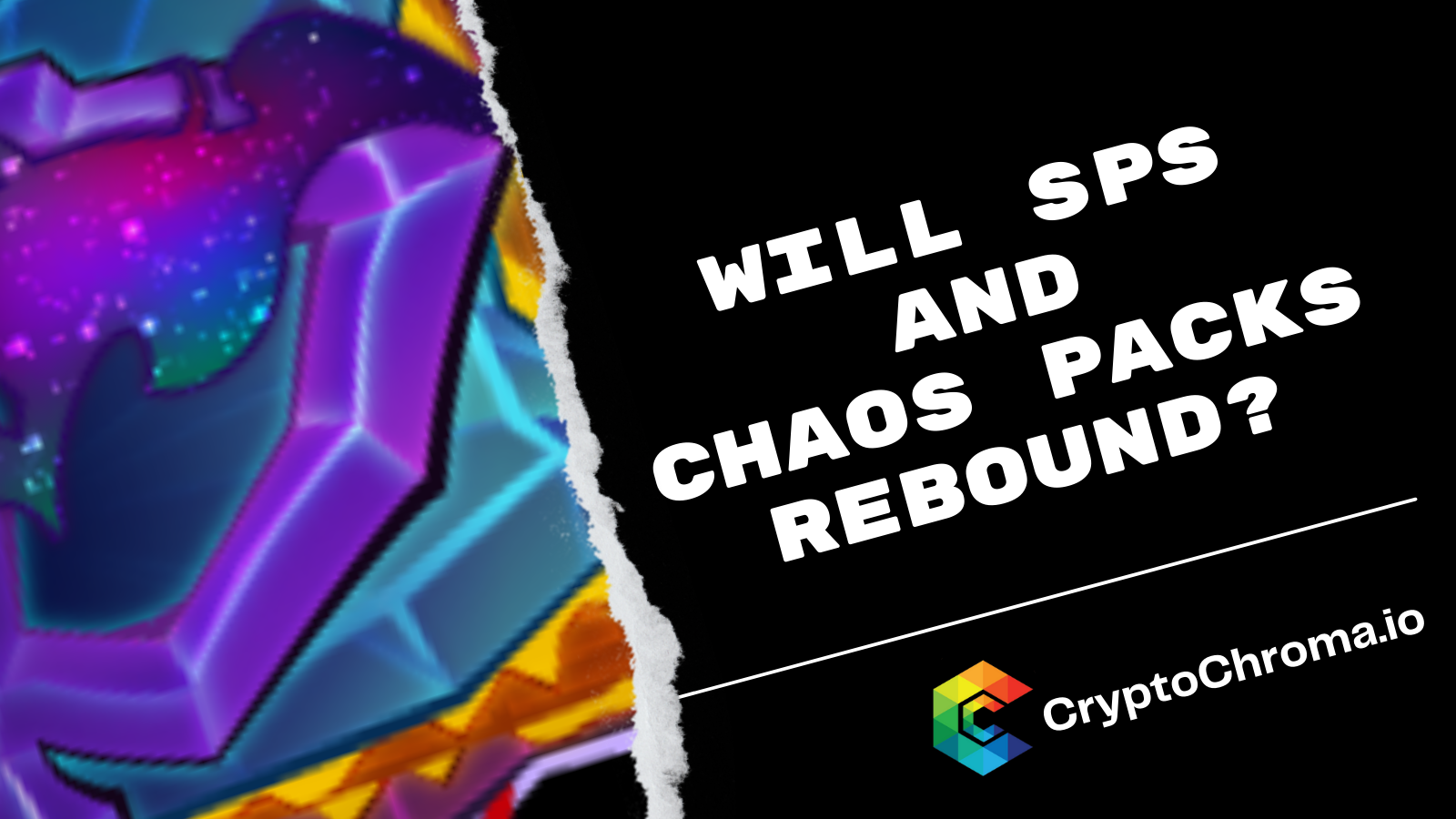 Will SPS and Chaos Packs Rebound?
While we had a first day of impressive numbers today we saw a heavy tanking in the system and I contribute that to a few things. My hope is that the Splinterlands team finds this as constructive feedback and nothing more and nothing less.
This by no means says I'm right on these matters they are simply my observations and opinions. I'd be interested to hear your thoughts on the matters as well as more feedback is highly important from the player base.
My original targets put vouchers at low end $20 and high end $50 and SPS token at over $1 however as we can see we are falling fast off of these numbers and there's a few reasons why I feel that is happening.
Vouchers
Vouchers are a great idea however there's a very limited supply of SPS right now and not all of the SPS is currently being dropped that was in the white paper. About half is still not dropping which I can understand since much of the player base can't play because of very high older pack costs. (SPS for ranked battles or Brawl battles for example) This greatly limits who's getting SPS from the airdrop right now and also how others can get involved into the SPS airdrop besides buying it directly off the market.
Vouchers sadly are only a hive-engine token. Which means limited reach as the hive community itself and people understanding it is still low. (Sure this might help to boost a few people to get more involved with Hive but for many new players they joined the game and honestly don't even realize it's running on Hive.
I feel like Vouchers should have been able to be tokenized on Wax as well just like packs, cards, land etc all are. That's a MASSIVE gaming audience that you're currently not reaching by not having vouchers on there.
The Packs
NO pack opening = no real demand besides pure speculation and no ideas about the rewards it's very unknown about what card we will get for the promo prelaunch sale. I contribute a falling and low pack price to the following.
Sure you can buy packs but there's no value to holding on to them. To me it would have made more sense that in order to get the bonuses you have to buy the packs but also open them locking them to your account. These would then count towards your goals not simply buying them and being able to resell them on secondary markets that pretty much crushes any value of the packs right then and there especially because of number two listed below.

You simply can't open the packs yet. This sucks! Now you loss all the hype of opening up packs, getting new cards and showing them off to everyone which creates a buying FOMO frenzy as people want in on it. This in itself would have driven up pack price values and more importantly people wanting to buy SPS and stake it. Instead you're stuck with a pack icon that looks the same as everyone else and at the moment does nothing but gives you 300 airdrop points which in DEC value would be about $3 - $4
I hear they don't want a flood of new cards right away but isn't that what you're doing right now? 1 million packs themselves are being locked in before a single one can be opened. It seems very counter productive.
Will Chaos packs increase in price?
I think so but it's going to be a while and it most likely is going to greatly depend on how after presale launch goes and how it's done. Once all of the packs are sold out prices will start to climb as people will want to max out their cards who haven't already and the only way to do that is going to be buying packs off the secondary markets.
We can see that here with current prices.


Plots are at all new highs so there's demand for those as more and more talk comes out about them and limited supply.
Untamed packs are selling for over $50
Chaos packs which you can't do anything with and the unknown about how the $4 packs after prelaunch will be sold to the general public also are dragging down the price as the general feeling this current setup gives people is that for the cost of a voucher and the cost of a $4 pack I'm not gaining anything really besides the possibility at an exclusive card.
Dice packs are going for $60+
Besides that few if anyone really cares about the title for buying 1,000 packs and few if any care about the being the top 6. (A live-ish leaderboard would be helpful on this) but more importantly it really just comes down to a few large accounts that are gobbling up vouchers. I would have liked to have seen the cut off point of SPS being lower around 500,000 or ever 250,000 and not 1,000,000 to better divide vouchers up to more players.
All this is doing is creating a small portion of top accounts to battle it out with each other and really doesn't do any benefit to getting any new players and even some older players to want to get in on this. Worse though is what I stated above. These mega accounts simply have to buy the packs to get the bonuses, requiring them to buy and open the pack at least would have driven up demand a bit more.
SPS (Splintershards)
There's too many unknowns on this right now as well. There are still half of the SPS that should be awarded for actions in the game that still are not going out. I understand the delay on some of these because it's hard for any new players to really get involved with things such as earning SPS in Guild brawls and also ranked battles. That's why I feel shorter after 2-4 weeks after Chaos packs go live to everyone that this will then be implemented as it's a more fair playground for all players to get those rewards.
As I said above I don't have the answers and it doesn't mean this is right. They are simply my views and opinions and I would love to hear yours in the comment section and start discussions about it.
Posted Using LeoFinance Beta
---
---