Bladesong's 300 Followers Twitch Super Party - Awesome Giveaways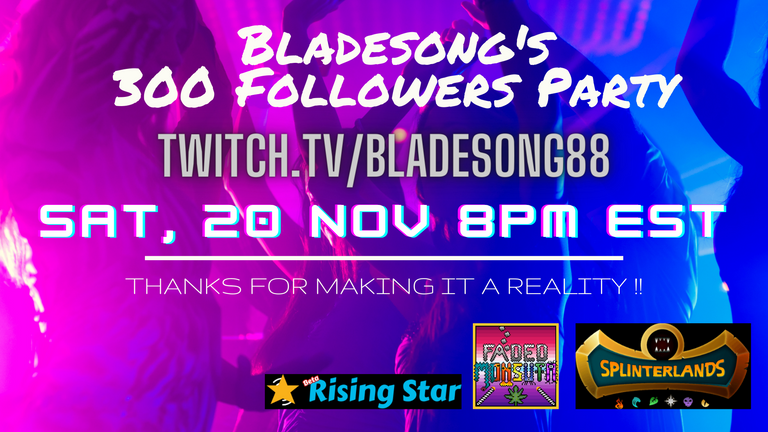 TIME FOR ANOTHER PARTY ???
Awesome Giveaways !! Everyone is Invited !!!
It has been an amazing journey since i started streaming a little more than a month ago as a hobby and inspiration from the #NoSleepGang, i never thought i would get Affiliate in just 1 week !! And after about a month later i am at like hitting 300 followers !!! Its just crazy how much the community supported me and this is my way of giving back with this !!
I will also be debuting a totally new dope layout for this !!
Party will be held on Saturday 20th November, 8pm Eastern (9am Sunday PH/MY time)
JOIN ME AT
---
There will be a minimum of $100 in giveaways to be won on that day in Splinterlands assets. We will also be giving out Rising Star cards, Faded Monsuta NFTs, Atomic Hub NFTS & Many more so it wont just be about Splinterlands !! The prize wheel for Saturday's night stream will also include premium stuff like:
Splinterlands Voucher
Chaos Legion Packs
a GOLD FOIL Venari Crystalsmith
Rising Star Packs
Faded Monsuta "JJ Jokersworth"
Miss Universe NFTs
This time i will not preview the wheel first as i want to surprise everyone with some extra goodies that i will throw in there last minute !! Join us to then and be amazed by the wheel. There will also be random drops that i will sneak in from time to time to encourage activity in the chat !!
---
Again, before signing off i would like to thank the #NoSleepGang for guiding me and supporting me in this journey. Special shout-outs to @clove71 for dropping stuff on me a while back, @senseibulrog & @atomcollector For Thier support by occasionally dropping by my streams and drop prizes to my fans and finally @cmmndrbawang as he helped got me started in the begining
Furthermore i would like to thank & invite the following streamers
@drabs587 @gank @walkingkeys @splinterlandshq @skynotik @lyerpald @thercek @gameboyali, @rentaw03, @sgt-dan @mhowii @ivarbjorn @luthien12 @skyn @splinternews And many more....my deepest apologies if i missed out your name.
HOPE TO SEE EVERYONE THEN !!
As an added bonus everyone who re-blog this post will be in the running for a special 20 SPS Wheel Spin !!! Please drop a comment below once you have done so
---
Splinterlands is an awesome play2earn game, if what you see interest you do use my referral link :
https://splinterlands.com?ref=bladesong
---
---