Weekly BATTLE Challenge - Deeplurker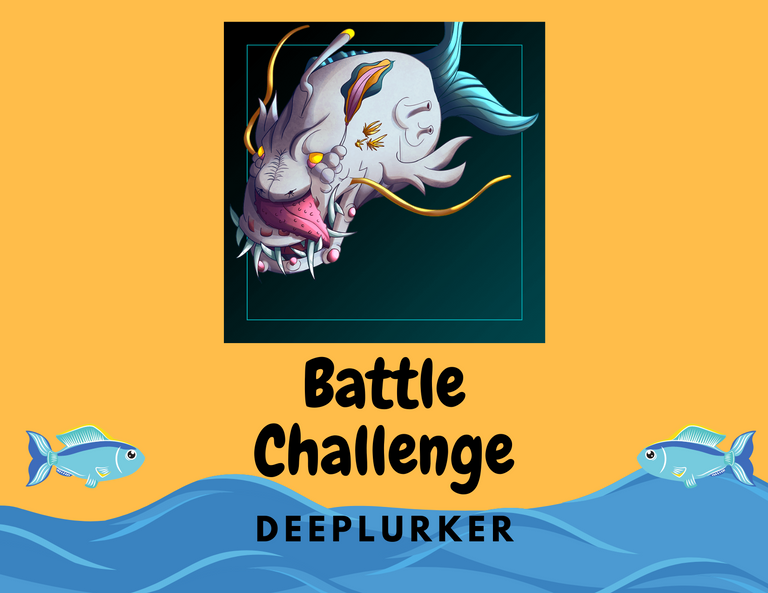 Hey Summoners,
For a start does this creature have 2 Mouths ? I see the tongue below the nose and another set of sharp teeth below the tongue which is just weird. I am sure that is the tongue as there is this lore piece - Its grotesque tongue lolled as the enormous fish seized the smallest Swimhunter by the waist, teeth tearing into rubbery flesh
Let me know in the comments below what you guys think about this ?
My thoughts on Deeplurker...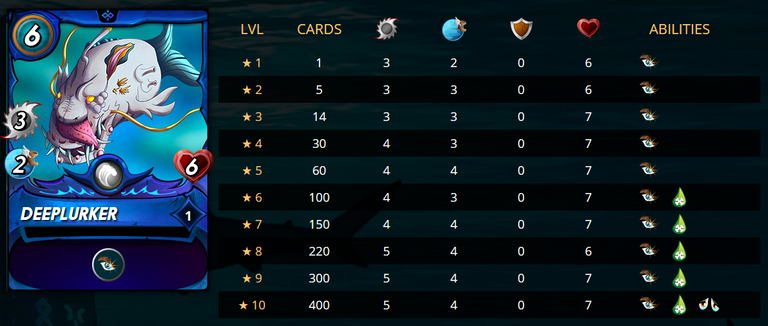 I would say this is one of the better common addition to the Water team from Chaos packs...much much better than that useless Burn Fodder - Hardy Stonefish. Despite its relatively mid-high mana cost, you get a massive 3-5 opportunity damage depending on its level, which if the target does not have armor it would almost guarantee a kill as Opportunity targets the lowest HP in the enemy team.
At level 6 and above, if it can also apply Poison which is fairly good too. Seems the devs from Chaos Legion onwards loveeee the concept of Poison. Speed is decent at higher levels and this fish can take some beating too. Would be even more perfect if its 1 mana cost less but rightly so its only a Common.
Summoner - Keyla Frendul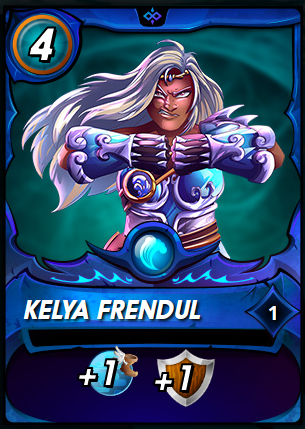 My highest level Water summoner and i feel one of the better Rare summoners from Chaos Legion, in my humble opinion 2nd only to the great Obsidian. Great for this battle's ruleset. You see a lot of her now that Old Man Magic is not a starter summoner already.
The Battle Rules @ Gold 2

15 Mana
Blast for all
Opportunity for all
Fire, Water, Life, Death and Dragon Splinter
Strategy
Went with Water as i feel that in these low mana matchups, that extra armor and speed might make a difference. That extra armor is also good to tank a non-magic hit. Plan is to spread out the low HP guys while hopefully have enough damage from a hard-hitting Deeplurker to do so AOE damage. Cross my fingers that my opponent does not use Magic.
The Lineup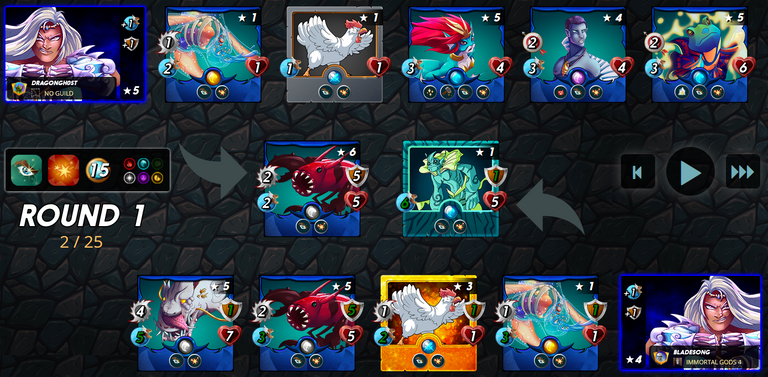 Da Tank - Lvl 1 Kelp Initiate
Cheap and Fast Meat shield. If not magic were used the high speed should cause some misses.
Meat Shield 1 - Torrent Fiend
Positioned here to just absorb some damage AND dealing 1 blast damage.

Meat Shield 2 - Red Dragon
Same as above.

DPS - Cruel Setropoid
The reason i put this here its because its cheap mana cost and the Armor is makes it quite tanky if no magic is involved.

DPS - Deeplurker
MVP of the show. That High damage gonna cause some pain.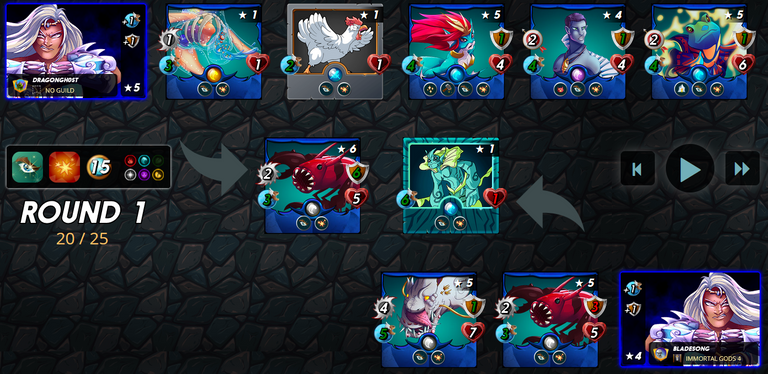 Round 1 Opening this i feel that i will lose because of the amount of healing and armor repair on the other side. Already my meat shields got taken out and the tank is down to 1 health...but i am still praying for a miracle....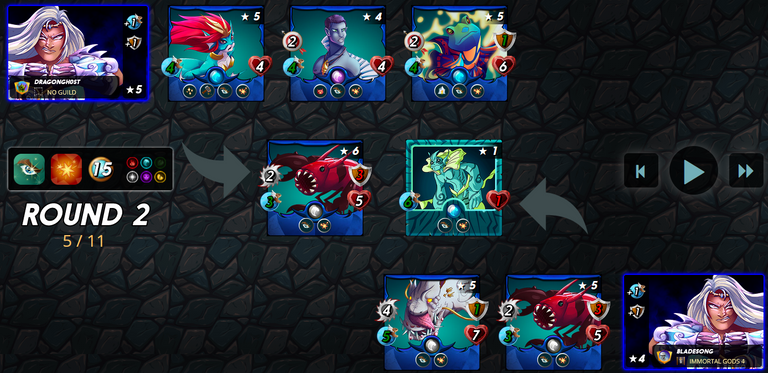 Round 2 I got abit lucky here, after the Deeplurker took out the Mermaid and Igor Darkspear's armor, they proceed to miss all of the attacks on the Kelp...therefore keeping it alive !! Crucial luck play as blast does not trigger on a miss therefore keeping the 2 backline DPS still very healthy.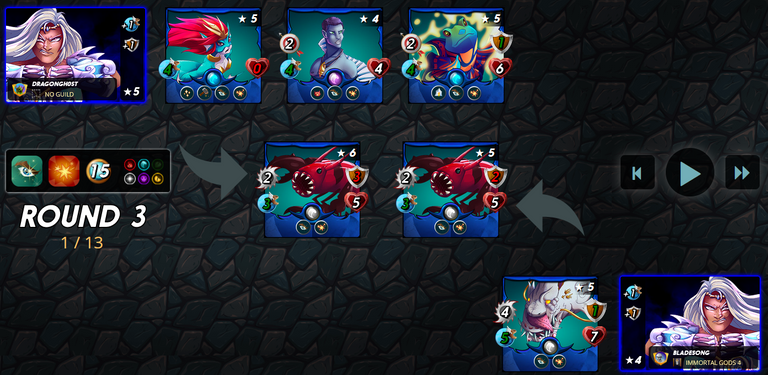 Unfortunately the Kelp did not last long, hey it did its job already by dodging 2 hit. Start of Round 3 Deeplurker moved first and takes out the Heal/Repair Mermaid which is crucial. No more repair and heals for their Crabby !!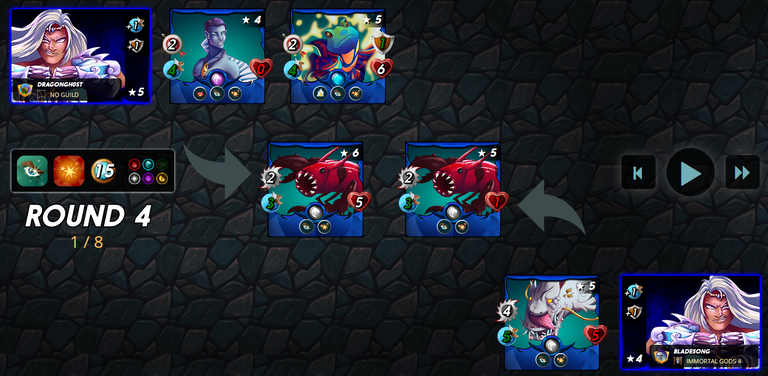 Start of Round 4 due to the superior Speed Deeplurker kills another target, this time taking out Igor Darkspear, i start to have good feeling about this as if i get to kill their Crabby is a win for me as there is no way the Ranged Fish can attack me.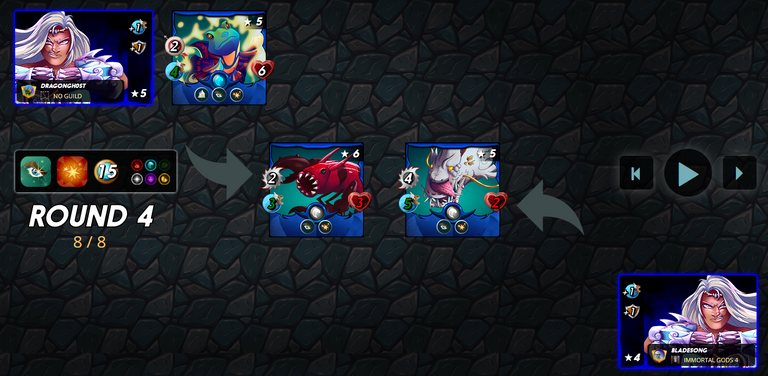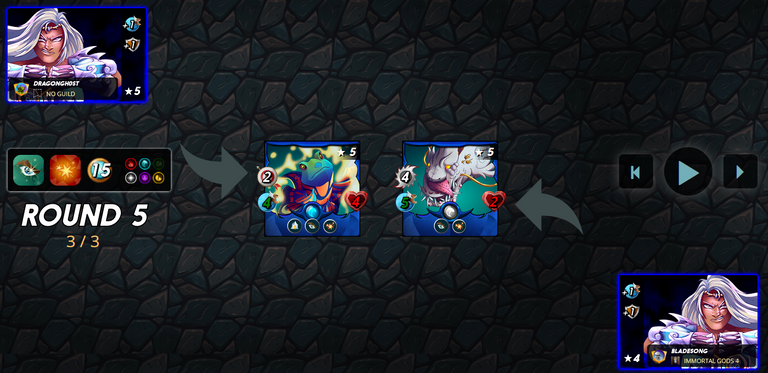 So even though at the end of Round 4 my own Crabby got taken out, due to the difference in speed, at the start of Round 5 Deeplurker finished the job by eliminating their Crabby...with the last Creature cant attack and cant heal....it too will be eaten up by our TWO MOUTHED Fish....
Truly MVP of this battle !!
Conclusion & VICTORY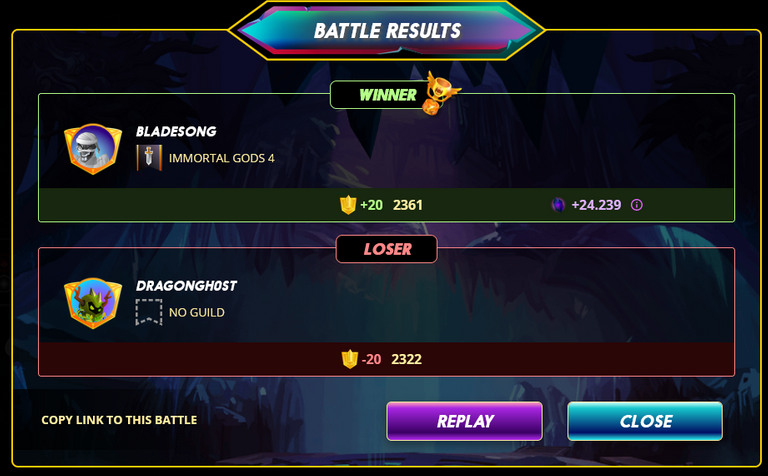 Honestly i thought i am finished because of the amount of healing and repair on the other side. But i guess the Deeplurker really made a difference in this fight being FASTER and HITS HARDER !! Also i got really lucky there on some misses to my Kelp too.
Really liking this Opportunistic Fish, it is surely one of the better commons that came out from this set and once i get my summoner to higher levels i will get to enjoy this more.
Special Thanks to @nane-qts for creating such amazing Dividers that i am using here.
Do use my referral link if this game interest you:
https://splinterlands.com?ref=bladesong
---
---