Yo Yodin...I Love Ya!
I have yet to write a little piece here on any spefic battle as to be honest...I am just not very good at this yet. But I feel like trying something new today while sill home and under the weather...so here we go!!! I am going to start off by saying that I absolutely LOOOOOOOOVE my Yodin. It was one of my earlier cards I jumped into when I got heavily involved in the game this past summer/fall and I regret not maxing him out then. My precious is at a Level 3, but I would still need to combine 5 more of these mofo's to be Maxed out to Level 4, and I am just not there yet with all the other money pits this project offers. Damn you Yaba!!!!!!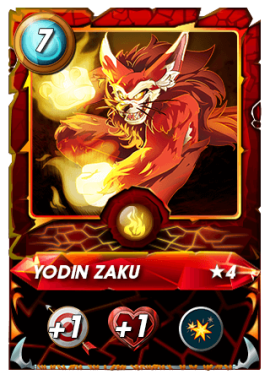 Now that I have professed my love for this firey & costly gem, I can get to the why...which is that it is just so damn useful! I see the gripes from alot of the newer folks out there and I absolutely feel your pain. It's a brutal matchup most of the times. I'll admit to utilizing him in situations he normally wouldn't even be considered sometimes. No ranged attacks?!? Fine by me as that health and blast can often make up for the extra 3 or so in mana that it costs to use it. Plus, I feel I have a decent deck built around the Fire Splinter anyway, so he is always worth at least a consideration in most match sets...even if it might not appear to fully make sense at first.
Take this instance...I love using Yodin in rule sets where monsters lose all abilities, as Yodin offers so much to make up for the useless monsters.
In the battle above, It was Monsters Lose All Abilities & Melee Can Attack From Any Position. It helped that is was a 50 Mana battle, so it gave me plenty of tasty digits to play with. I loaded a magic tank up front to take a beating, and followed up up with Magnor and Motlen Ogre as they had plenty of health at their disposal along with packing a punch. My favorite addition though was inserting the ol' Exploding Rats, dead center. Their insane speed and heavy hitting would help to cripple my opponent's head and number 2. With the rule that all melee can attack from anywhere, I knew that the rats would be safe unless exposed if my several meat shields failed to do their job. Luckily that didn't happen and the team worked as well as I could have hoped for.
Thanks for checking this out!
Blewitt
---
---