Dapper Furious Chicken - Splinterlands Art
Line Art and Cel Shading is something I do not do nor have I tried it. But with Furious Chicken in my mind, I thought it would be perfect to try my hands on this style of digital art and also learn a thing or two about it. Furious Chicken is one of my S-tier monster choices in the game and I want to do something comical with it, so it is the perfect fit.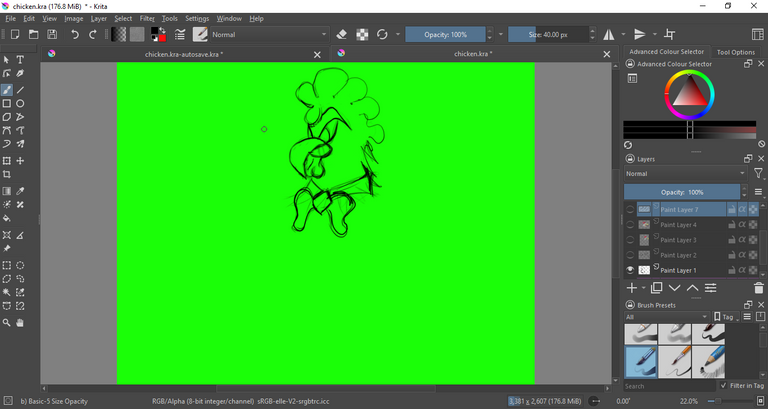 I used Krita to create this. It seems like a better app for drawing than Adobe Photoshop. It felt a little daunting at first, but that is a mutual feeling with everything new. However, I really felt the positive difference when trying to draw on Adobe Photoshop vs. Krita.
I started out with a very rough sketch of what looked like an angry chicken. In my mind, I wanted to make the chicken a little dapper. So, I added a shirt collar and a bow. Mind you, humanoid characters are already a difficult sketch for me, so a chicken sketch is way out there.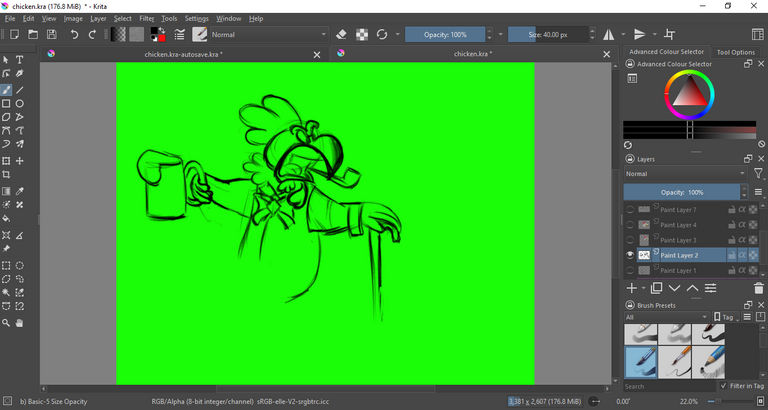 Once I got a feeling for the app and the brushes, I experimented with a few more sketches. This time I actually used some guidelines and initial sketches instead of going full free hand.
Eventually, I had a design I liked. For reliability, I wanted to keep the same major shapes in my art as it is in the original art. But since my piece is a little more comical, I'd have to figure out different props.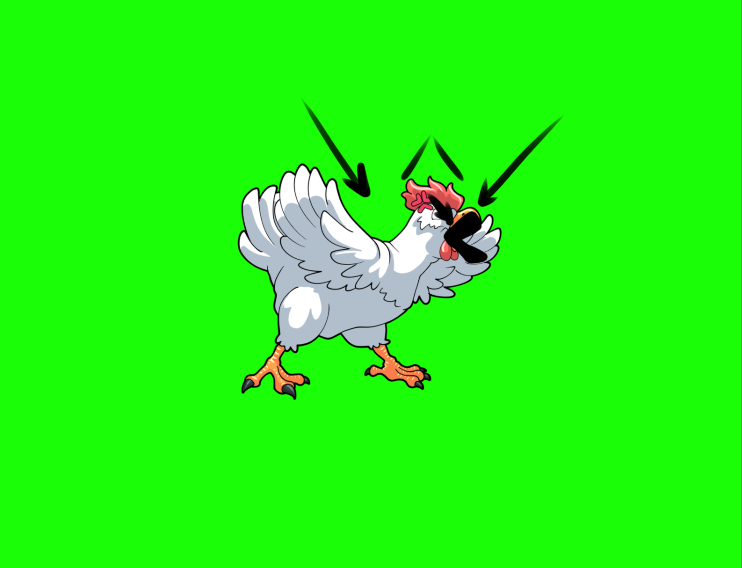 I realized there is a lot that can be improvised and modified while maintaining a similar shape. After some inspiration, I decided I was going to attach a pipe, a walking stick, a beer to make it "dapper".
Once the idea was completed I began trying different brushes to see what helps me lay down the best outlines. I learned that using a flat size brush is best, but I like the pressure-sensitive brushes so that is what I used. Not sure if it still counts as line art? You tell me.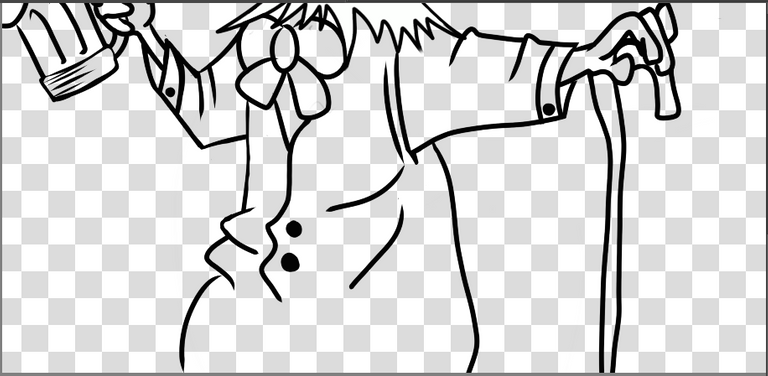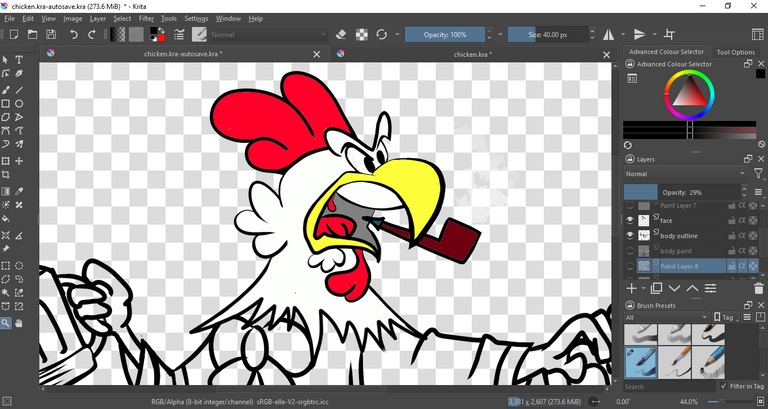 Then I began laying down base colors. I am still learning the layer options in Krita so I did not use locked layers or masks. I simply colored inside the lines. LOL. I kept the colors vivid and bright. After the head was done, I completed the body and accessories in a similar way.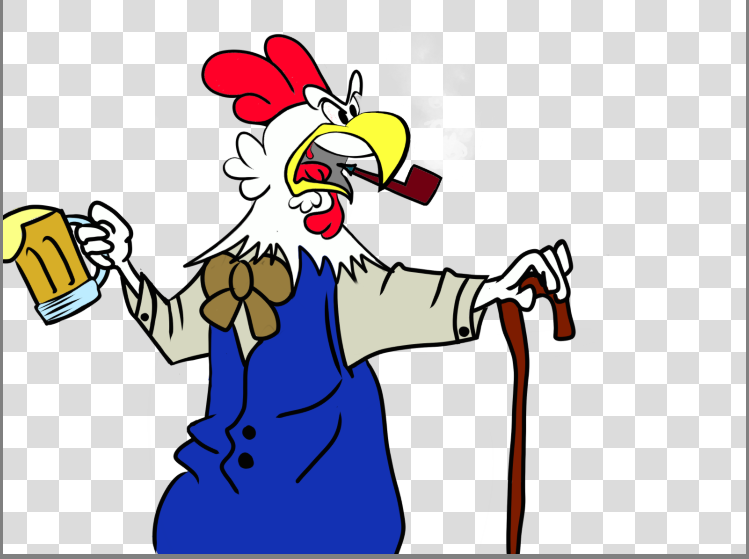 Now came the fun part, shading, and highlights. I have always used Photoshop for all my work so this was obviously going to be different. Another reason this would be different is that I have never done this sort of shading. I searched online and learned a few things before I set myself on shading this dapper furious chicken.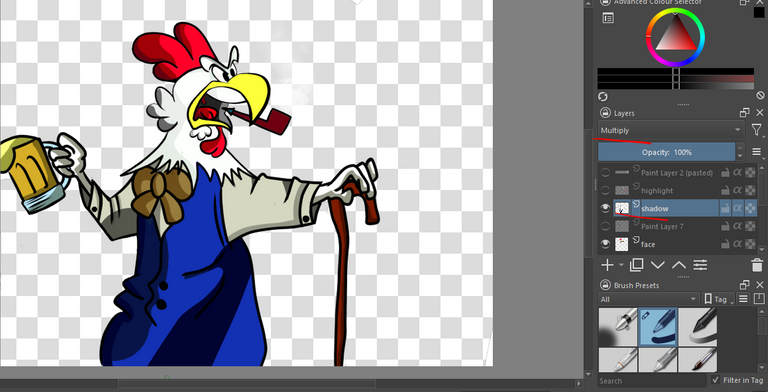 I created a new layer and named it "shadows" and set it on "multiply". This usually darkens the paint based on the paint color and the base color. Then I painted the first set of "light shadows". After that, I reduced the opacity of that layer and created another shadows layer for darker shadows.
Once I painted in the dark shadows, for example, the shadow cast on the body by the arm holding the walking stick, I merged it with the "shadows" layer which had the light shadows on it.
Next, I created a new layer and named it "highlights". This is for the small highlights that would be produced when the light would hit the subject and reflect away. Most of the subject is cloth and feathers, so there isn't too much to highlight. Just the pipe, the beak, and the teeth.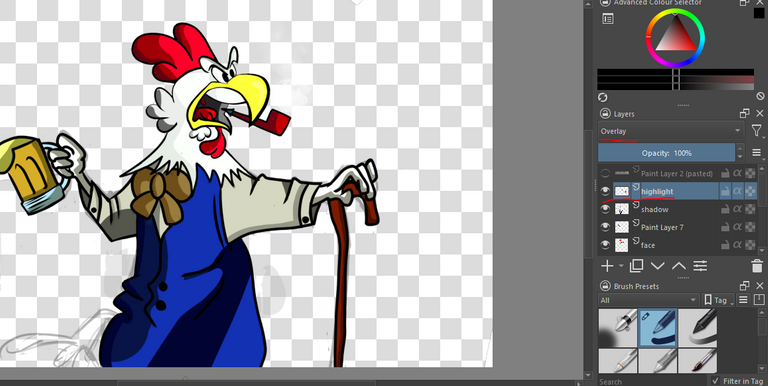 After the shading and highlights, it looks pretty finished. Now I need an environment. I decided to create a gradient that would look "furious" and also act as a source of light.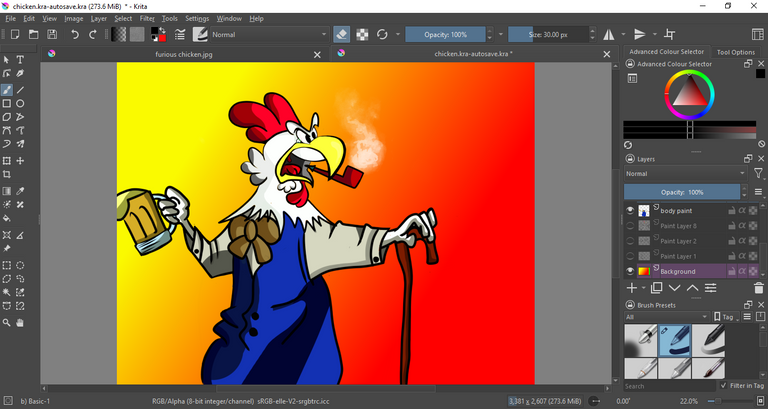 The dark orange and yellow colors are always a good portrayal of fury and it could also act as a medium to show where the light is coming from. I added a few more elements like the smoke on the pipe and the photo frame which was silly and stitched it all together.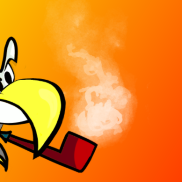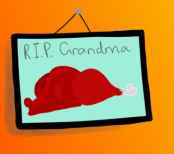 Finally, I retouched the edges a little bit since there was some bleeding out, and fixed the gradient to match the light source. I did a little cropping and transforming to fit the entire thing in an even frame.
This is my dapper furious chicken.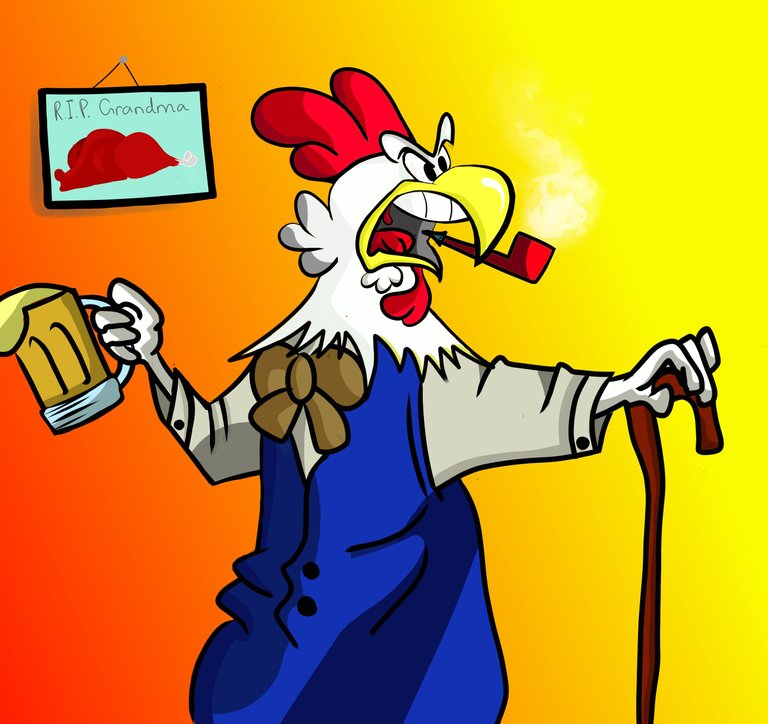 ---

Follow me on twitter and instagram
---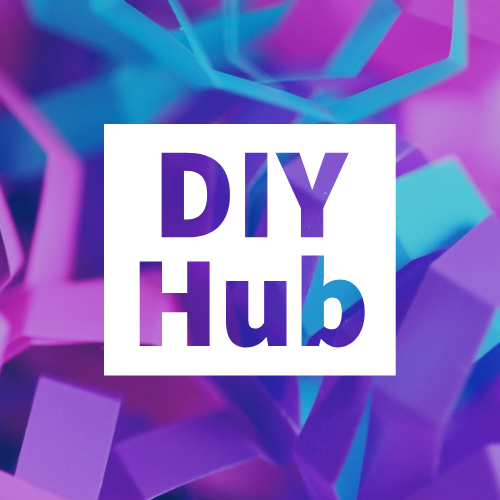 Affiliate links

Rising Star
Exode
Huobi
Appics
Splinterlands
Actifit
Binance
Ionomy
Cryptex

---
---