Djinn Muirat's Nightmare Fuel "Palace of Bone" - Splinterlands Art

Djinn Muirat is one of the more scarier monsters in the game. His lore has extensive details of how massive his demonic aura is. Not only is his lore scary, within the game Djinn Muirat is a very strong monster and when leveled up is one of the hardest foes to play against.
I took his lore and abilities into account as an inspiration which developed the image in my head of how ghastly and scary his Palace of Bone would actually be.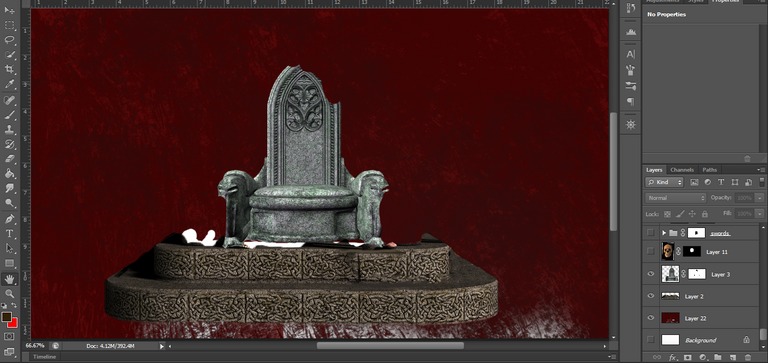 My main aim is to create a scene from his Palace of Bone that to some extent reflects the "sense of doom" his lore speaks of. In no way did I want it to be nice and cool. It had to be scary and at least evoke fear, confusion, and show the sense of raw power Djinn Muirat possesses.
I started out with a blood red background and texture with simple paint and brush strokes. To create the "throne of skulls" I found these stairs for references which I would later submerge in skulls of his foes. I would also change the throne to fit the name better.
While Djinn Muriat rarely leaves the Palace of Bone, when he does it is a monumental occasion. The ground shakes as he walks, and the shadows coil around him like snakes. Any in close proximity hear whispers in the air that drive the weak-minded mad. Djinn Muriat has been known to walk directly to the fortresses of his enemies, or the lairs of great monsters that oppose him, and deal with them single-handedly.
-Lore
It was mainly this part of the lore that I wanted to really bring to life. A ground shaking scene.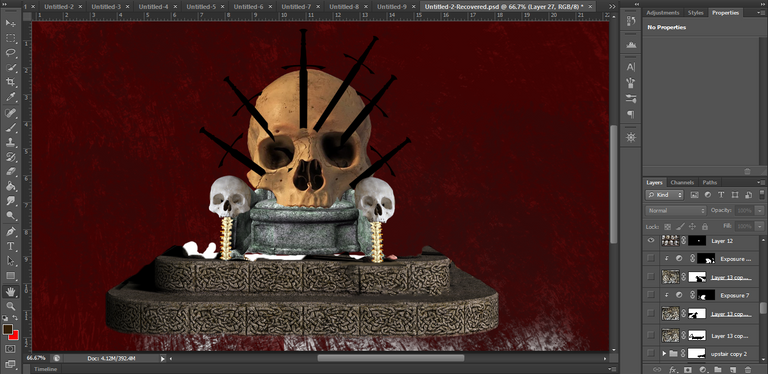 To turn the generic throne into a "Throne of Skulls", I added two small skulls to the armrests. I couldn't find a good skull, so instead, I used this image and masked one skull out of the whole collection.
Then I added this huge skull on the backrest and masked it out. I masked out the spine from this image of a back and added them as supports of the armrests. It looked a little too simple so I added some swords and masked them to the back rest.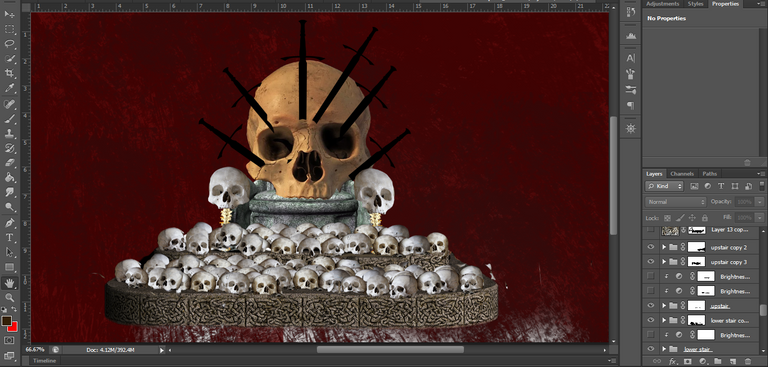 Now that the throne was done, I began working on the stairs. I pictured the Palace of Bones would literally be a ghast, eerie, palace of bones filled with bones of his victims and foes.
This took a long time! Very long time!
I used this image, there are only 3 usable skulls on each layer. I had to mask them out to sit properly on the stairs as well as layer them so they don't look like a typical copy and paste but instead as a hoard of skulls left on the stairs to praise Djinn Muirat's authority.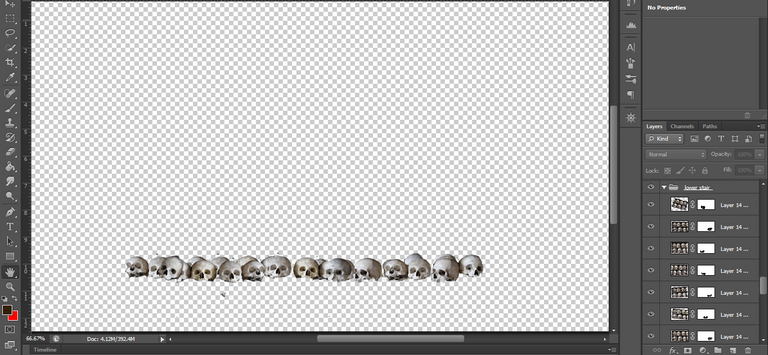 There were a total of 6 main stair groups, with 10 subgroups inside it, with around 5-7 skulls in each layer. As you can see here, this is just one layer of skulls. It has to be packed and there should be skulls both in front and back of the main line of skulls to make it look a little like "Palace of Bones". So this was a lot of masking, a lot of placing, and a lot of additional brightness/contrast adjustment layers to make them readable.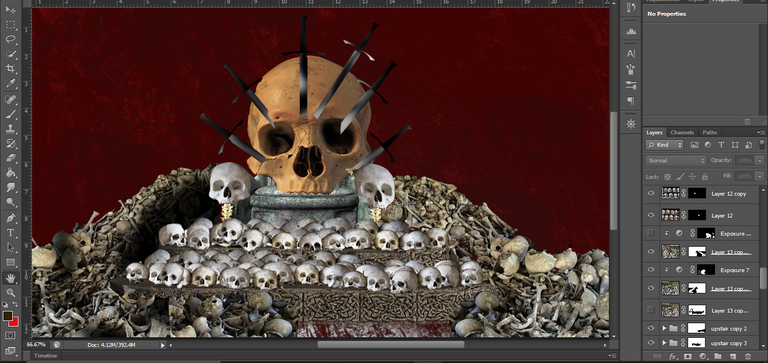 I was happy with the effect the treacherous process had so I began filling in the other areas. I wanted there to be piles and piles of bones surrounding the throne to really sell the effect of "Palace of Bone". I found this image of a heap of bones but could not simply paste it over the project and size it to fit. It would not create the right perspective and would look shabby.
Instead, I created multiple copies of the image and masked them separately. One mask in the middle, one to each side, and then separately on the higher sides.
To make it look like a heap of bones that keeps getting bigger over time and Djinn Muirat loves to keep them as souveniers in his palace, I shaped it like a descending mountain.
I added some depth with the exposure adjustment layer to make the heap look round and descend into the front of the throne.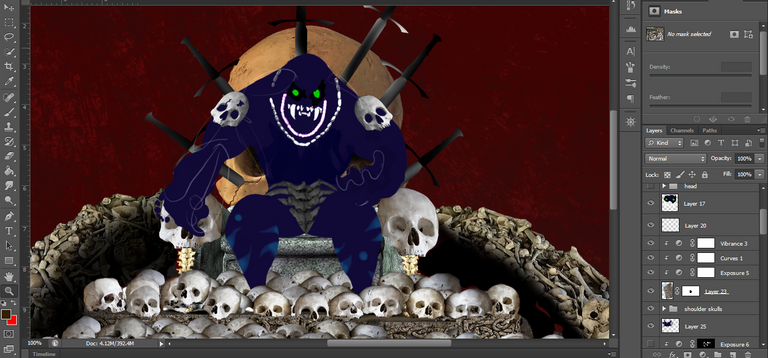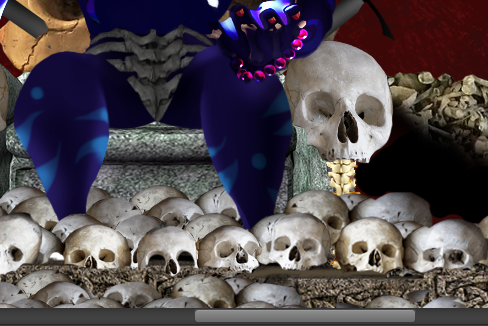 To make Djinn Muirat itself was tricky since I didn't know what his legs looked like. I made a rough sketch and painted the shape out at first with a dark purplish color. Next, I added similar marks to his legs as he has on his body. I used highlights and shadows to create crevices, folds, and depth.
I painted in his eyes, teeth, and chains, and added the skulls to his shoulders. I used a little bit of warp, perspective change, and color balance to make it look different from the other skulls.
Then I added the same image of the spine I used on the armrest supports with a little bit of tweaking into the colors and brightness to his crotch. Coz, of course, Djinn Muirat wouldn't be wearing tighty whities.
I painted in the skull with bone white color and added shadows and highlights to match the gruesome look he has. Finally, I added this ram horn to the skull by masking it in. I then masked the markings and details from the original art at Splinterlands to the body to keep Djinn Muirat close to real. Using a small white brush with pressure sensitivity turned on, I painted in his hair.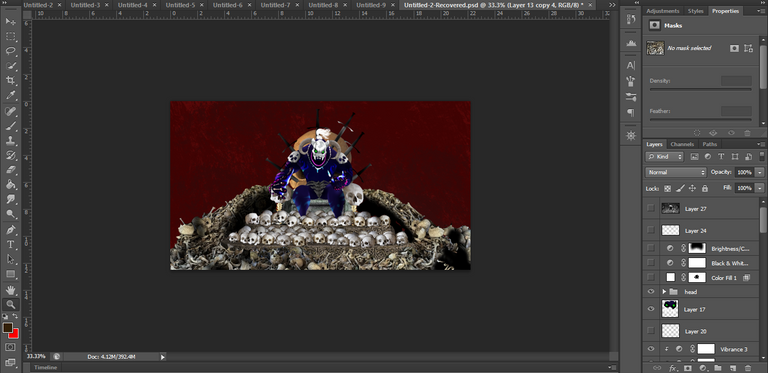 Now came the fun part.
I desaturated everything and played around with levels, contrast, and different color overlays. I wanted the image to look gruesome and ghastly. Something straight out of a nightmare type of scene. I settled with leaving the image in black and white and let the project rest for a day. It helps coming back after a day since I get a fresh new perspective on the overall image.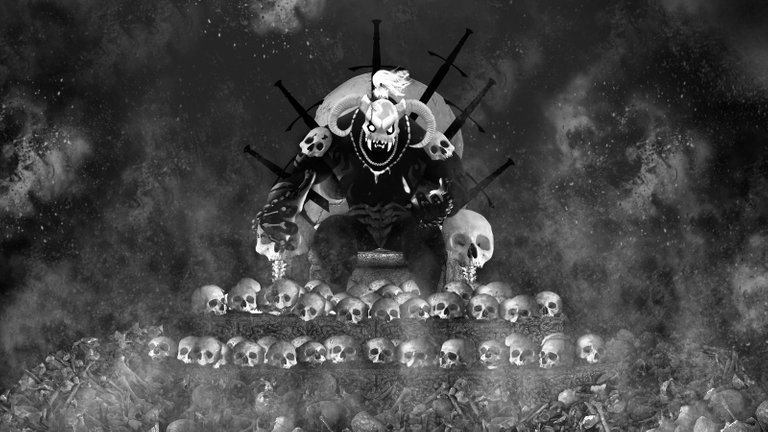 Palace of Bones is like a piece of hell in my head. There are bones, fear, servants, manipulation, the earth shakes, ghosts, fire. So many different elements. Putting them together in one image is difficult, but the only way to really portray the pure evil within the palace. So how do we show all that without actually painting it in?
Ah, I got it. I began adding elements to the image in Linear Dodge mode with a very low flow brush. I wanted to show raw power, fire, and smoke. To do this I first added a very light haze and mist around the bones. I also made some of them more darker than the others.
Then I started adding spirits, fire, and smoke to the background along with sparks in both the foreground and background. I used a BrushEezy brush with a low flow on Linear Dodge Add mode. I created the entire mood with this one brush. Then I added some smoke coming out of a few skulls on the stairs. To stitch it all together I rendered the entire image with a bright red and black hue.
Now that is disturbing!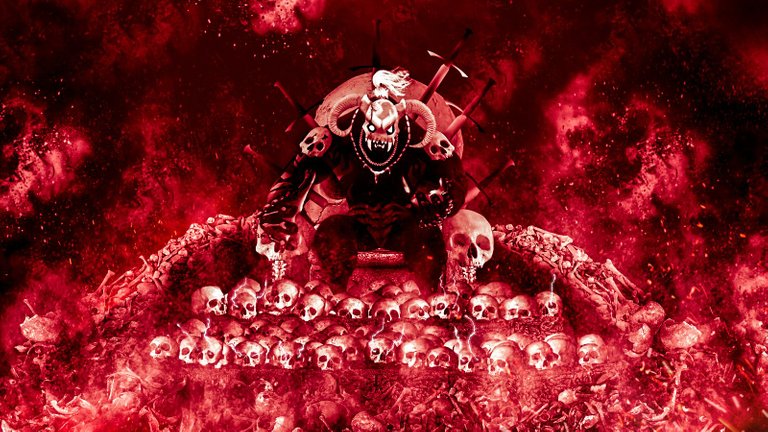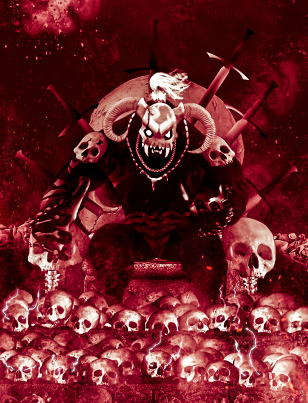 ---

Follow me on twitter and instagram
---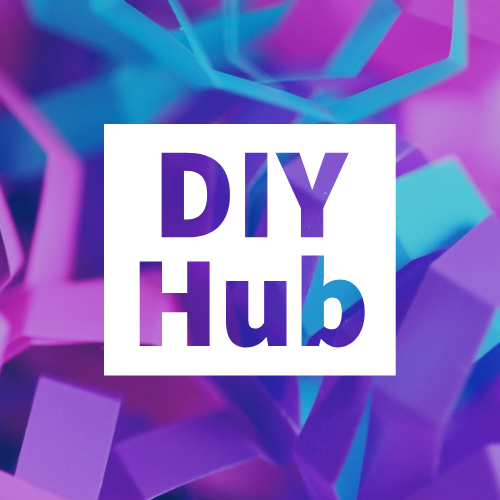 Affiliate links

Rising Star
Exode
Huobi
Appics
Splinterlands
Actifit
Binance
Ionomy
Cryptex

---
---