A new season of rewards - Gold Edition - Day 10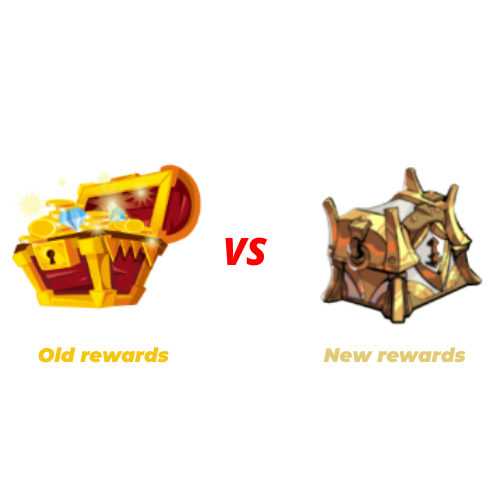 DAY 1
Today is the first season I am playing again. Before this I was on holiday and rented out my deck completely. After being dropped back to Silver I was only able to earn 5 gold chests for the first day. We got another legendary which is always great to get. Some merits are not bad for my upcoming brawls. I invested another $ 750 into the gaming and made a bad mistake. Note to self: Delete your outstanding bids in Peakmonsters before you put the DEC in your account. It went to 0 real quick and I overpayed for some cards. Lesson learned. Also I did not at all get the cards that I wanted now. See you the next day.
The reward: 40 DEC, Djinn Oshannus, 144 Merits
End of season chest count: 2
DAY 2,3 & 4
I am still finding my rhytm back home. A lot of things I have to take care of and not enough time. I am trying to bring blogging back into the rythm to stay consistent like I did before my Holiday. I struggle a little bit this season as I do not have a good enough deck this season to perform well in Gold. I have a hard time finding the right rental strategy for the new daily focus. This leads to me underperforming in comparison to the seasons before. I might stay in Silver instead of Gold to stay more competitive, however we will see where it leads as we still have 11 days in the season.
Day 2 rewards: 326 DEC, Djinn Renova, Ever-Hungry Skull, Merdhampir, 9 Merits, Alchemy Potion
Day 3 rewards: Uraeus, 2 Pelacor Conjurer, GF Gargoya Lion, Legendary Potion, 11 Alchemy Potion
Day 4 rewards: Merdhampir, Gargoya Lion, Blood Maker, 19 Legendary Potion
End of season chest count: 18
DAY 5
Struggling in Gold at the moment. My new rental strategy isn't working really well. I might just rent out all my cards till the last day or continue to play in high Silver/low Gold with my own cards. Renting does not seem too profitable for me now. I will try to play some more days and possibly find a better strategy to execute some more wins in Gold. It does feel like I am not maximizing my profits this way. Lets keep working on finding something that works.
The reward: 72 DEC, Venari Wavesmith, Ever-Hungry Skull, Pelacor Conjurer, 11 Legendary Potions
End of season chest count: 22
DAY 6
The last day competing in Gold for now. 4 Chests a day is not really motivating and renting out my cards will likely lead to a higher income than playing. I love the game so renting out isn't really an option for me. I only rent out me cards that I have multiple copies of. As I am always competing in tournaments I can't really afford to lose my cards for two days as well. Revealer is a decent reward. It is a card that will definitely be worth something in the future.
The reward: 176 DEC, Revealer, Merdhampir
End of season chest count: 25
DAY 7,8 & 9
Not much to say today except that it is so hot in the Netherlands that I cannot find the time to write my articles. The Gold league however seems to become a little more playable and I can earn some better rewards now that we are later in the season. Lets get some good rewards. Also another pack :).
The rewards: 912 DEC, 19 legendary Potions, 20 Alchemy Potions, Pack, 3 Merdhampir, Ever-Hungry Skull, 2 Pelacor Bandit, Vampiric Blossom
End of season chest count: 35
DAY 10
Day 10 we earned 6 Gold Chests. Which is decent, but could be better as I am still not renting any cards. I am slowly climbing the rankings so every win I get some more Focus Points which will automatically result in more daily chests. Currently the amount of chests for tomorrow are already looking better. We got a fine reward, adding some cards and merits to my totals.
The rewards: 80 DEC, 48 Merits, 2 Pelacor Deceiver, Pelacor Bandit
End of season chest count: 39
Total rewards
Day
1
40 DEC
Djinn Oshannus
144 Merits
2
326 DEC
Djinn Renova
Ever-Hungry Skull
Merdhampir
9 Merits
Alchemy Potion
3
Uraeus
2 Pelacor Conjurer
GF Gargoya Lion
Legendary Potion
11 Alchemy Potion
4
Merdhampir
Gargoya Lion
Blood Maker
19 Legendary Potion
5
72 DEC
Venari Wavesmith
Ever-Hungry Skull
Pelacor Conjurer
11 Legendary Potions
6
176 DEC
Revealer
Merdhampir
7
268 DEC
5 legendary Potions
4 Alchemy Potion
Vampiric Blossom
Pelacor Bandit
8
76 DEC
4 Legendary Potions
5 Alchemy Potions
Pelacor Bandit
9
568 DEC
10 Legendary Potions
11 Alchemy Potions
Pack
2 Merdhampir
Ever-Hungry Skull
10
80 DEC
2 Pelacor Deceiver
Pelacor Bandit

Tomorrow I will upload day 11
---
---