Every way to make money in splinterlands (22)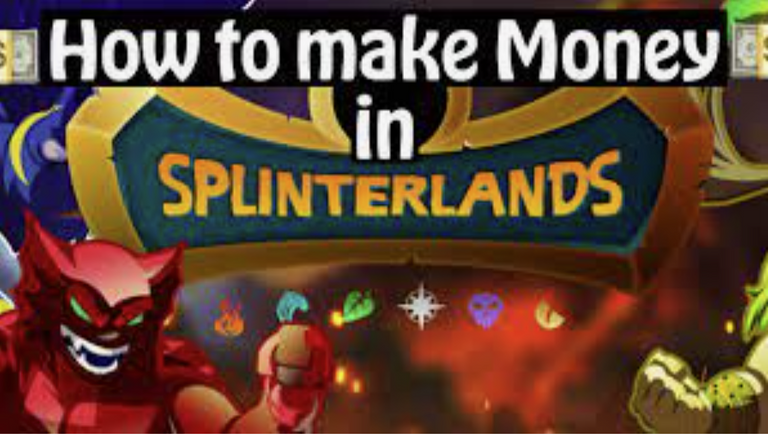 Hello everyone, I know that many people made guides on every way to make money in splinterlands, but I could not find any detail of what you can make on any of them, and I noticed it was missing one more way which I will place at the end of this video. I hope that this guide can encourage new players to join the game, and maximize the earnings for those already playing while having the same amount or even more fun.
1) Play ranked battles
What this is is basically just play the game, and earn money! Splinterlands is an amazing game overall, with an incredible combination of strategy, lore, and luck that will make you want to play even if you don't make anything from it. Once you reach bronze 2 in the game (400 rating), you can start earning DEC(dark energy crystals)from battles. At the moment one DEC is worth one cent. As you get better at the game, so will your DEC rewards. Your DEC reward payout in ranked battles is a combination of rating points, league, win streak, gold foil bonus, alpha/beta card bonus, and guild bonus. When you win the battle you earn DEC, and you lose nothing when you lose the battle, so there is no risk involved.

2) Daily quests
Every day, you will have the opportunity to complete a daily quest. The daily quest will be in the form of a challenge, such as use a specific element to win, or win with a specific ability to win 5 times. You can keep trying in ranked until you complete the quest, with no risk at all. If you really don't like the quest you got, you can skip it once for a new quest that you might like more. The list of items you can get are alchemy potions(double the chance for gold foil cards when opening packs), legendary potions(double the chance for legendary cards when opening packs), credits, DEC, and cards. For a list of the % chance and average $ for each type of card see this very helpful website: https://www.splintercards.com/tool-lootchest.html
So basically, we get paid, for being paid, for playing a fun game!


3) End of Season (EOS) rewards
At the end of every season(15 day period) you can claim more loot chests for free. The value and quantity of the loot chests increases as your league increases. In bronze 3, you receive 5 loot chests, bronze 2: 7 loot chests, bronze 1: 9 chests, silver 3: 12 chests, silver 2: 15 chests, silver 1, 18 chests, gold 3: 22 chests...etc. However, to increase your league you need both rating points and power. Power can be achieved by buying or renting cards. When looking for cards that have power, you can go on peakmonsters.com to find the cards that have the best Card power/DEC ratios, so you can maximize your power while minimizing the amount you pay. For the value of EOS loot chests: https://www.splintercards.com/tool-lootchest.html


4) Tournaments!
When getting started, tournaments can be a great way to learn how other people play the game in different leagues, and can give you insight into new strategies. If you can win or place high in a tournament, you can get a large reward. There is an entry fee, but some tournaments such as @clove71 's tournaments only have a 1 DEC entry fee, she generously hosts a tournament every monday, wednesday, and friday and also streams. You can join the discord server: https://discord.gg/Pm6FwK5s
5) Hold DEC
Yes, that's it. You can simply hold DEC and receive a bonus SPS airdrop every single day for free, no strings attached. You can calculate what you will receive here: https://splintercards.com/tool-sps-airdrop.html


6) Stake your SPS
If you have SPS, you have the option to stake it and receive payments for simply holding it. Staking will make your SPS unavailable, but you can always unstake. After 4 weeks you will receive whatever you have staked. The return on what you stake is amazing, far better than any other invesment opportunity, and investors would do anything to get this incredible return...which splinterlands provides to us for free. You can calculate what you will receive from staking here: https://splintercards.com/tool-sps-airdrop.html
Remember, its not just 47% apr as shown below, I can re-invest and stake what I earn from the daily airdrops and get an even better return from compound interest.


7) Vouchers
By staking your SPS you can also receive vouchers(resuming december 8), which can be used to purchase packs, and if you don't want to purchase packs with them you can sell them on the secondary market and make even more $$$! A brief explanation on the reason splinterlands gives so many benefits for holding is to maintain the value of the currency and the hope you will re-invest in the game, which benefits everyone involved, even you. So splinterlands pays you when you help yourself!
8) airdrop cards
When you purchase packs during the pre-sale(such as with the currently happening chaos legion pre-sale), you get extra free cards for purchasing a certain quantity of packs, and a chance in every pack for a promo card. Here is a post detailing it further: https://peakd.com/hive-13323/@nfinsights/splinterlands-or-chaos-legion-quick-guide-zoaco
9) Flip cards
When you receive cards from chests or packs, or if you manage to buy one at a good price, you can place it for sale on the market instead of keeping them. When the market drops, in my opinion can be a good time to buy cards(NFA) and once the market recovers, you can sell at a higher price than you got it for.
10) Rent your cards out
If you aren't playing very much, or don't have the time, you can rent your cards out on the market for passive income, rent it out at the right price and you can get consistent passive income every day. A good place to rent it out is directly in game or or on https://peakmonsters.com/
11) Sell your SPS and DEC
You always have the option to sell your SPS and DEC, as they are cryptocurrencies and do hold real value. I also forgot to mention that once you buy or have a card, you OWN them. Meaning they are yours forever, and you can sell or transfer them whenever you like.
12) Splinterlands NFTS (non fungible tokens)
You can buy NFTS and then sell them at a later date for more $ if you get the right ones. I won't go into these much and don't do this myself, but I would like to put out there that this is an option. https://www.splintertalk.io/nfts/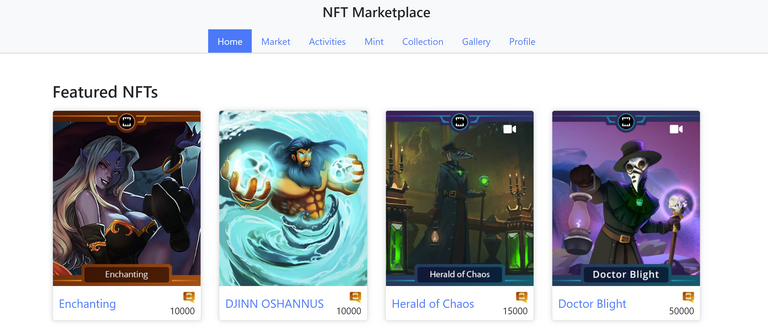 13) Liquidity pools
You can add the DEC or SPS you have into a liquidity pool on a market such as tribaldex for passive income. For instructions: https://docs.splinterlands.com/dark-energy-crystals/providing-liquidity/tribaldex-diesel-pools-hive
14) Create a tournament
You can also create your own tournament instead of just making one, and possibly make a nice profit off of it. However there is a 2000 DEC fee to create one, so if you are doing this for profit the tournament will need to be decently sized.


15) Use a bot
If you want to make money in the game, but don't want to play it yourself, you can use a bot. So far, it isn't discouraged as long as the bot earns fairly and just as everyone else would. I do not support this, as it does dull the game in my opinion, but it is an option.
16) Flip your packs
You can possibly make a great return if you buy packs during the sale while they are relatively cheap, and over time, as they are opened and the amount of packs still in existence decrease, you can sell it on the secondary market for a possibility of an amazing ROI.
17) Play for someone else
If you have a friend with an account that is busy, you can offer to play on their account and split the rewards. This can be a great way to earn without having any monetary investment.
18) Earn DEC from the leaderboard
In game, you can have the option to increase your rating points without moving up a league. At the end of the season the top 20 players in each league receive a large DEC payout.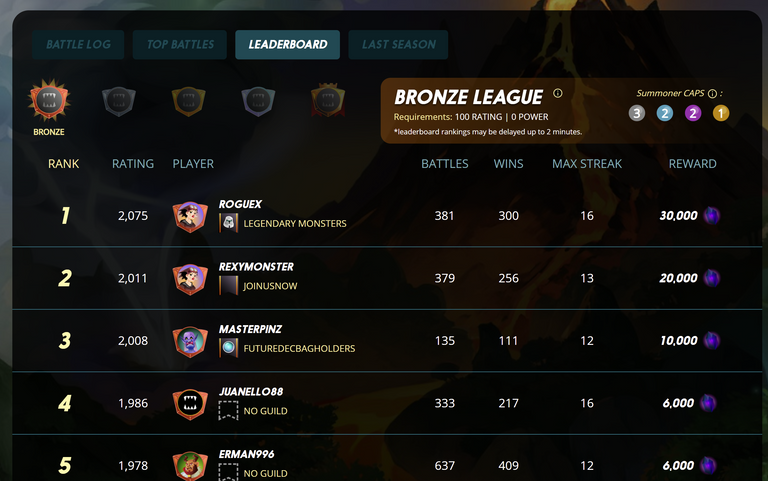 19) splinterlands affiliate link
If you are inviting new players to join the game, you can ask them to join through your link, where you get paid whenever the friend buys packs with credits at no additional cost to them(splinterlands is improving the system so that they are more likely to use credits and therefore you will be more likely to earn)
20) Posts and blogging
On sites such as https://www.splintertalk.io/ and https://peakd.com/ you can post your splinterlands related content and earn when people curate(upvote) your post. This can be an amazing way to get started with earning in splinterlands. A week after your post, you receive 50% of the hive rewards for the post, the other 50% goes to those that upvoted it. Half of what you receive is in HBD(hive backed dollars) and 50% in hive power(staked hive). It will be a good idea to leave it with this standard system until you make some hive power(hive power generates Resource Credits which are neccssary for posting and upvoting and many other things), but once you generate enough you can replace the HP with liquid hive by using @reward.app in settings. You also receive rewards in the form of SPT on splintertalk, which can also be traded and exchanged for other currencies. You can not only make money through the community upvoting you, but splinterlands often has challenges such as art challenges and weekly battle challenges that you can complete for free and earn even more.
21) Curating posts
By being active in the community and simply upvoting posts, you give back to the community while also benefitting yourself and receiving money!
22) Giveaways!
This is one of the amazing things about the community, it's willingness to give back to the community and help new players. You can find giveaways on splinterlands discord servers, twitch streams, and giveaway posts. This really has helped me out, and is also an amazing way to participate and get to know the community. Splinterlands discord server: https://discord.com/invite/splinterlands The server has a channel where you can find and post giveaway posts. In the server, so many people are helpful, and often people will host simple giveaway tournaments, such as quizzes on random things for cards or splinterlands lore. Streamers will often have fun giveaways in the form of marbles and spinning a wheel for the prize, not just this but it is very enjoyable, so even without the lure of giveaways you will enjoy them.
Here are some streamers that have giveaways(they also make amazing posts so don't forget to check that) this is not all though, so if you are a streamer and I didn't mention you, please put a link to your channel in the comments section :)
@clove71 's: https://www.twitch.tv/splinterlandsclove71
@luthien12 : https://www.twitch.tv/luthien1289
@drabs587 : https://www.twitch.tv/drabs587
@ivarbjorn : https://www.twitch.tv/ivarbj0rn
dave|22: https://www.twitch.tv/davel22
@bulldog1205 : https://www.twitch.tv/bulldog1205
without_empathy: https://www.twitch.tv/without_empathy
and many more, which you can find in the splinterlands discord server. If anyone who is reading this is also a streamer, please put the link to your stream in the comments and I will make sure to edit this post in a few days to include them.
Thank you for reading my post, I hope it can help someone earn a little more in splinterlands, and encourage some new players to join the game. =)
---
---