Soulbound Summoner Spotlight: Pembrook Nymph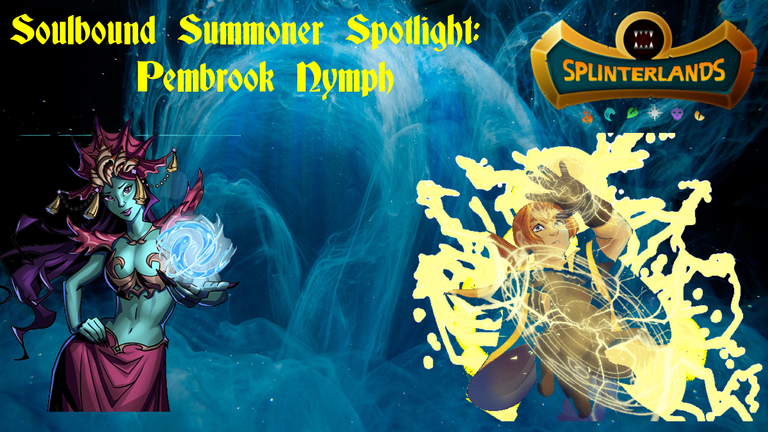 We now move on to the Pembrook Nymph for the next summoner in our series. The water splinter already has some of the best monsters in the game so having this card may be important to allow gladius cards to come into the fold to add to the water meta. As we did previously, we will look at the stats for pembrook and then breakdown a few of the gladius cards that may be worth playing the summoner ton unlock. Please follow the link if you would like to join this TCG at a great time where you are earning cards for free to play with and level up with: https://splinterlands.com?ref=bluedevil0722
Pembrook Nymph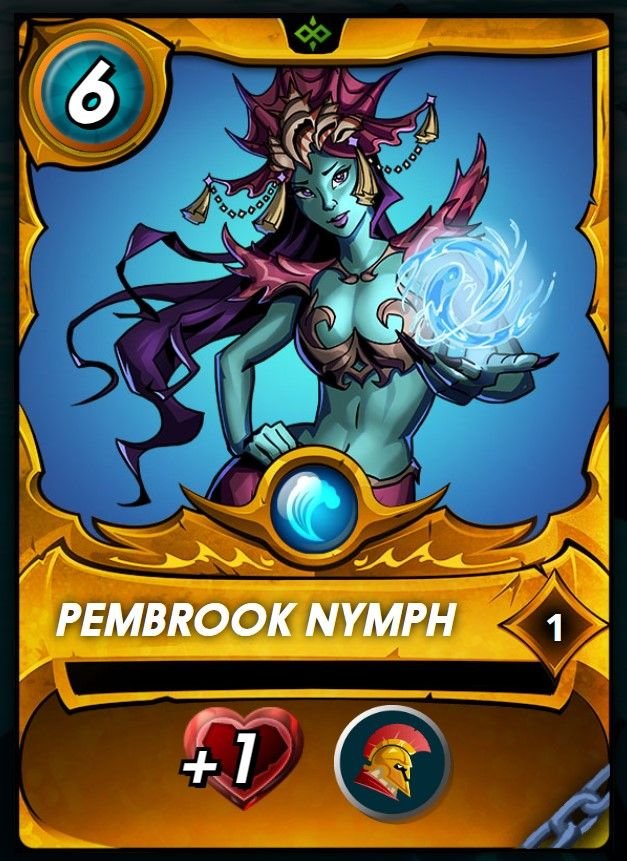 Fortunately for all of us players, this card did not get quite as much of a boost in stats as the fire summoner we talked about previously. That is because of the greatness of many of the water cards and plus one health is appropriate to make this card broken. The plus one health can come in handy in mirror matches with other water decks as your deeplurker may survive an extra turn or your baakjira may be able to heal a greater value due to the plus one health. Now that we have that out of the way, let us get into the cards.
1. Isgold Vorst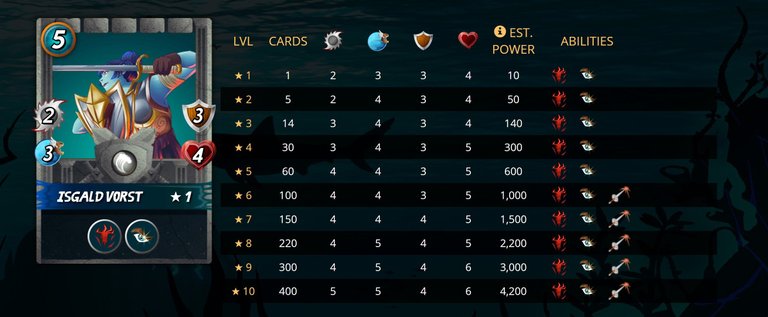 Universally known as the best non legendary gladius card for water, we have the isgold vorst. Usually, I am participating in the alpha beta fray so this card does not see as much play given the synergy with a magic heavy water team however, in ranked play this card pairs really well with the opportunity and sneak meta water has. Most people also probably have this card to level three for the third melee as well which means it has a high chance of bloodlusting after one hit. All around, a worthy card to build into your ranked play water team.
2. Relenor Cleaver

Less powerful monster in the cleaver here but has some significant use cases in certain rulesets. Weak magic ruleset would be the best option for this card as having a secondary tank with 13 hit points is quite good. Adding him into a melee from any position matchup as well along with river hellondale to boost to five melee would be another great option for the cleaver. Definitely a niche situation to play pembrook and this card but could be the difference in getting a win.
3. Flagulon Reine

The legendary gladius cards are pretty incredible and flagulon is no different. Two blast magic is very deadly in my fray when you can pair with alric but could also be a good play with most water summoners in other frays. The shatter is nice as it can deal with deimonshark up front or void armor monsters like legionnaire alvar with ease. No doubt this is a card that will get you thinking about dropping pembrook as you could get a double bloodlust with the blast damage and get this card out of hand real quick.

As mentioned above, water is already a meta splinter and getting the opportunity to play isgold as well as flagulon can make pembrook a great summoner to get in your chests. Please upvote or comment if you enjoyed this breakdown and have any other gladius cards you like to pair with the water splinter.
---
---