How to sell your VOUCHER on hive engine easily
One thing that I realised playing Splinterlands lately is that a lot of people don't fully understand how the blockchain works and how to make transactions, use the hive-engine and the hive keychain.
There are probably a lot of guides around there that explain everything in detail but people are still confused... I'm going to try my best in this post and upcoming ones to explain the most important aspects of the game to make it as simple as possible. I think that all the community can befenit from this.
---
Get your hive keychain wallet
This guide is not about setting up your hive keychain wallet but you won't be able to sell/buy on the market if you haven't installed your hive keychain wallet yet. You can download the hive keychain wallet at:
https://hive-keychain.com/
Here's a guide on how to connect your splinterlands account to your hive keychain if it hasn't been done yet:
https://peakd.com/hive/@keychain/using-hive-keychain-to-play-on-splinterlands
---
Where are my vouchers?


For now, the most simple way to get access to your vouchers is through the SHOP page on the main menu.
Just click on SHOP and it will bring you to the next page. That page is also where you can buy Chaos Legion packs with your vouchers.
---
Sending your vouchers to your wallet (hive keychain)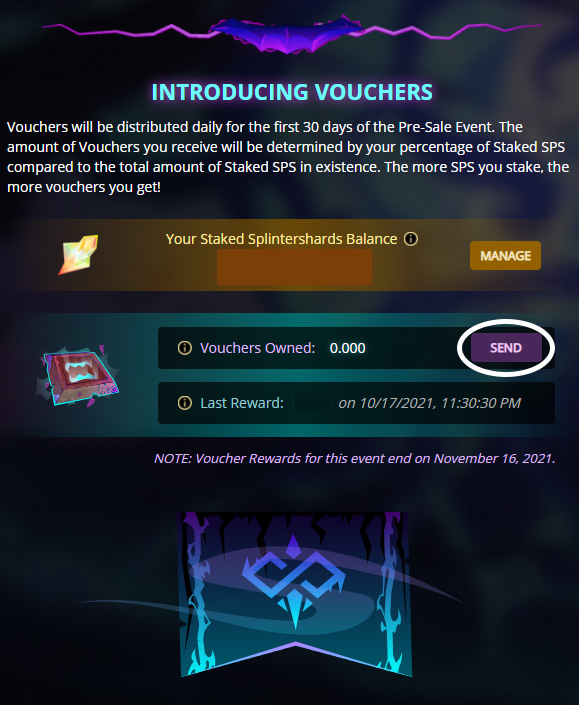 Your vouchers or even your currencies (SPS and DEC) are considered in your game wallet when you are playing on the website. To be able to sell them on the market, you have to send them to your hive keychain wallet which will in turn connect to the exchange (hive-engine) where you will be able to buy or sell your assets.
Click on the SEND button that you can see on the SHOP page if you scrolled down a bit.
---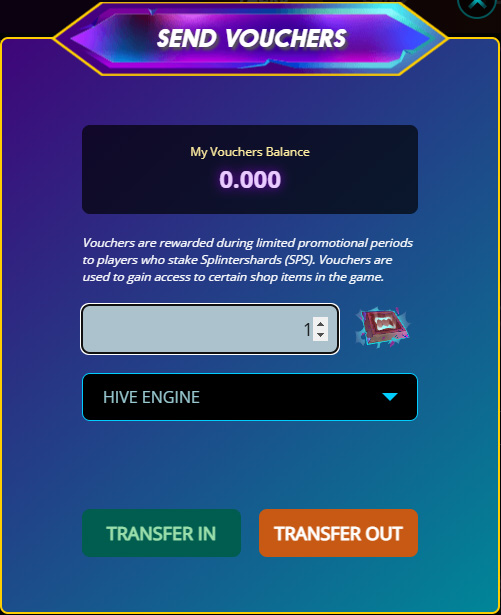 A new window will pop up and that is where you decide how many vouchers that you want to send to your hive keychain wallet. It can be fractions of vouchers too. Fractions of vouchers can be sold on the market so you don't have to wait to sell them. You could even send 0.01 voucher to your hive keychain.
From the scroll down menu, select Hive Engine and you now just have to click on TRANSFER OUT
---
Selling your vouchers
Now that your vouchers are in your hive keychain wallet, you are ready to put them on the market.
Go to https://hive-engine.com/?p=market&t=VOUCHER
It might looks complicated at first, but you will see that it's really not that hard. If you are selling your vouchers, then you should use the Sell VOUCHER side.
First you put how many vouchers you want to sell under quantity. Again, this can be a fraction. If your transfer from Splinterlands to Hive Keychain worked, you should see how many vouchers you have under balance. If they are not there, you might want to refresh the page by pressing F5.
Then you put the price that you want to sell them. That price is set in HIVE not USD.
At time of writing this guide, HIVE is worth 0.78$ USD. So if you sell one voucher at 30 HIVE, you will get 23.40$ USD worth of HIVE. That HIVE can be used after that to buy DEC, SPS or any other assets that are being traded on that exchange.
If you want to sell fast, you can put the highest number on the Buy Orders because it means that someone actually put an order to buy at that price. If you want to sell higher, it might not sell immediately until someone is willing to pay the price you are asking for. For example here, if I put 30.0011 as the price in my Sell VOUCHER, it would sell instantly.

Some people are always asking how many vouchers they will get for the staked SPS that they have.
There is a nice tool that will answer that question here:
Vouchers calculator
If you haven't started playing Splinterlands yet, I encourage you to do so. You could also use my referral link, that would be nice :)
Start playing Splinterlands
If you do play Splinterlands and feel generous, I'll gladly accept your donations. My IGN is: blutengel
If you liked that guide, please click on the like button.
Feel free to comment on how you liked the guide and what you would like to see next.
---
---