Better late than never...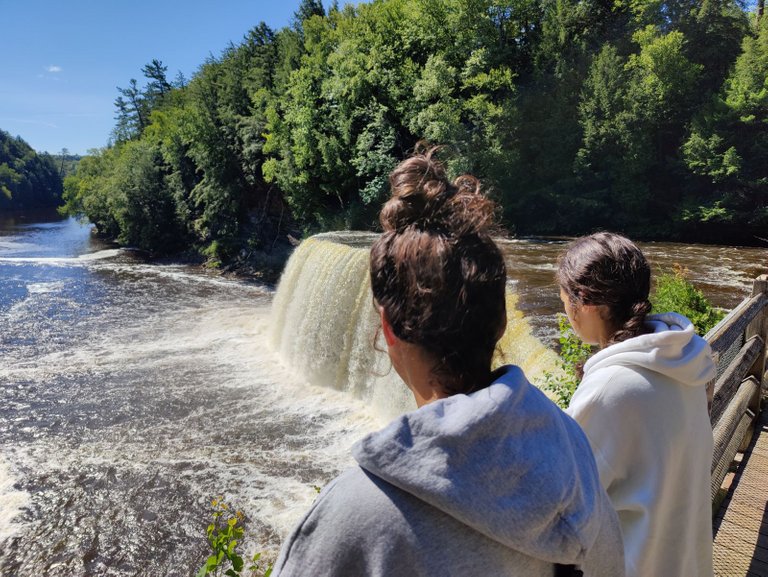 ---
It is probably going to be some shorter posts from me this week. I am just getting caught up from being on another trip to the Upper Peninsula of Michigan with two of my nieces. I'll write more about that tomorrow. Today my post is all about Splinterlands!
Since I was traveling, I totally lost track of when the end of season was taking place. We got home yesterday and when we finally had all of the unpacking done, I settled down and opened up my laptop to do some work in Splinterlands.
I think last season I pulled in about 72 chests in the gold league, so I was kind of happy to see 88 chests waiting for me at the end of this season. I'd still like to break that 100 chest mark, but I think the new rules have put a damper on that for me.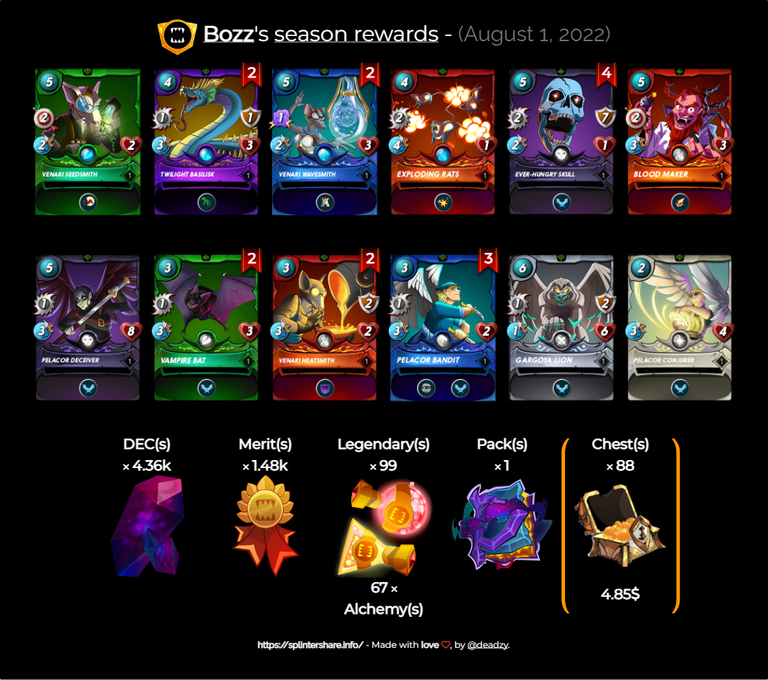 ---
I know a lot of people don't feel the same, but I am pretty happy with the introduction of "merits" to the rewards. I do a lot of brawling with my guild and getting those special cards can make a huge difference in the outcome of your battles.
It would be cool if there was some kind of internal market for merits for those people who don't really care about brawling. I think that would run counter to the intent the developers had for this aspect of the game. Maybe a burn for potions or something. I don't know.
As you can see, I pulled in about $5 worth of rewards for the season. It isn't much right now, but we are in the bear market, so in time that could change. I know a lot of people have been purchasing card packs lately, so getting DEC is never a bad thing.
I didn't get any gold foil cards or cards higher than rare, but I still think it was a pretty good end of season pull. With these new rules for battles, I might need to consider jumping back up to the diamond tier to see how that impacts my rewards.
I've been on the fence for a while now about purchasing a SPS Node. I wasn't sure if it was going to be worth it for me to purchase one knowing that I probably wouldn't be one of the top voted operators.
I finally decided to go ahead and buy one, but then I had another problem... We are in a bear market and funds aren't readily available.
I was pretty sad to see the presale sell out and the price immediately jump up for the next tranche. Thankfully, sales are moving pretty slowly in that tranche and that gave me a little room to breathe without having to worry about the price jumping up again right away.
Thanks to the SPS airdrop ending, I suddenly had some funds available that I had locked up in the liquidity pools. I used some of the DEC to purchase 100 Chaos Legion packs and I moved enough into SPS to finally purchase a node.
Unfortunately, at the time, SPS was only worth $.05 so I was encouraged to wait for the price to go up a bit to get more bang for my buck.
In case you didn't notice, some crazy things happened with Hive this past weekend. Like I said, I was pretty much off the grid, but I was watching the price intently. Thankfully, the price jumped back up to $.07 when I was home yesterday and I decided to pull the trigger on purchasing a node.
This will probably sound funny, but I am really relieved to have that checked off my bucket list. I think Splinterlands is great game with a lot of success behind it and a lot of potential in the future. I don't mind investing that kind of money into something with such a great track record.
As a bonus, I was sitting on 500+ vouchers, so I was able to reduce my purchase price using those as well.
I don't even know yet if I am going to have the hardware necessary to run the node when that becomes available, but if I do, keep you eye out and throw the Bozz node a vote!
---
---

---
All pictures/screenshots taken by myself or @mrsbozz unless otherwise sourced
---
---