Friday Finance 7/1/2022: The end of an era

---
It is time again for another Finance Friday/Friday Finance. This is a series I started where I talk about random bits of financial stuff that I have seen, gathered, or experienced during the week. I hope as a reader you find it informational, entertaining, or both. I also hope it can generate some good discussion and edify the Leo community.
One of these days I am actually going to be around on a Friday and not have to schedule my post ahead of time. One day...
I am off camping again (hard to believe right?) and as such I am actually writing this post on Thursday.
I am going to spare all of you and keep it relatively short this time. We all know that the markets are still down and while development has been taking place on many levels, the news in general just hasn't been that exciting.
Oh wait, HIVE jumped up to $.70 or something like that this past week. Did you miss it?
Splinterlands End of Season
Probably the most exciting thing that happened to me this past week was the fact that it was the end of another Splinterlands season. This could potentially be the last season ever that I get Diamond chests, hence the title of this post.
Based on my deck I made the decision to stay in the Gold tier for the foreseeable future. I think it might give me a better chance of getting more chests and I am hoping at some point that quantity will trump quality. We will see if I am right.
For the sake of comparison and as a historical reference, here are last seasons rewards: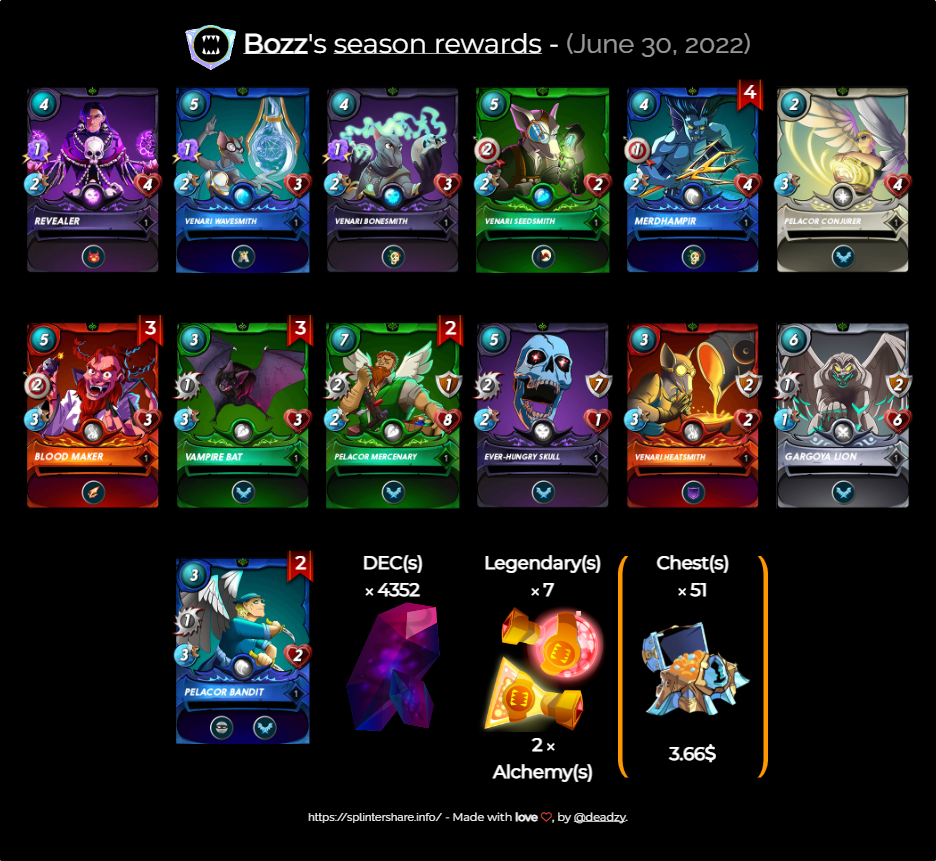 ---
Hmmm, that could be a tough cookie to crack...Only one epic card, but the 4000+ DEC is nothing to be sad about. Okay, I would be happier if the price of DEC were up where it was about a year ago, but I am still not mad about any of these rewards. It might have been cool to see a couple of CL packs in there though.
I guess time will tell if things are going to be more lucrative next season.
Silly FED
In what I find an interesting turn of events, the FED is saying that Americans are saving too much money. They are claiming they are going to need to raise rates to slow the economy down because we are sitting on a combined $815 billion or so in savings.
I'll be honest, I don't know much about any of this. There are many people on LEO smarter than me who do. At this point, it just feels like they are looking for an excuse. My opinion. Just do it. Own up to it and make the moves you are going to make. Don't try to patronize us or justify yourself to us.
I guess on some level it might make sense, but let's take the "spin" out of it and just call a spade a spade.
You know what I mean?
Alright, that's all I've got for this week. I hope you all have an awesome weekend and I hope you got some really sweet rewards from Splinterlands this past season if you play.
Peace!
---
---

---
All pictures/screenshots taken by myself or @mrsbozz unless otherwise sourced
Posted Using LeoFinance Beta
---
---