Splinterlands Strategy Session: The Double Tap Opportunity Attack

The Double Tap


Strategy Description: Attacking where your opponent is weakest can lead to some devastating victories. When you double or triple up on this bullying tactic the outcome is amplified. When you boost the speed of these already fast (typically) attackers your chances of victory are even more likely. The Double Tap attack with Opportunity monsters is one of my favorite offensive hands to play in Splinterlands. Here you can see several examples of how and when I like to play it




Battle #1
Starring Lira the Dark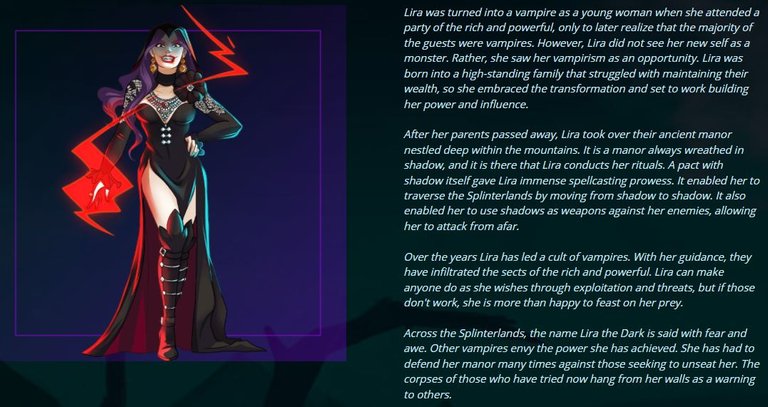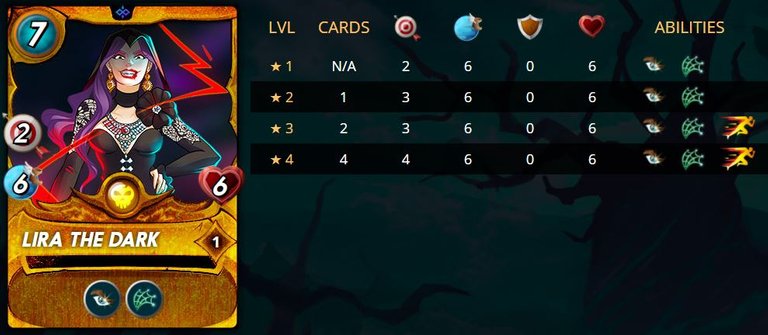 Game Rules & Mana Cap: Armored Up (+2 armor for all monsters) with a hefty 44 mana cap gives me plenty of room to flex some of my heavy hitting cards.
Card Selection & Placement: Quix the Devious wasn't the best choice of summoners as my opponent
@lchoeng
goes with a magic heavy attack but his +1 Speed boost is well suited to this attack style. My choice of tank defender more than compensates for this mistake with a hefty amount of Void Armor. Almo provides a second line of defense to keep my attackers safe from blast and snipe attacks and the deadly combo of Dragon Jumper and Lira the Dark make up my primary attack while also providing Stun and Speed to my team. Spirit Miner with his +1 Speed and Blind push my speed advantage even further in the right direction and the Blight Doctor brings up the rear with his Poison, Affliction, & Scavenger abilities.
What this team lacks in total damage output it makes up for in precision and first strike advantage as Lira knocks out the opponents armor allowing Dragon Jumper to hit kill shots in the first three rounds, getting past the strong defensive front and quickly decimating my opponent's team.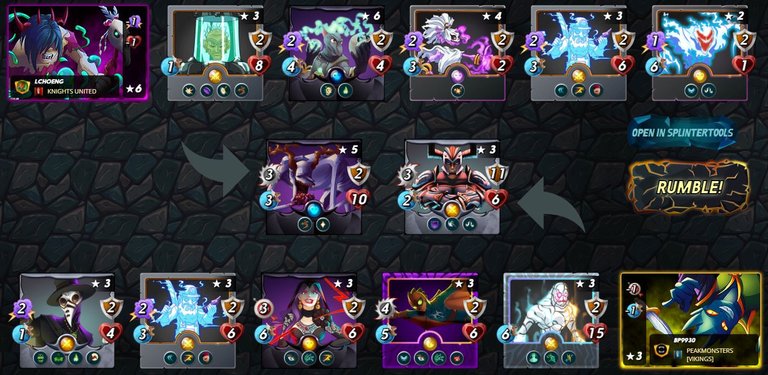 Battle Replay

Battle #2
Starring the Dragon Jumper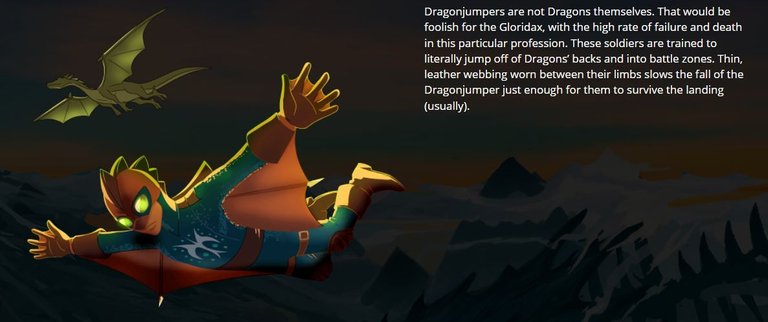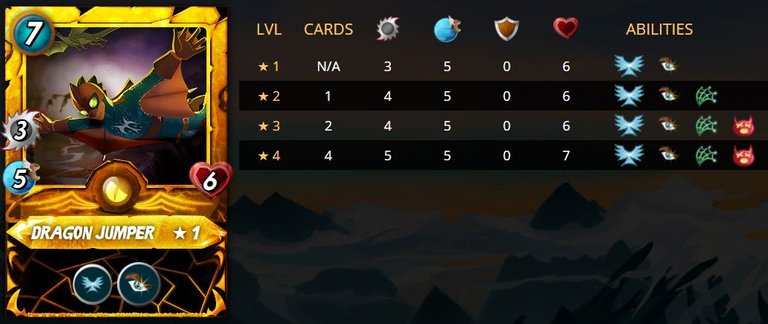 Game Rules & Mana Cap: Explosive Weaponry (all monsters get the blast ability) and Up Close and Personal (Only monsters with melee attacks are available) and a 28 mana cap is an ideal setting to put this particular strategy in play.
Card Selection & Placement: Although my opponent
@angrychipmunk1
has a significant advantage in our selection of Summoners, Camilla Sungazer was a good and rather obvious choice here for me as the rule set meant her -1 melee debuff would effect my opponents entire team. This ended up being a game winning move as it kept my team alive just long enough to finish off some big HP cards before the punishing retaliate and thorns defense of my opponent defeated my rather fragile line up.
Desert Dragon with his Trample & Retaliate held the front line of my defense just long enough and the Orc Sargent in the second position super charged my Triple Tap (for when 2 strikes just isn't enough) and survived the blast damage long enough to see my team victorious. My terrific trio of attackers consists of Screeching Vultures, the Venari Scout, and Dragon Jumper and the green fiend brings up the rear to block any potential sneak attackers.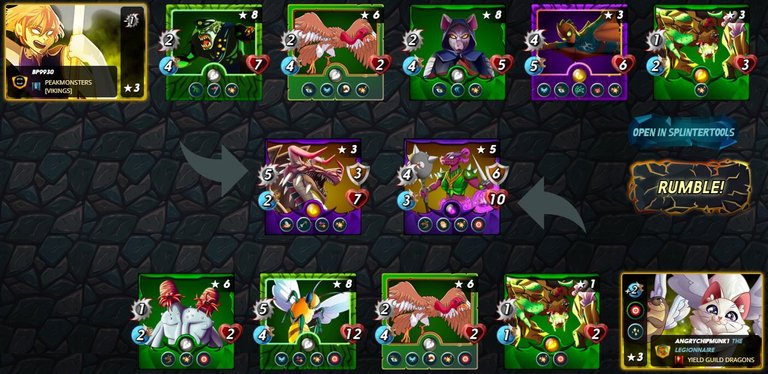 Battle Replay

Battle #3
Starring the Deeplurker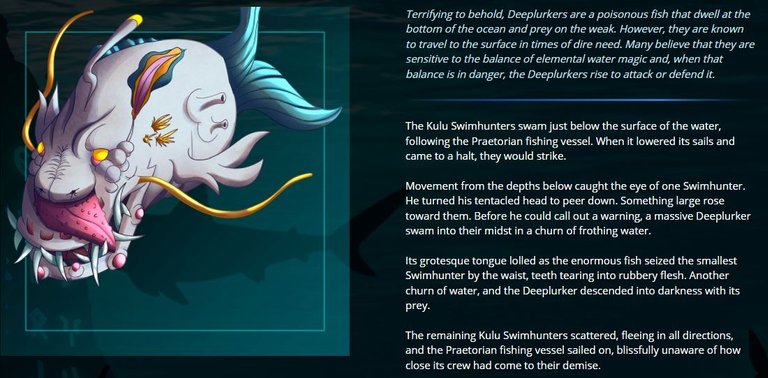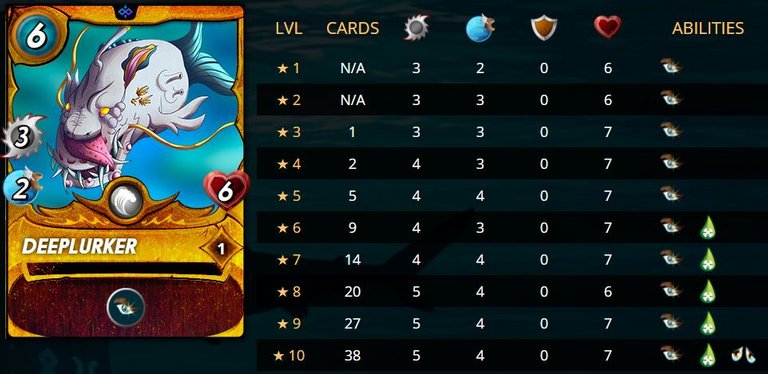 Game Rules & Mana Cap: Close Range (ranged attackers can attack in 1st position) and Lost Legendaries (no legendary monsters are available) with a 36 mana cap isn't the most obvious choice for using this melee heavy strategy, but sometimes that's the best time to use it. Send your attacks where the opponent isn't expecting it is usually a good idea.
Card Selection & Placement: In this matchup of Chaos Legion Summoners Quix vs. Kelya my water team comes out victorious.
@metafurico
weakens my attackers but that's not enough to stop my heavy hitting front line of DiemonShark and Flying Squid who have the defense to last several rounds and offense to wear down the enemy tank. DeepLurker and Feasting Seaweed team up to bring down the Phantom Soldier just in time to secure the victory in this close game. Though not helpful in this particular match, my rear guard Enchanted Defender is one of the best ways to defend against Opportunity and sneak attacks.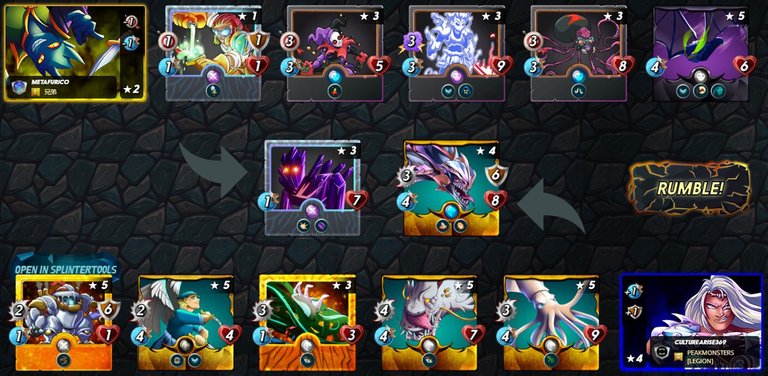 Battle Replay

Closing Thoughts, Useful Tips / Tricks for Success


The Opportunity attackers are some of my favorite cards in Splinterlands and they can be absolutely devastating and very difficult to defend. With a wide range of cards having this ability it can be a very versatile strategy and put to use in nearly all mana cap scenario's and in most rule sets as well. With options both high and low in speed it's equally useful in regular or reverse speed matches. Anything you can do to increase your speed advantage will go a long ways to getting the victory and it's critical to keep your attackers shielded from enemy attacks as they are usually not the most stout defenders in the arena.




Are you new to the game or feeling stuck below the league you want to be playing in? Reply to this post with your general game questions or a link to a battle of yours that you would like some friendly advice on how to improve and I'll review your card selection and lineup and offer my thoughts on how you could improve your game.
Images & Lore from splinterlands.com and splintercards.com
---
---