14 ways to earn money with Splinterlands in 2022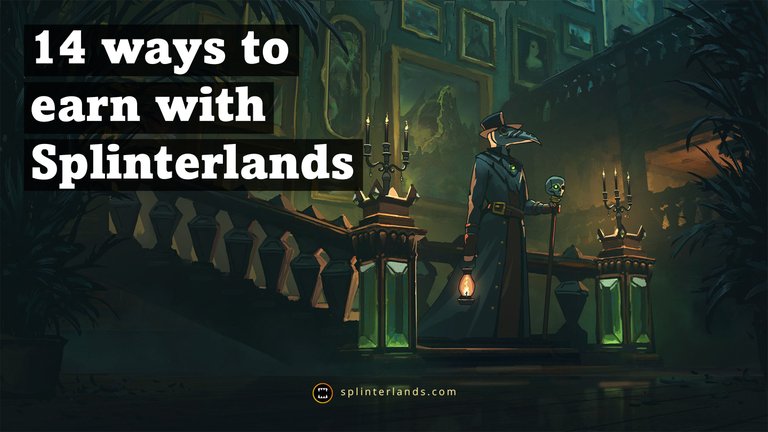 Splinterlands the card game is a very fun and engaging game on its own. But in addition to the game, there's the economic game, and that's a deep and engaging experience with many different ways to play -- and many ways to earn. Have a look at 10 ways you can be earning through Splinterlands in 2022. If you're not yet playing, it's not too late to get started! Start playing Splinterlands today and get in on the fun and the earning potential.
Without further ado, here are 10 ways to earn money with Splinterlands today:
1. Battle in the arena
The core of Splinterlands gameplay is the arena, where players battle it out in fast-paced duels. The rewards are in DEC, the Splinterlands internal marketplace currency, and depending on the league you're in, you can earn a little or earn a lot.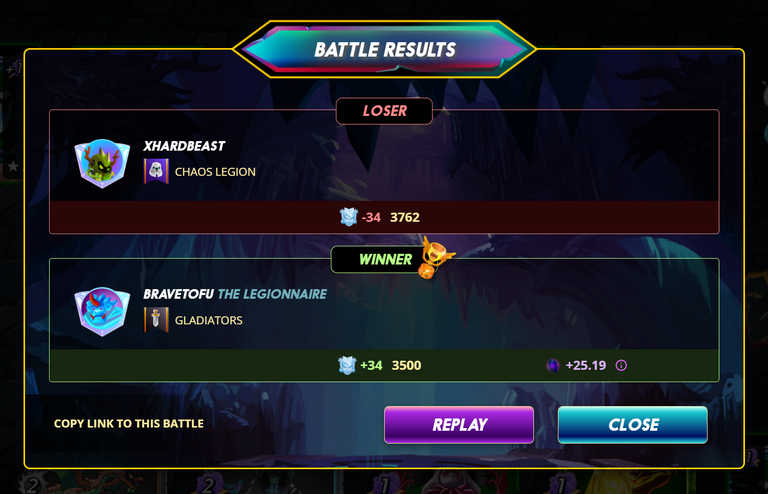 To maximize your rewards, you'll want to increase your Combat Power (which comes from owning or renting cards) and progress to higher leagues. You can also increase your earnings by being on a win streak, using Gold Foil cards, Alpha/Promo cards, Beta cards, and even by simply being part of a Guild.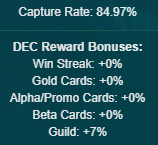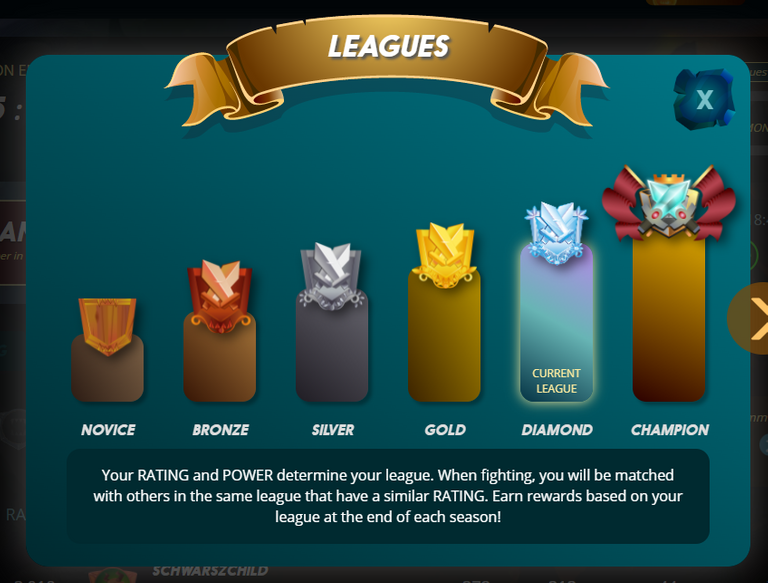 ---
2. Top the arena leaderboard
For the more competitive folks there's the leaderboard. Each season is just around 2 weeks, and the top 20-50 players (depending on the league) receive an addition DEC bonus for their performance. It's a great incentive for those who are planning on building strong decks to compete with.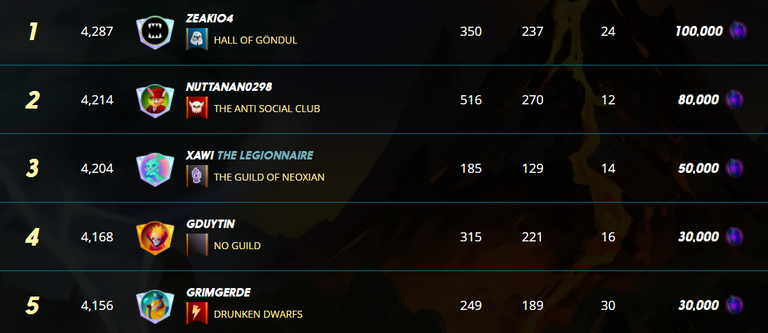 ---
3. Get daily chests from completing quests
Every day, you're given a quest to complete which ranges from winning 5 times with a particular splinter to winning 3 times without using neutral cards. Completing your daily quest lets you open chests that can contain anything from potions (which increase the likelihood of Legendary or Gold Foil cards when opening packs) to DEC to cards and now even Chaos Legion packs.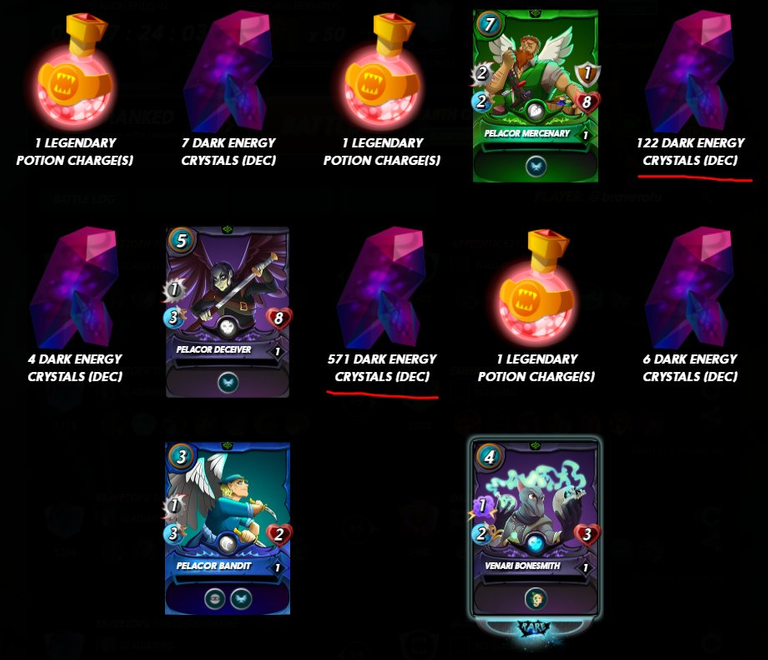 ---
4. Claim your season rewards
Similar to the daily quests, you earn chests at the end of a season based on what league you end up. It's crucially important to remember that you need to qualify for that league when the season counter ends in order to get those rewards, so if you're renting your combat power make sure that lasts until after the season it over. In my last season rewards I earned 3 Chaos Legion packs!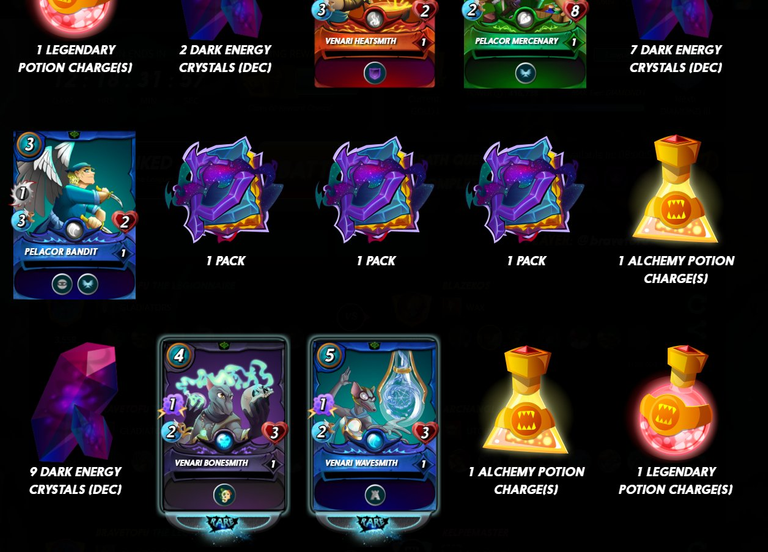 ---
5. Earn rewards from Tournaments
Splinterlands Tournaments were recently revamped, and are a great way to earn additional SPS, DEC, other tokens, and even cards. The rewards vary based on the tournament and so does the competitiveness. The greater the rewards, the harder it is to win of course!
Tournaments may have eligibility criteria such as staked SPS and combat power, so it's important to keep an eye on those. The more premium tournaments can have very juicy rewards, yet again incentivizing competitive play and strong deck-building.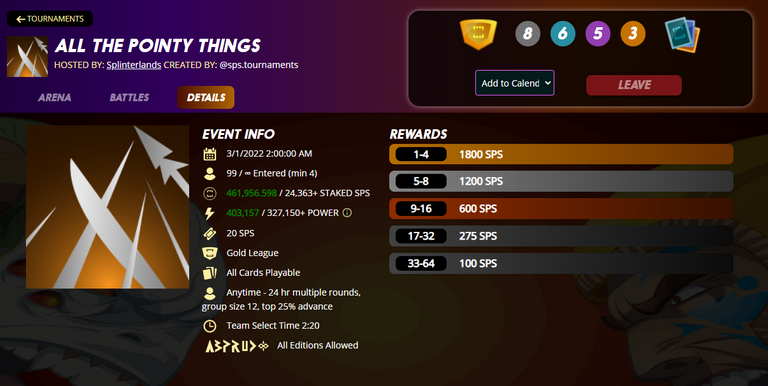 ---
6. Rent out your cards
Renting the cards you own is an incredible way to make passive income. Back in the days of Magic The Gathering, you would NEVER have dared rent out one of your most precious cards for fear of it getting damaged, lost or stolen. In Splinterlands that's just not a concern - you can rent cards out risk-free and players will pay you for their utility and combat power. My favorite website to manage rentals is Peakmonsters

One of my favorite features to find great cards to buy to generate rental income is the estimated yearly ROA, which you can find in the "Rent" tab. Note that the ROAs below are for the last day of the season, so typically you can expect something closer to 20-50% depending on card type, foil, rarity, and other factors.

---
7. Flip cards on the market
Just like with any other asset that has real world value, cards can be bought and sold at a profit (or at a loss of course!). It's important to remember that card values are correlated with the overall crypto market and of course with the value of SPS, however there are other forces driving their values as well. Utility and scarcity have a huge impact on the value of cards, and if you pay attention to what's going on (e.g. by following content creators who talk about strategies and undervalued cards) you can find gems that will appreciate in value. Splintercards is a fantastic site to see the price trends of cards.

You can also see price trends at a glance on Peakmonsters. Go to the "Buy" tab, then click on the "LIST" view mode and tap DAY, WEEK, or MONTH to see the trends right there.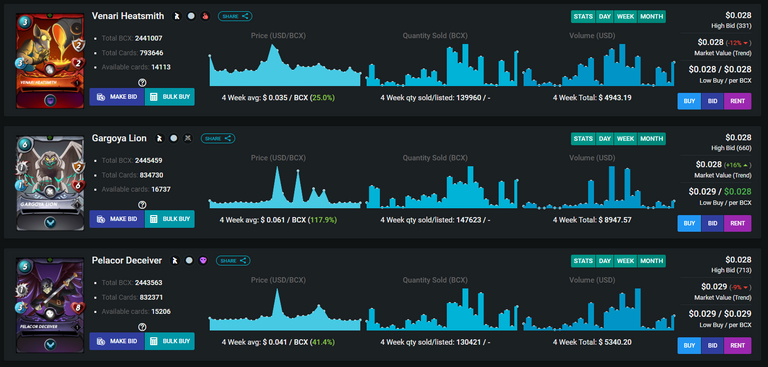 ---
8. Get Merits for fighting in brawls
Brawls are battles you fight alongside your clan mates, against other Splinterlands clans. Brawls allow you to earn Merits, which you can use to buy Gladiator packs. Gladiators aren't tradable like other cards, however they do give you Combat power which helps you go to higher leagues in the Arena and also provide SPS airdrop points (see #11).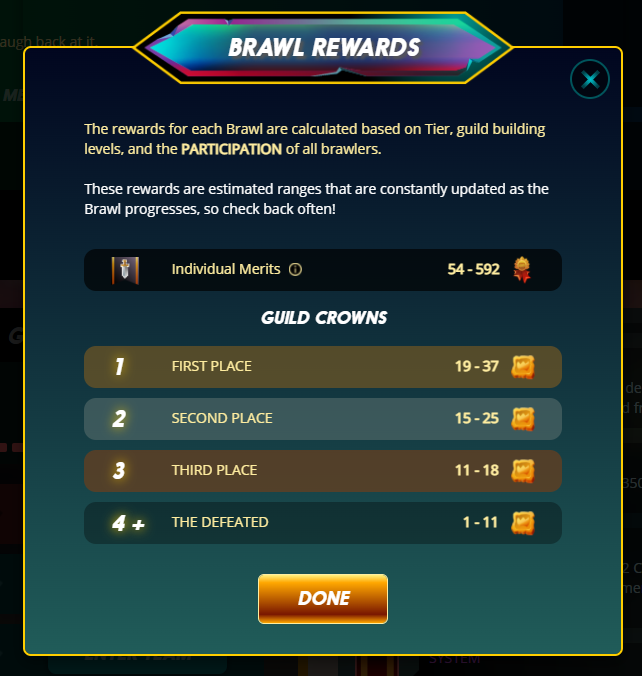 ---
9. Earn referral bonuses through the Affiliate program
Have friends you think would want to play Splinterlands? Invite them with your referral code! It's as simple as sending them a link, and you earn 5% of their lifetime purchases of card packs, spellbooks, and potions made with credits.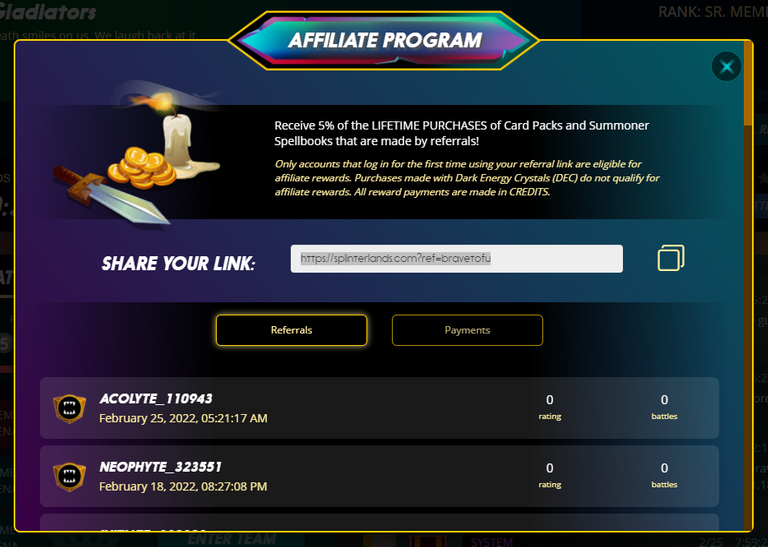 ---
10. Earn a yield on staked SPS (including vouchers)
If you buy SPS and bring it into the game, you can earn additional SPS simply by staking it. The earnings accrue every minute, and you can re-stake your earnings to earn compounding rewards. The APR today is around 30%, which makes this very attractive, especially when you consider the potential price appreciation of SPS.
Note that if you want to unstake your SPS (e.g. to sell it eventually) you need to wait 28 days for it to fully un-stake (25% every 7 days). Keep that in mind and plan ahead.

---
11. Earn SPS via airdrop points
Similar to SPS staking, you earn SPS from "airdrop points", which come from many different things. Based on your airdrop points and the amount of total airdrop points in the system, you'll earn a daily SPS drop. 1.1M SPS are distributed this way each day, so to calculate your earnings based on your airdrop points you would do [(my airdrop points * 1.1M) / total airdrop points].
Several ways to get airdrop points include:
Combat power (1 CP = 1 point)
DEC (1 DEC = 1 point)
Chaos Legion packs (1 pack = 300 points)
Splintertalk tokens (see #12) (1 SPT = 0.25 airdrop points)
There are many more ways of getting airdrop points including from DEC LPs, land plots, skins, and titles.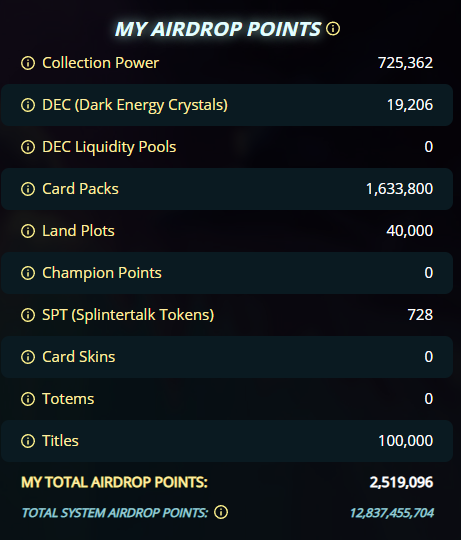 ---
12. Write content on HIVE
Like to write? Blog on HIVE! Like to write about Splinterlands? Write on HIVE and Splintertalk! The post you're reading right now can earn me HIVE if people find it useful. It's important to write useful content to get readers' attention, but once you start doing it you'll find it's fun, rewarding, and engaging.
I write content about Splinterlands (of course!). Mostly about the economy, such as this recent one I wrote about the latest promo card Waka Spiritblade's price, which earned 26 HIVE.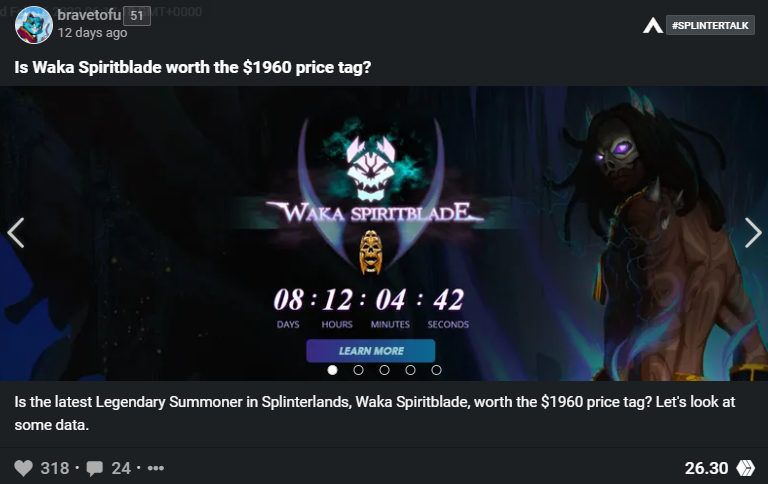 I've also started writing poems, and while they earn less I certainly have fun writing them!
---
13. Provide liquidity to DEC or SPS liquidity pools
In a nutshell, liquidity pools (LPs) enable users to trade a token by providing liquidity into the market. Without liquidity pools it would be very difficult to buy or sell SPS. Therefore, users are rewarded for providing liquidity into these pools. It's important to know that there are some risks (such as impermanent loss, which occurs for example when the price of your assets move in different directions) with providing liquidity into LPs, therefore please do your research before getting too attracted to their high APRs! Here's a nice article outlining the value and risks of LPs.
---
14. Buying Chaos Legion packs
How can buying packs be a way to earn money you ask? For 3 key reasons:
CL packs are worth 300 SPS airdrop points (see #11 above)
The content of the CL pack can be worth more than the pack (see #7)
You can rent the cards you get from the pack (see #6)
The pack value can increase over time (Untamed packs were sold for a few dollars and are now worth $42 on the secondary market)
CL packs bought directly from the Splinterlands give you the possibility of receiving airdrops at every 1M CL packs sold (at the time of this writing there are 7 airdrops remaining)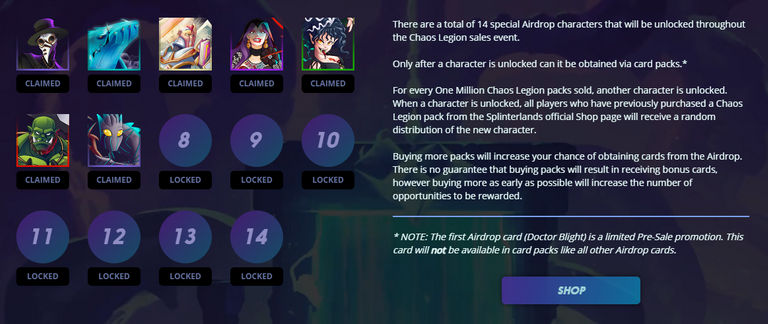 ---
Future ways to earn...
In addition to the 10 ways above, there are plenty of other ways you'll be able to earn while playing Splinterlands in the future. While the details aren't out yet, these include:
Land expansion: Land will provide new depth to both the game and the economy of Splinterlands, providing the ability to create new things like spells to use before battles).
SPS Validator Nodes: These have been a big focus of the development team and should be coming in the next few months, and will anyone to independently track and verify all SPS transactions that take place on the Hive blockchain and earn oracle rewards.
Staking on players: This will allow players to choose players to stake their SPS on to earn based on their performance.
---
If it's not obvious yet, I LOVE Splinterlands. It's fun, and it's rewarding. I personally employ 13 out of the 14 strategies above (the only one I've not gotten into is LPs) and am looking forward to the new ways the economic game will develop in the future.
It's not too late to join the action, and have fun while earning. Join Splinterlands today!
---
---