Rental Management in Splinterlands "Anytime" Tournaments and Brawls
The Splinterlands feature request list is...very long. So I wanted to help bring some attention to
@splinterlands on a request I just made, and explain it here in a post as well to see your reactions. Here's the post on the Splinterlands feature request site: https://feedback.splinterlands.com/919.
Calling a few folks to please comment if you have the time: @captaindingus @casimirio @bteim @synck @zasktrader @iviaxpow3r @almightymelon @infidel1258 @bulldog1205
---
FEATURE REQUEST: IMPROVE THE RENTAL MANAGEMENT EXPERIENCE FOR TOURNAMENTS AND BRAWLS
It is very difficult to manage rentals for tournaments and brawls. You need to make sure that the cards you are renting are still yours when your opponent submits their team, otherwise you get a "you fled" loss. This leads to a generally poor player experience as it's largely misunderstood by the player base, and it requires some planning that in my opinion doesn't positively add to the game.
Series of losses I incurred as a result of mismanaging my rentals during a tournament...: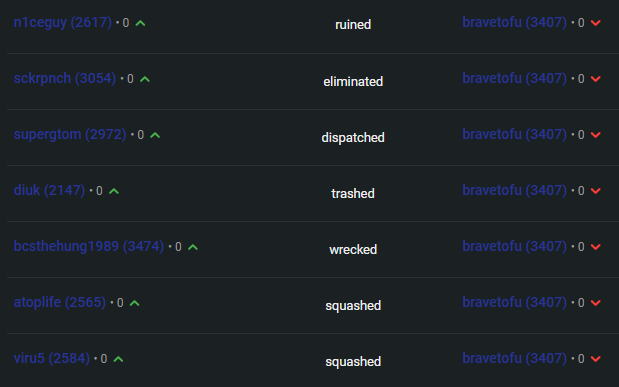 This has the following side effects:
(1) Players delay their rentals until after the tournament has started or there is <24h left in a brawl
(2) Players in multi-round tournaments have to rent for 2 days to be "safe", versus renting during the 2nd half of day 1 and using it then as well as in the beginning of day 2
(3) Players submit their battles at the end of the tournament / brawl due to point #1 above and also possibly in hopes to get a "you fled" victory due to the opponent mismanaging their rentals
This doesn't seem like a dynamic or strategy we want to encourage in the game.
I understand the reason this happens is partially because of the blockchain nature of the game. If the card isn't in your ownership when the battle actually gets played, that means someone else may be using it (perhaps even in the same tournament, at the same time). The card may even be combined/burned by the time the battle is submitted, and therefore no longer exist at that point.
However, I do believe there could be a solution to this problem by taking a snapshot of the cards being used at the time a battle is submitted, and using that data to play out the battle when the opponent submits their battle, rather than pulling the cards from the blockchain for those battles.
This would result in a better player experience in my opinion, and more enjoyable tournaments and brawls.
---
---