Splinterlands growth & engagement metrics overview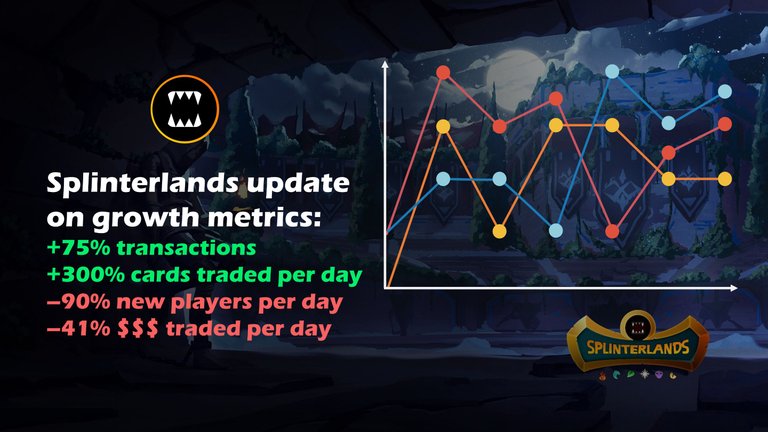 Looking at the Peakmonsters overview dashboard I zoomed out to the 6 months timeframe and thought it would be a good time to do a small deep dive on engagement metrics to see how Splinterlands is looking. Let's dive in.
---
TRANSACTIONS: 3.5M/day (+75% vs. 6 months ago)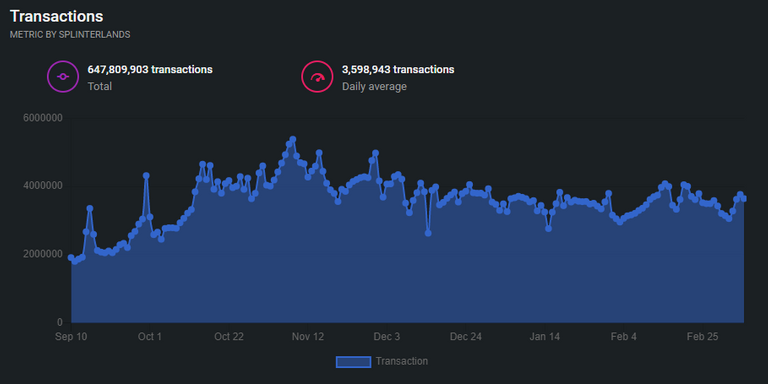 The first chart looks at transactions on Splinterlands. We can see that we're currently averaging around 3.5M transactions / day, while 6 months ago we were averaging 2M. This is a +75% increase in daily transactions on Splinterlands, which is great to see. In total there have been nearly 650M (!!) transactions done in Splinterlands.
Trivia: there are about 100M credit card transactions per day in the US (1B worldwide).
---
BATTLES: 11.5M/day (+85.5% vs. 6 months ago)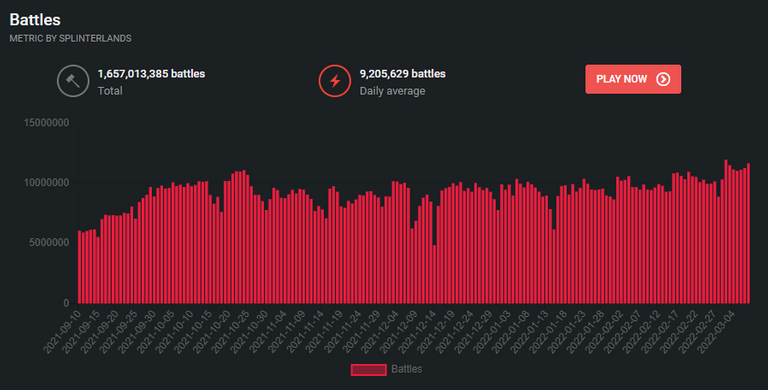 Battle volume has increased by an even larger amount, going from an average of about 6.2M 6 months ago to roughly 11.5M. That's an 85.5% increase.
Trivia: Over 400M rounds of online poker are played daily (assuming an average of 250k players online per hour, 7 players per round, and 500 rounds played per hour)
---
ACTIVE ACCOUNTS: 390k / day (+56% vs. 6 months ago)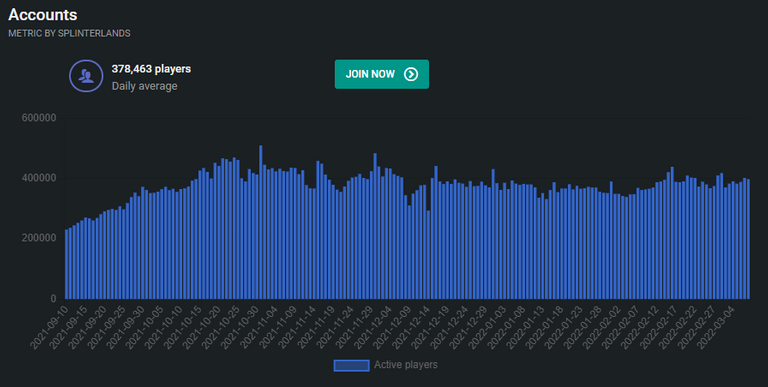 There are about 390k unique accounts active each day right now, versus 250k 6 months ago. Not all these accounts are unique individuals of course. This is a very respectable increase nonetheless.
It's worth taking into account BATTLES / ACTIVE ACCOUNT. Taking the data above, we can see that there are currently about 29.5 battles / active account (daily) vs. 24.8 6 months ago. That's a 19% increase in Battles / Active Account, which is a great engagement metric.
Trivia: Like it or not, Facebook currently has 1.9B (billion!) daily active accounts.
---
NEW PLAYER ACCOUNTS & SPELLBOOKS: 1k / day (Accounts), 100 / day (Spellbooks) (both down >90% vs 6 months ago)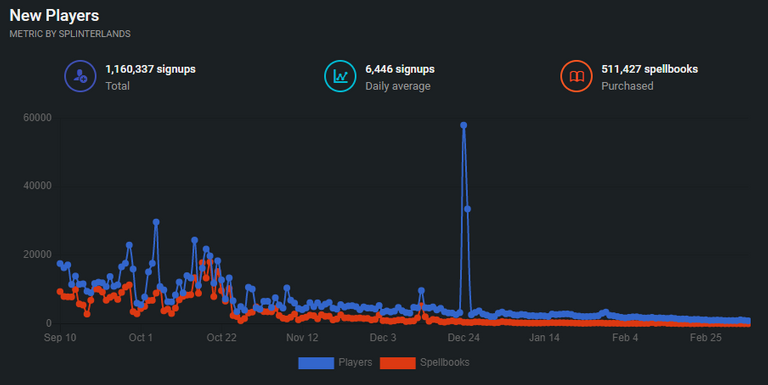 This is the most worrying of the growth metrics. It IS mitigated somewhat by seeing the increased active user count and increased engagement per active user, however it does seem we need to find new sources of new user generation for Splinterlands to continue growing. Daily new accounts are down about 90% in the last 6 months (10k to 1k) and daily new Spellbooks down 98% in the last 6 months (6k to 100).
---
MARKET TRANSACTIONS: $100k / day (-41% vs. 6 months ago), 120k cards / day (+300% vs. 6 months ago)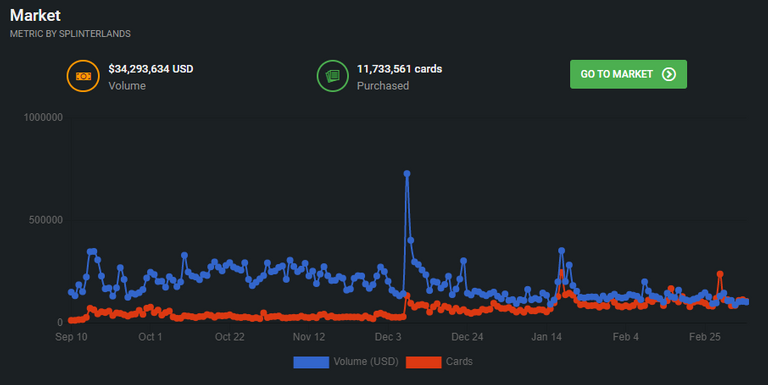 In terms of market transactions, we can see a fantastic increase in cards transacted per day, probably largely due to the introduction of Chaos Legion (+300% vs. 6 months ago), however of course due to the price per transacted card dropping it has caused daily volume in $$$ to drop 41% in the last 6 months.
Trivia: The total daily transaction volume across crypto yesterday was over $60B (data from Messari.io)
---
$SPS Price: $0.118 (-56% vs. 6 months ago)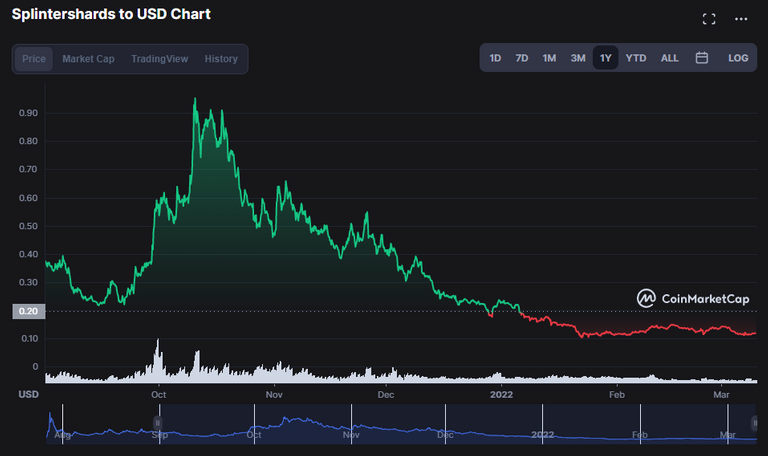 Anyone who invested in $SPS since the token was initially released is feeling some pain as the token's price rose and then dropped precipitously. The ride has been especially bumpy since crypto overall rose tremendously around September/October last year before going into bear mode for the most part of the last few months. If you believe in engagement metrics as I do, you'll see past the price action of the last 6 months when considering an investment into $SPS.
---
I'm as bullish as ever on Splinterlands. Not only do I love playing the game and love the community, but I firmly believe the assets I'm investing in and the energy I'm putting in will pay dividends in the future.
---
---