Splinterlands April 6 Town Hall Highlights & Analysis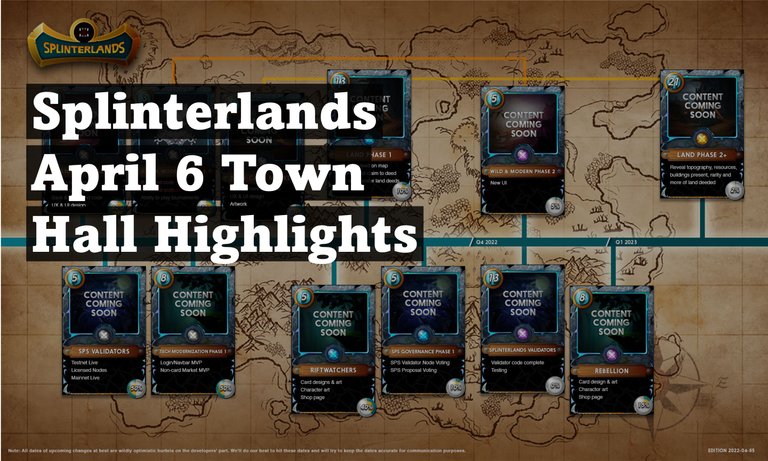 The latest Splinterlands Town Hall was terrific as usual. Here are my highlights:
1. Updated 2022 roadmap
The biggest news of the day was at the start of the Town Hall, with Hardpoint sharing a visual of the 2022 roadmap.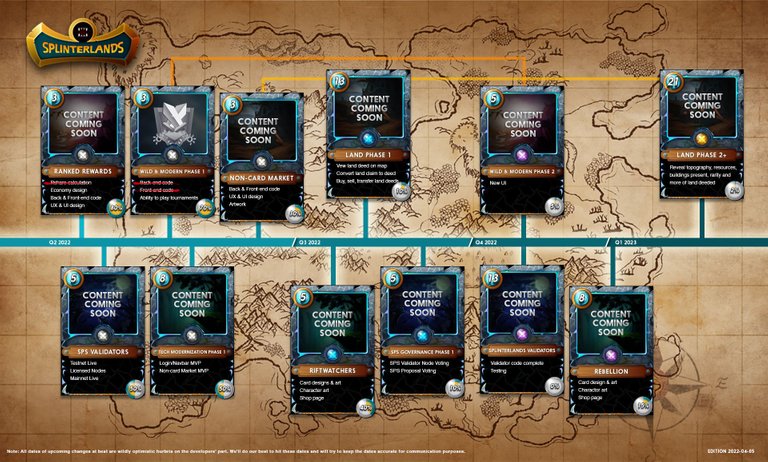 The items there are subject to change, but you can see a fairly detailed level of progress on the roadmap:
Position on the timeline indicates estimated release date
Mana cost represents the "difficulty" or effort required
% (bottom right) represents the completion
Details represents the primary tasks for that milestone, and crossed-out ones are completed
Links (orange and yellow lines) show dependencies between certain items
At first glance it does seem like a delay on Land. Personally I attribute this to Land being a fundamental shift in the game. It will introduce a vast new type of gameplay AND (I believe) a fully gamified DeFi experience (perhaps reminiscent of DeFi Kingdoms) which is no small feat, and not something they would want to rush out. It's possible that along the product planning and development of land they've become more and more ambitious about what Land can truly be.
The team's goal will be to update it monthly, and it can be found here: https://docs.splinterlands.com/platform/roadmap
2. Modern/Wild update
Modern and Wild formats are the big update coming soon, which will likely be next month (May). Cryptomancer, who's leading the development effort, shared multiple screenshots shown below.
Mancer reiterated how the reward pools will work:
Two separate reward pools (1 for Modern and 1 for Wild)
Pools completely independent from one another
Quests can be completed in either Modern or Wild
The CP requirement for Modern will be lower than Wild; Wild will be the same as today (what we're in today is essentially Wild)
Though the pool will double, players will only be playing in one pool or the other, so in order for total rewards to actually double that would mean double the engagement (or double the players)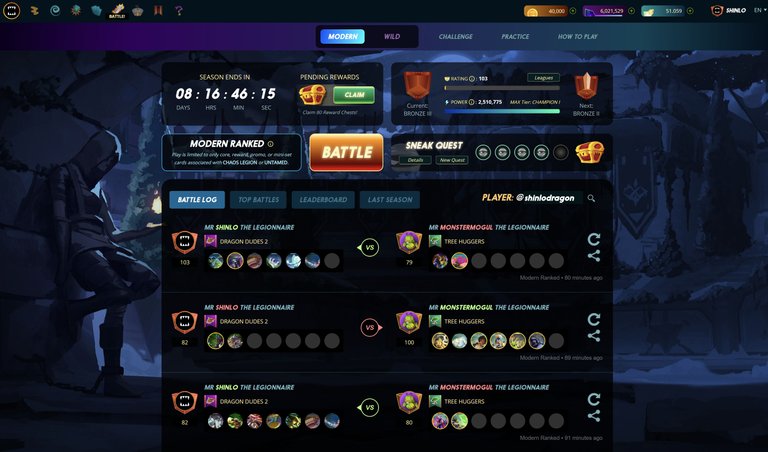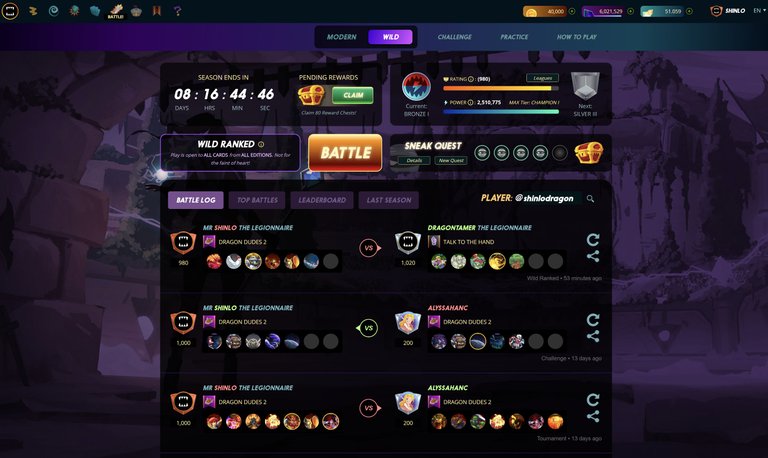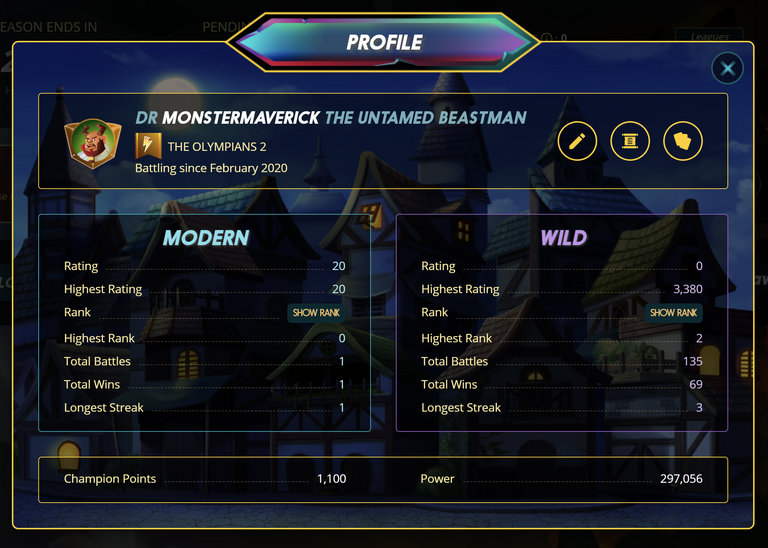 3. Art & Merch updates
Nate wasn't available for this one, so one of his Lead designers (Mateusz) showed up to share some eye candy. He shared an update on the art process and what looks like a Legendary Vampiric Monk. If this Monk ends up being a summoner, maybe he'll give Lifesteal to the whole team...?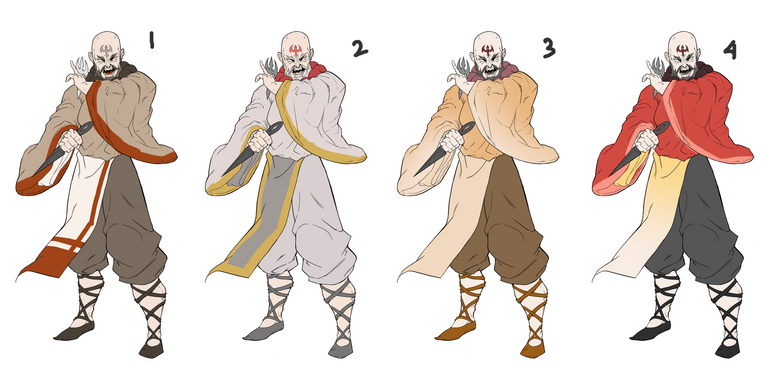 Aggroed is very interested in getting more merch - everything from miniatures to a card game to swag and, of course, plushies.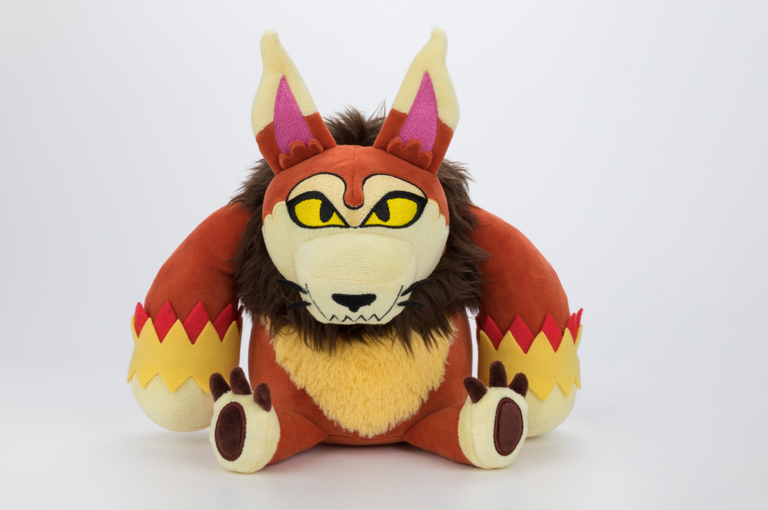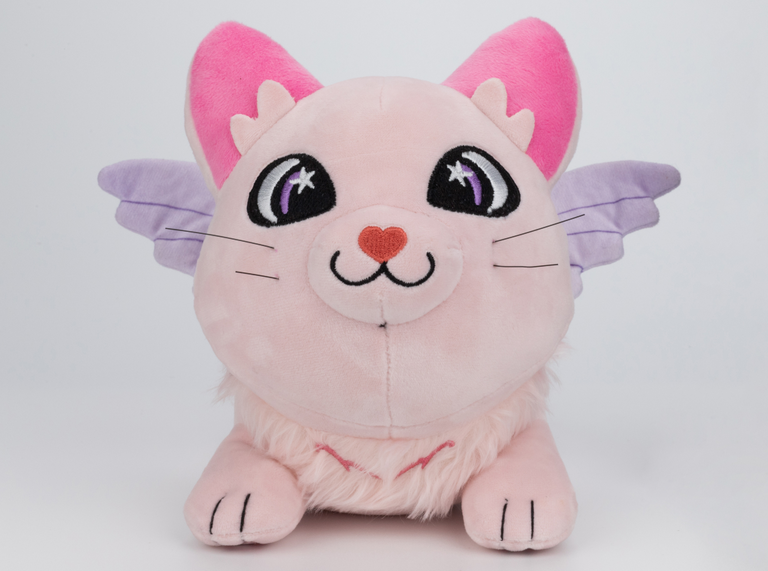 4. New promo card under development
Not much information on this one, but they did give an update saying that contracting is underway for another promo card so perhaps we can expect that rather soon. In a previous Town Hall, they mentioned it would probably be an athlete. Personally, I'm hoping for this guy:
5. SPS & SPS Validator
There was a question about SPS distribution updates and burn mechanics. Matt, who's the expert on that, wasn't there, but Aggroed shared his thoughts reiterating a few things: firstly that when you look at the MC of SPS and compare that to other games with unfinished products the difference is quite staggering, and that the concerns around further distributions are possibly a bit overblown (private distributions are happening within the next month). Further, he emphasized that the other source of inflation (the airdrop) will be ending soon (in about 110 days).
"You can go compare that to other games that don't have nearly as mature a product as we have and those market caps can be in the billions." - Aggroed
Another question asked about SPS burn mechanics, and Aggroed talked about SPS Validator nodes, specifically saying that pre-sales are "probably starting at the end of this month or early next". "I don't think we'll release the validator stuff today", said Aggroed, suggesting perhaps details on those are coming very, very soon. He said they'll try to get Matt on the TH next week to share details.
"I have some serious Alpha that's burning me. That's a perfect question to be asking." (about SPS validator nodes) 😮 - Aggroed
Later on, Aggroed and Hardpoint both reiterated how excited they are about the upcoming SPS Validator node details and announcement, and seemed to confirm that Matt will share details soon. "It's his baby, so he should give the update." Aggroed went on to explain how material it will be to the company's strategy, and added also that the community will get access to the first pre-sale: "there's no special priority for board members."
6. DEC peg
Aggroed reiterated that the plan is to get DEC back to its peg. This was while answering a question about allowing users to pay for CL packs with 4k DEC.
7. Scaling
Hardpoint made some great points during the TH, and in particular at the end, about the importance at this stage of focusing the team on modernizing their development tools and processes to enable better scaling and higher velocity. This is really crucial, particularly with all the additional complexity the team will be bringing to the game.
---
What did you think of the Town Hall? Did I miss anything important?
---
---